Companies are accelerating their transition to public clouds, deploying more and more SaaS applications and experiencing a proliferation of mobile devices that are accessing corporate resources. Ensuring secure and seamless access for employees, partners and customers has become increasingly difficult for the enterprise CISO. Plus, rapid growth in APIs and IoT initiatives are further complicating the security landscape.
These digital transformation trends are moving identity security (of the user, device, API or a thing) to the very center of security. More and more CISOs are realizing that securing the IT perimeter alone isn't enough to protect the enterprise from breaches and threats to its intellectual property and data.
Identity Defined Security™: An Evolution of IAM
Ping has been on the forefront of helping CISOs address these challenges by giving them a holistic view of the Identity Defined Security landscape. This evolution in identity and access management (IAM) will solve the complex enterprise challenges imposed by cloud, mobile, and IoT trends by providing an identity steel thread across existing and emerging security technologies, allowing users to securely navigate across borders.
In this new world, identity security infrastructure needs to be systematically upgraded. Enterprises will need contextual multi-factor authentication, policy-based access control for all enterprise apps, device security, governance and compliance, and more autonomous systems that can detect identity and access anomalies in real time, based on machine learning algorithms.
The Identity Defined Security integration framework below is intended to provide CISOs with an overview of some of the technologies and capabilities that will need to be deployed and integrated as their businesses undergo digital transformation. Underlying it all is a stringent expectation of uncompromised security.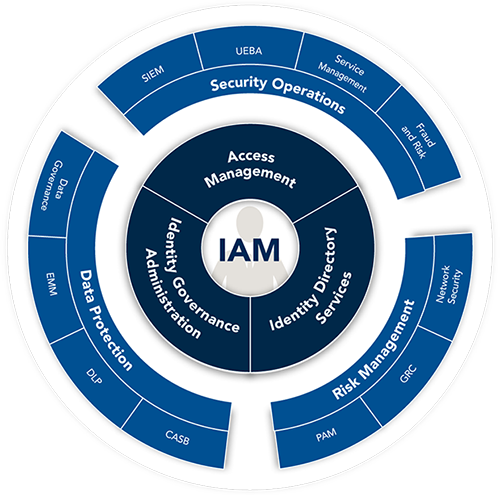 Securing the Modern Enterprise: The Identity Defined Security Alliance
CISOs increasingly understand the need for a more comprehensive Identity Defined Security platform, but there's a lot of frustration about having to deploy too many silo-ed point solutions in their security landscape. A strategic plan for prioritization and a systematic approach to selecting and implementing the best solutions is still very difficult to execute.
In 2015, Ping Identity launched the Identity Defined Security Alliance to help enterprise CISOs implement a best-of-breed Identity Defined Security platform. Working with some of the leading software and solution partners in identity security, the mission was to accelerate the creation of this platform.
The alliance achieves this through collaboratively envisioning a complete blueprint, defining a reference architecture, showing demos of integrated solutions and providing specific guidance to streamline implementation patterns by documenting best practices and use cases. The integration points detailed by the alliance will give customers and prospects a jump start on determining how solutions from alliance members can fit into existing infrastructures and solve the identity security challenges of the modern enterprise.
Ping initially invited three software partners, each fulfilling a segment of the Identity Defined Security blueprint:
Netskope - Cloud Access Security Brokerage (CASB)
ThreatMetrix - Fraud, Risk and Threat analytics
VMware - Enterprise Mobility Management (EMM)
Earlier this year, Optiv joined the Identity Defined Security Alliance as the founding solutions provider partner. As the market-leading security solutions and service provider, Optiv's commitment to the alliance's vision has greatly accelerated the momentum of its mission. With Optiv's inclusion, the alliance's ability to serve the comprehensive needs of an enterprise CISO's identity security requirements have taken a big leap forward.
At the Cloud Identity Summit in June of this year, we are excited that the alliance is further expanding its footprint and bringing in two new software partners, each representing a new segment of the Identity Defined Security blueprint:
Exabeam - User and Entity Behavior Analytics (UEBA)
Lieberman Software - Privileged Account Management (PAM)
Meet the Alliance at the Cloud Identity Summit!
We're delighted to have many of these partners with us at the Cloud Identity Summit in New Orleans this week, June 6-9. To learn more about the Identity Defined Security Alliance, be sure to stop by the Ping Identity booth on Wednesday, June 8th at 12 p.m. central for a live demo of the alliance in action. Or take a few minutes to see what Optiv has to say about the alliance. Also, anyone interested in this topic shouldn't miss the alliance panel Wednesday afternoon in the closing keynote, moderated by Ron Miller of TechCrunch.
____________________________________

(You can edit the Tweet before posting)
____________________________________