You want to deliver incredible digital experiences. We want to help. At Ping, we champion your identity as a company, giving you the capabilities you need to provide secure and seamless experiences to your customers, employees and partners as they interact with you. From our solutions, you gain industry-leading authentication, authorization and attribute storage coupled with intelligent cloud services. Add in 1000s of off-the-shelf and custom plugins and you have a complete toolkit to deliver exceptional experiences for even the most challenging use cases.

But what about your experience? As a leader, administrator or engineer, you have the complex responsibility for building IAM solutions that streamline user experience. To make your experience smooth and straightforward, too, we're excited to announce a brand new solution home page as part of our latest release of PingOne for Customers.

From hundreds of interviews with our users, we've learned what matters most to you, including DevOps, dashboards, automation and delegation. This new and improved home page is the first step in our efforts to streamline your experience with Ping products.

---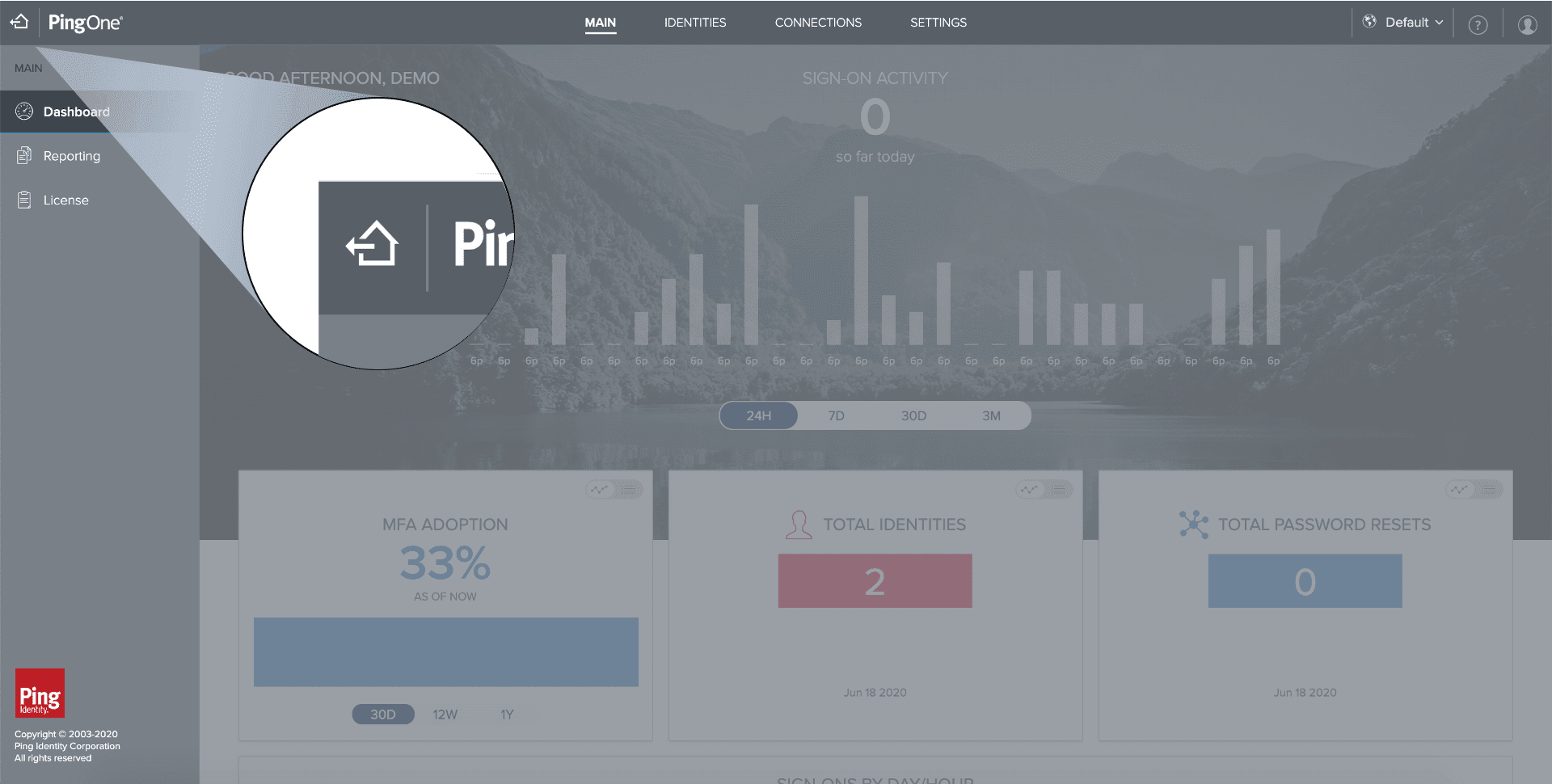 You can access the new home page from the home icon located in the top left corner of any PingOne for Customers environment.
---
Unified Administrative View Across All Ping Products
To ensure you have a consistent administrative experience, we're creating a unified administrative view across all Ping products. No matter the complexities of your deployment, you should be able to log into Ping, see a picture of everything that is going on across products and environments, and efficiently perform whatever tasks you need to get done.
---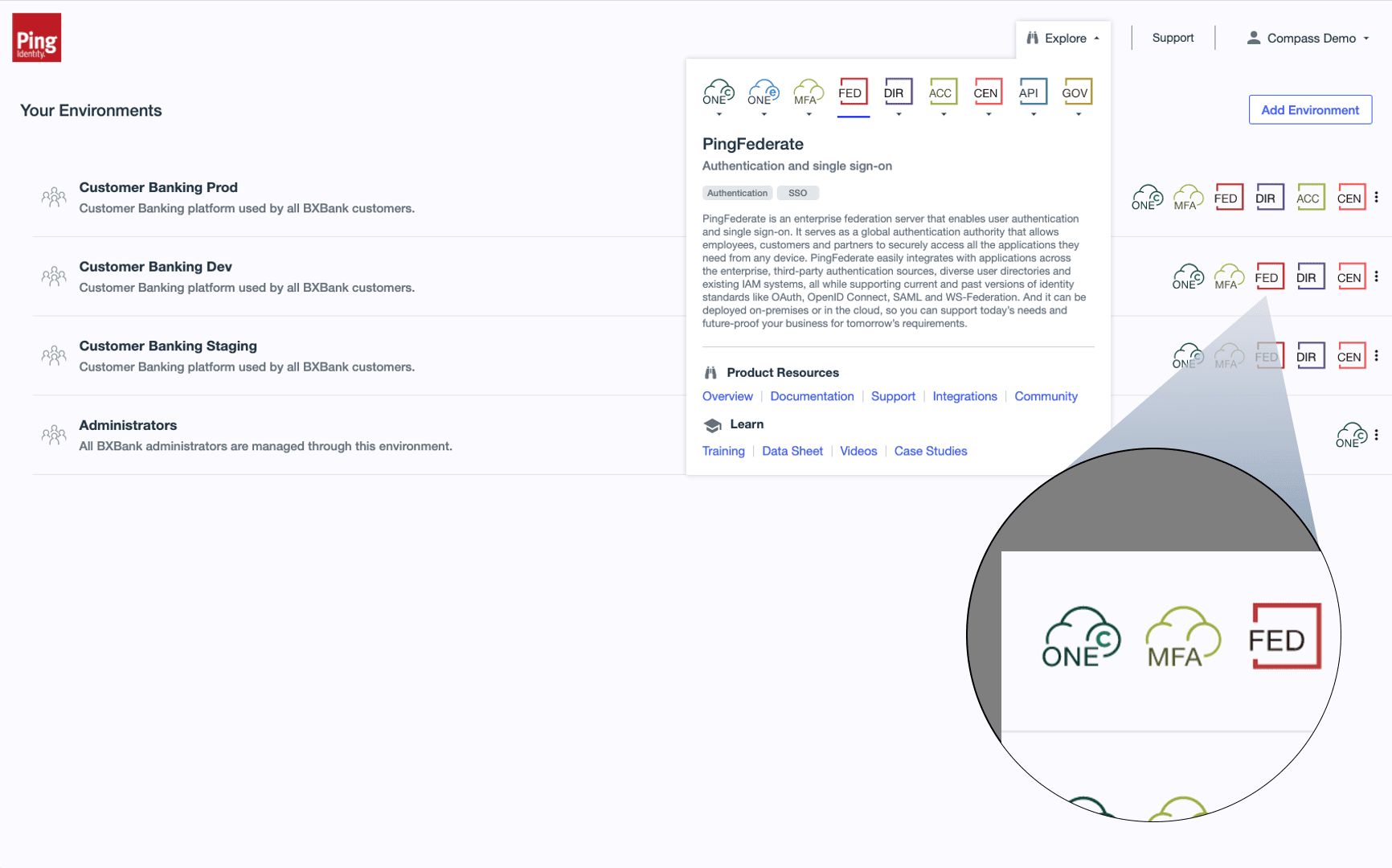 Product icons allow administrators to quickly identify and launch the product consoles from one overview page.
---
As part of this change, you'll also see we're introducing an improved look and feel with a brand new set of product icons. This will give structure to your solutions and allow you to quickly and visually identify and launch products.
Optimized For How You Work
We asked what you need, and you told us. For starters, you want to accomplish common tasks efficiently and effectively with exactly the resources and workflows you need. You also told us that your IAM teams are currently relying too much on institutional knowledge, making onboarding and learning specific links and shortcuts harder than they need to be.
---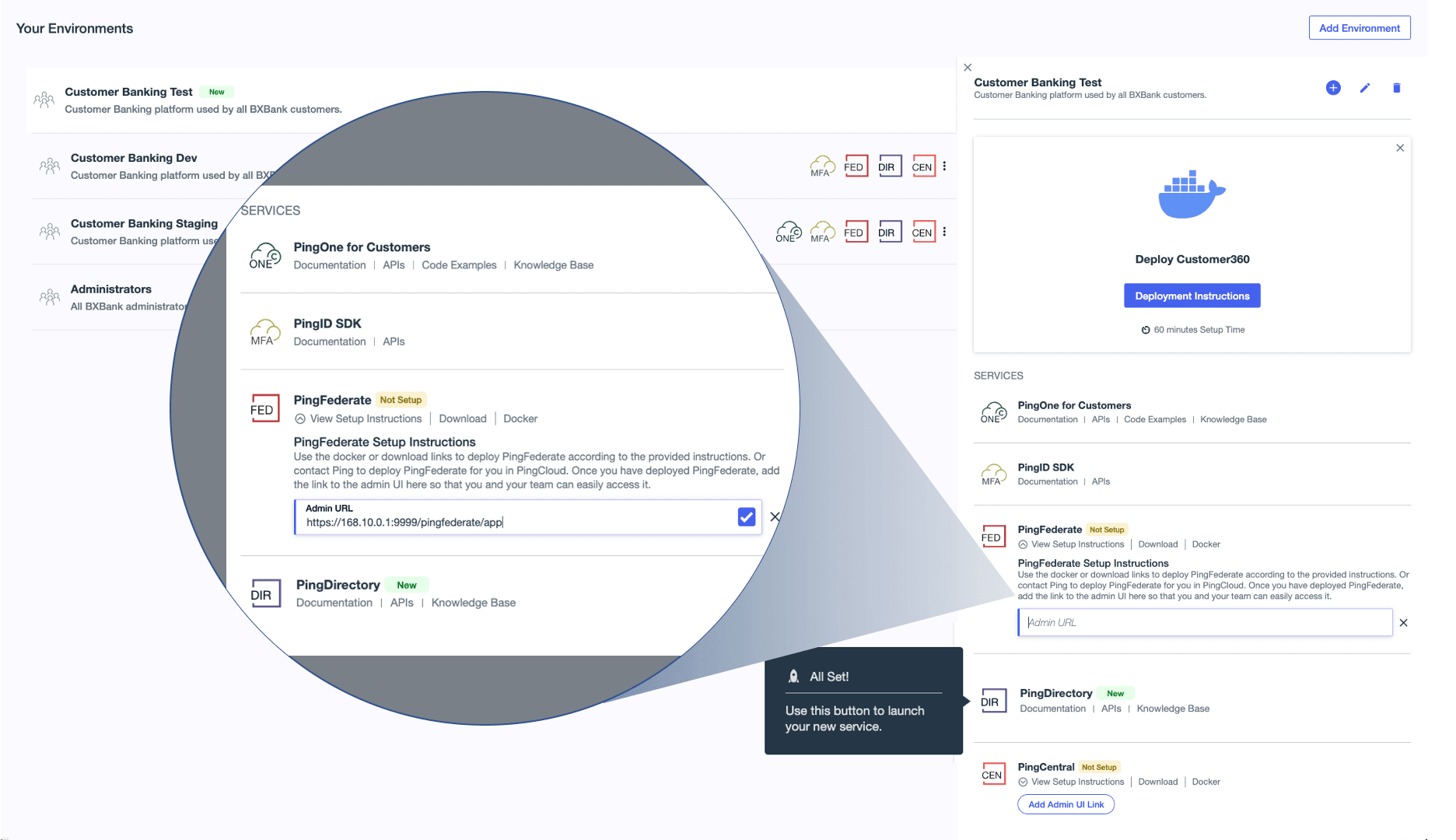 We handpicked the most helpful resources to help you on your way, whether you're just starting out or polishing a robust deployment.
---
To address your needs, we've made it more intuitive to do simple things like keep track of product deployments and find product documentation and support resources. You also now have a standard view of your Ping deployments that can be shared across the team. Cloud services like PingOne and cloud software like PingFederate are now united into solution environments with contextual instructions and product-specific resources tied to common tasks.

Here are the common tasks we are focusing on today:
| Tasks | Resources |
| --- | --- |
| Selecting a Solution | Add environment workflow and explore gallery with links to product and learning resources |
| Deployment | Links and instructions to use Docker or Java Runtime Engines for cloud software |
| Setup and Operation | Admin UI links to quickly pivot between products, setup guides, and documentation |
| Automating APIs | Interactive API documentation |
| Troubleshooting Issues | Admin UI links, Knowledge Base articles and documentation |
In the future, you'll gain even more streamlined tasks through administrative SSO and licensing integration. You'll also see the addition of new tasks like performance monitoring via dashboards and configuration automation via new workflows.

Complete Solutions to Deploy IAM Fast
At the heart of this approach is a shift in focus from individual products to composed solutions. This shift will help you jump-start your progress in solving entire use cases with the right tools working together. Our advanced Customer360 and Workforce360 solutions include multiple products that can be deployed in PingCloud or with Docker. These solutions work together out of the box to robustly solve the most common IAM problems such as authentication and single sign-on, directory, multi-factor authentication and delegation to business and technical admin users. And if you're looking for IDaaS solutions, PingOne for Customers and PingOne for Enterprise incorporate complete IAM functionality entirely from the multi-tenant cloud.
---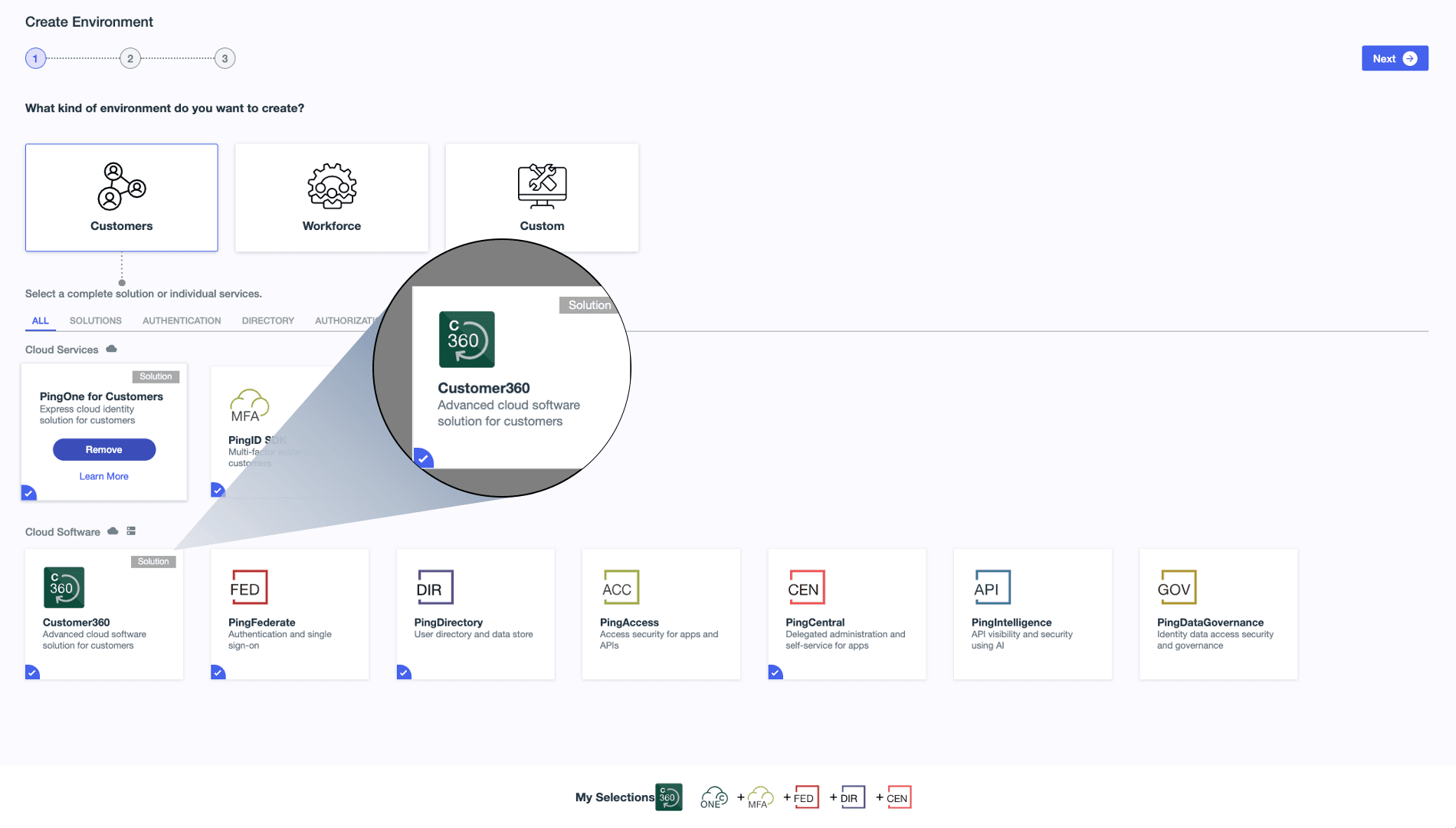 Filter Cloud Services and Cloud Software by use case or by category to find the solution you need.
---
Just like unifying and streamlining customer experience is not an overnight change, neither are the improvements we're committed to making. But you can rely on us to continue to champion you as you champion identity for the end-users you serve.

To try out this experience, log into your existing PingOne for Customers environment or sign up for a trial account to experience our multi-tenant customer IAM solution. And please share what you think so we can learn what else you need to have the administrative experience of your dreams.
Free Trial
---