By the Women of Ping steering committee
On March 8, International Women's Day was celebrated around the world. At Ping Identity, the day was recognized as a company holiday—a day to reflect on and celebrate women's accomplishments and participate in local and virtual events that recognize women's contributions.

In Denver, Colorado, home to Ping Identity's headquarters, we sponsored an International Women's Day event, which highlighted women in security. We were especially excited to support this year's focus on recognizing those women who currently lead in national security, as well as building the next generation who will continue this important work.
"Security is a HOT space; it is relevant across vertical markets and will be for many years. A career in security/technology can take you to the most interesting places, understanding the most innovative companies in the world. If you like variety, security/tech is a great place to get that variety everyday."

— Emma Maslen, Ping Identity, VP & General Manager, EMEA & APAC
We're also proud to be the title sponsor of the 2021 Girls & Science hosted by the Denver Museum of Nature and Science. Throughout the month of March, Girls & Science gives young girls the opportunity to engage with female leaders in STEAM (science, technology, engineering, arts and mathematics) and related professions. Girls can learn who these women are, what they do and what inspires them. We're very excited to have both Morgan Smith, Senior Solutions Architect, and Remy Lyle, Director, Technical Enablement, represent Ping as mentors and, in doing so, help us build the next generation of women by igniting their interest in STEAM careers.
This year's event is fully online, which means kids from anywhere (and you) can join our virtual clubhouse. Morgan and Remy also hosted a live Q&A session on Saturday, March 20, 2021.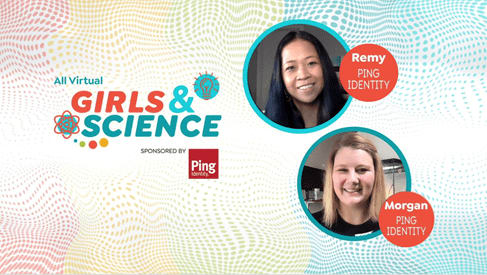 These and other events being held throughout March, which is recognized as Women's History Month in the U.S., UK and Australia, demonstrate the important and necessary progress that's being made to recognize the contributions women have made in history and to our society. Yet, to effect the continued and lasting changes needed to create a more inclusive and diverse business climate and world, we need to do more. That's why we're extremely proud to be a part of Ping, where women are encouraged and supported year-round.