I'm proud to share that for the fifth consecutive year, Gartner has recognized Ping Identity as a Leader in the Magic Quadrant for Access Management! We believe this year's Magic Quadrant acknowledges that Ping Identity continues to push the digital identity industry forward in several ways.
As quickly as digital security improves, bad actors adapt and find new ways to hack into systems and misuse personal information. Identity and security are vital for all business ecosystems and if done correctly, ensure the safety and security of online activity and transactions while improving the user experience. In the Magic Quadrant report, Gartner provides detailed evaluations of 12 vendors that offer Access Management solutions and named Ping Identity a Leader. The PingOne Cloud Platform addresses a variety of established and transformational identity and security trends included in this year's report.
2021 Gartner Magic Quadrant for Access Management
---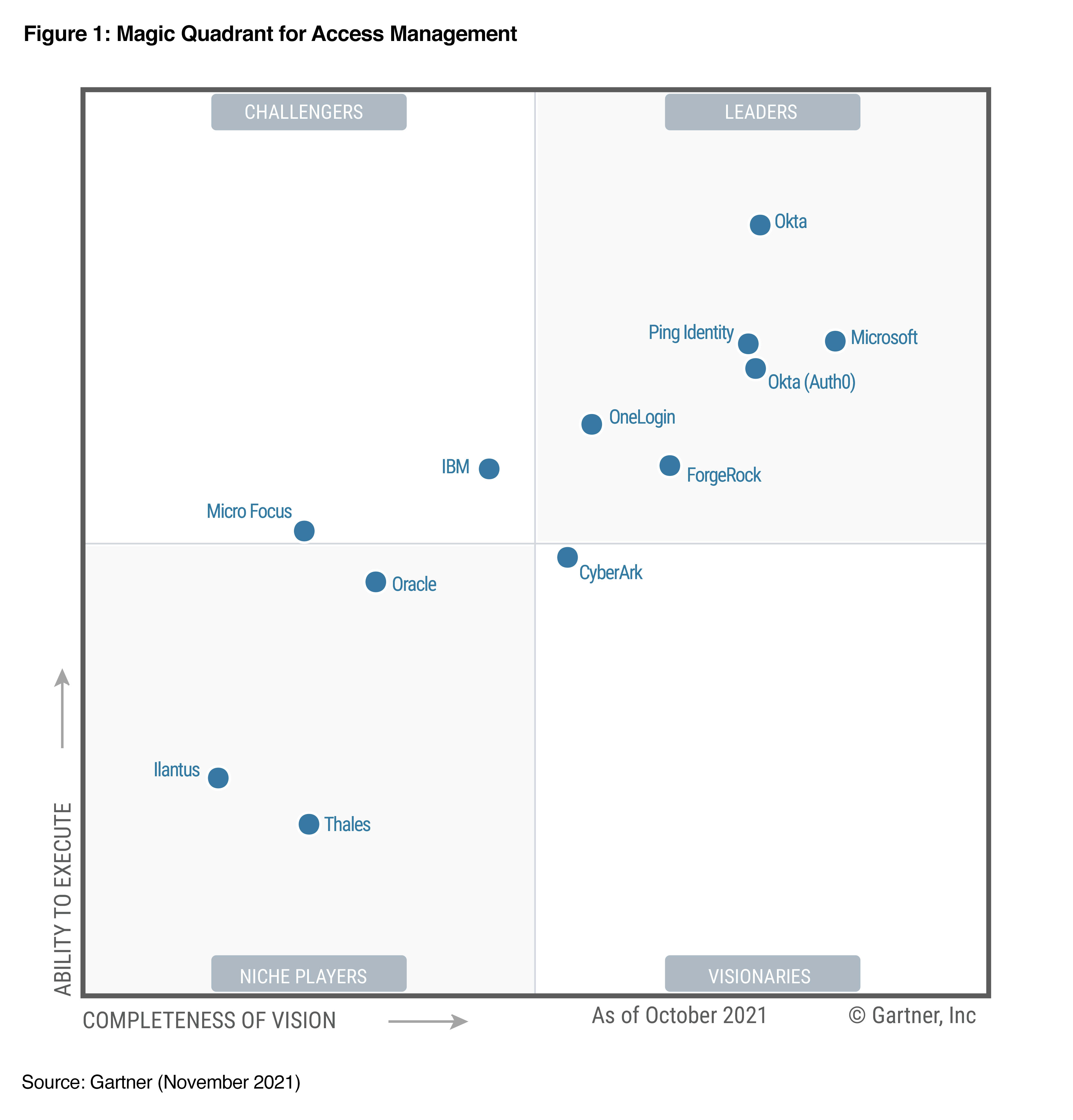 This graphic was published by Gartner, Inc. as part of a larger research document and should be evaluated in the context of the entire document. The Gartner document is available upon request from Ping Identity.
---
The Magic Quadrant stresses the importance of access management, stating that, "Access Management has become the source of trust for identity-first security." Gartner adds that increased dependence on identities for access anywhere, anytime, will require access management to not only be more reliable, but easy to adopt for enterprises overall.
The report highlights our products, which are sold in several bundles and modules as both SaaS and software with converged AM identity proofing and fraud detection capabilities; our plan to invest 24% of revenue in R&D to improve and expand on these capabilities, as well as investment in product innovations.
We were recognized for:
Expanded Capabilities Through Acquisitions. We've expanded our capabilities through acquisitions. In October 2020, we acquired decentralized identity and identity proofing innovator ShoCard. To give businesses the assurance that customers are who they say they are, Ping Identity released PingOne Verify, a cloud-based customer identity verification service. By seamlessly integrating identity verification into the enrollment or registration processes, the PingOne Verify customer identity verification service allows businesses to provide the convenient experience customers expect, while simultaneously protecting against threats like fraudulent account creation. Organizations are also able to comply with KYC and AML requirements for new customer onboarding.

Shortly after in November 2020, Ping acquired Symphonic Software combining Zero Trust identity-defined security with fine-grained, external authorization into an integrated offering, PingAuthorize. PingAuthorize allows enterprises centralized authorization so they can mitigate fraud, comply with privacy regulations and increase agility. This acquisition and solution enhancement makes the PingOne Cloud Platform the industry's first identity platform to offer a robust, dynamic authorization solution.

Next, in June 2021, we acquired SecuredTouch to enhance The PingOne Cloud Platform with new online fraud detection and launched PingOne Fraud. PingOne Fraud detects and prevents online fraud by continuously monitoring individual user sessions as they start, well before they add items to a cart and then check out. The result is detecting and stopping online fraud almost before it starts, rather than waiting until checkout.

Adoption for Internal and External Use Cases. One key convergence trend the Magic Quadrant called out is use-case capability consolidation. The report recommends that "Organizations should prioritize single-vendor strategies for internal, external and developer AM use cases" and to "Use multiple AM vendors only in exceptional cases, where extreme specialization is needed." Ping was called out for having a balanced product adoption between clients using our solution for internal and external use cases.

Nonstandard Application Enablement. The Magic Quadrant report also called out that we have a clear focus on large enterprises. Larger enterprises in particular tend to have complex environments and "nonstandard" apps and infrastructure. This can be a pain point for these companies when it comes to finding an IAM company that can take on the task. (Nonstandard refers to web-based applications that usually run on-premises or may have been ported to public cloud services and that don't support modern identity protocols.)

According to the Magic Quadrant and Critical Capabilities, Ping Identity scored the strongest among vendors when it comes to working with nonstandard application enablement scenarios and recognized how we offer 99.99% SLA availability to all customers.
What Makes Ping Stand Out
The Magic Quadrant also discusses current and upcoming trends in IAM and states that identity orchestration and B2B CIAM use cases will increase in importance during 2022.
Accelerating No-Code Identity Security Integration and Orchestration
In the Magic Quadrant for Access Management, Gartner predicts that by 2024, low-code/no-code orchestration tools will be a critical capability for all AM products, up from 15% today. Identity proofing, compliance, authentication and fraud detection are all becoming increasingly interconnected. This is why digital businesses need to rely on various solutions that must be stitched together to help ensure the user experience isn't too fragmented, time-consuming or demanding. Low-code/no-code orchestration tools are the solution.
Earlier this year, Ping acquired Singular Key in order to accelerate no-code identity security integration and orchestration. Not only has Gartner recognized us for our ability to enhance capabilities through acquisitions such as these, but we truly value the importance of providing organizations with the ability to reduce the overall cost and complexity of legacy IAM tools, as well as reducing the need to replace those tools instead connecting pieces together and making them interoperable.
Simplifying Partner Identity Management
Companies are becoming more dependent on IAM, yet implementing IAM for one organization is—on its own—quite the undertaking. With the new reality of remote access combined with the need for stronger digital collaboration between partner organizations, Gartner has observed an increase in inquiries surpassing B2C CIAM by 25%. As more organizations show an increased demand for B2B CIAM (i.e. identity solutions and services across partners) the task at hand becomes even more complex.
This is because various levels of authorization can apply to each partner and these partners can have an overwhelming amount of IAM capabilities to consider. The good news is that Ping offers various solutions for partner IAM, so you can focus on managing relationships, not partner identities.
Why Customers Choose Ping
What Customers Have to Say
This placement also follows Ping having been recognized as a Customers' Choice based on customer reviews and ratings in the latest Gartner Peer Insights 'Voice of the Customer': Access Management.
---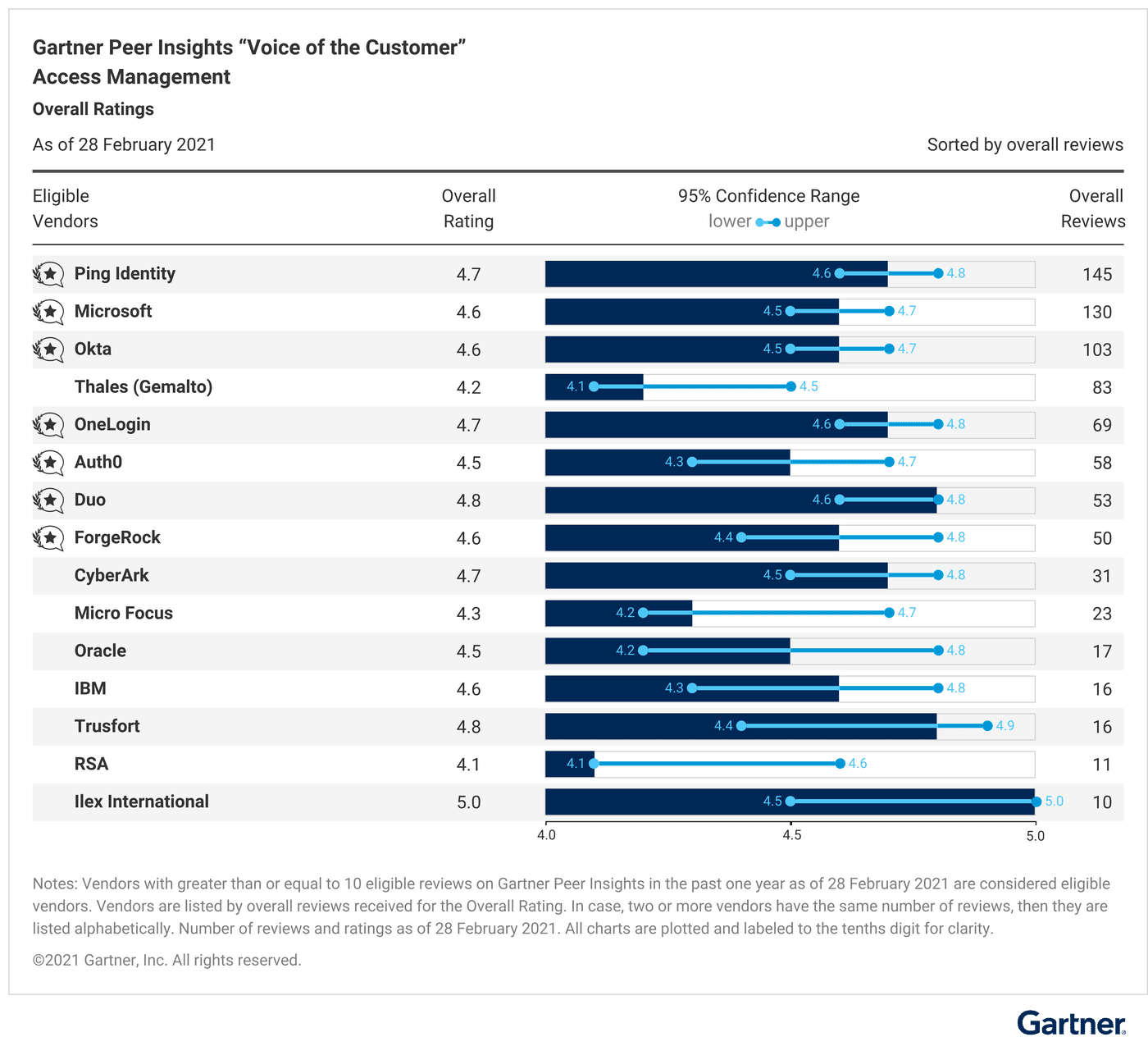 ---
The common thread between the leadership position in both of these Gartner reports is our customers and the trust they place in us. We're lucky to partner with the largest organizations and innovators who inspire us to innovate faster to solve their hardest digital identity challenges.
Here are just a few recent customer stories that showcase how Ping helps organizations deliver great customer experiences. Ping enabled:
Now you know what Gartner has to say about us, what about our customers? At the end of the day, the attributes that we are being recognized for don't matter much if the people we're actually catering to don't feel the same way.
Luckily, we're doing well in this department, according to our recent NPS score. The NPS score is the Net Promoter Score, which is a market research method that ultimately determines how customers perceive usand if they would refer us to others. Our 2021 Corporate NPS score is +61, which is considered "excellent" by Global NPS Standards.
Some positive feedback we've received that contributes to this score include:
Customer Experience: Our customers have great relationships with their sales reps and customer service reps. We care about the success of our customers which has helped lead to positive outcomes.
Support: Our support team was recognized for responsiveness and helpfulness on solving issues.
Community: In addition to making our customers feel supported, we also have been recognized for the sense of community amongst our customers.
Products: We've received praise for not just our products (many companies use more than one), but the flexibility and ease-of-use of those products.
What the Industry Has to Say
We're proud to announce some other acknowledgements we've received this year. Some awards we've won include:
Best SaaS for Productivity, 2021 by The SaaS Awards
Global Workforce IAM Competitive Strategy Leadership Award, 2021 by Frost & Sullivan Best Practices Award, 2021
Best MFA Provider, 2021 by Expert Insights "Best-Of" Awards
Best Access Management Provider, 2021 by Expert Insights "Best-Of" Awards
Innovations in 2021
In 2021, Ping Identity delivered on it's promise to provide industry-leading new features and solutions that continuously help our customers improve their desired outcomes. Here are a few of the highlights:
Thank You for an Incredible Year-More Awaits in 2022
2021 was a monumental year for Ping Identity. We released significant new solutions and saw incredible customer and community growth. There are many trends and capabilities to consider, but you don't need to go it alone. We're pleased to provide access to the 2021 Gartner Magic Quadrant for Access Management to help you evaluate solutions against your unique objectives and requirements. Download your complimentary copy of the report.