The COVID-19 pandemic fundamentally changed the way businesses operate day to day and pushed an already substantial migration to the cloud into unprecedented growth. To meet the growing demand for cloud-first infrastructure and simplify the procurement lifecycle, Ping Identity has announced two new listings in AWS marketplace.
Ping Identity's workforce and customer identity solutions offer our enterprise customers a secure and reliable identity-as-a-service (IDaaS) solution in the cloud. These solutions can fit anywhere in your cloud journey, with hybrid access and cloud-your-way options available. Ping's advanced cloud solutions enable companies to focus on business transformation and innovation while taking the infrastructure and deployment of identity and access management (IAM) off of their hands.
By offering our cloud forward workforce and customer identity solutions in AWS marketplace, our customers have the ability to purchase directly through their AWS account, smoothing the path to achieving their digital transformation strategy.
Enterprise Cloud Migration Is on the Rise
Even before March 2020, cloud was on a massive rise as enterprises were realizing the value of a more agile, adaptive and scalable cloud infrastructure. Then COVID-19 hit. Overnight, entire workforces went remote, storefronts closed and ecommerce took over. The demand for rapid change and innovation to a new normal greatly influenced both IT direction and budget. Planned cloud migrations shot up to the front of IT roadmaps and existing investments to cloud increased greatly.
The move to the cloud has accelerated and shows no signs of slowing down:
Ecommerce experienced 10 years of growth in Q1 2020 alone, according to McKinsey.
End-user public cloud spending is expected to increase by more than 18% this year, according to Gartner.
The global public cloud infrastructure market will jump 35% by the end of 2021, according to Forrester.
As companies continue to adjust to a post-pandemic world, the need for agility, cost efficiency and security for a remote workforce has become paramount. Identity is a key fixture to satisfying these needs.
IAM serves as a crucial part of any cloud migration strategy, playing a critical role by helping to provide seamless and secure access to resources while protecting and controlling sensitive information and data. Now more than ever, enterprises need to innovate and adapt to rapid change. Having a trusted identity partner like Ping Identity allows for that innovation without sacrificing control.
Advantages Buyers Are Finding in AWS Marketplace
The rise in cloud migration has led to a subsequent rise in cloud marketplace procurement, elevating B2B ecommerce as a means of digital purchasing. For companies actively migrating workloads to the cloud, it makes sense to build a working independent software vendor (ISV) ecosystem that supports your cloud journey and fits your deployment model. AWS Marketplace is a curated digital catalog that makes it easy to find, test, buy and deploy the third-party software you want, with the simplified procurement and controls you need.
Below are some of the key features that draw AWS customers to AWS Marketplace to find the right solutions: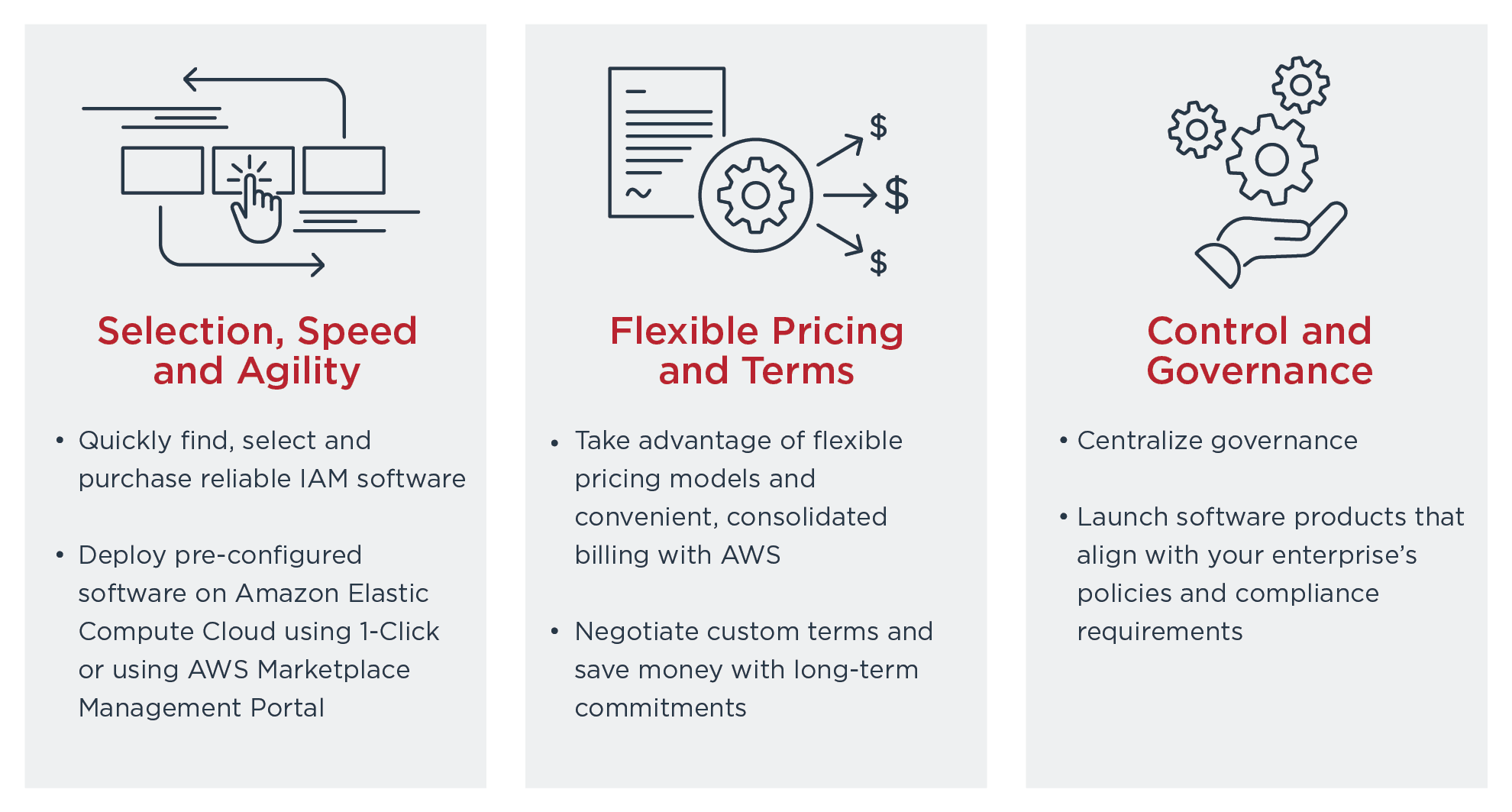 Ping Identity's AWS Marketplace Presence
Ping Identity's cloud solutions offer organizations the flexibility and configurability necessary for deployment on AWS Cloud. Our cloud IAM solutions are highly configurable and built for easy global deployment for our enterprise customers. If you value customization and control but you also want to automate your operations, simplify management and achieve some of your cloud-first objectives at the same time, the advanced services of Ping's cloud solution are made for you.
The identity use case is unique to every organization, and the needs with your identity provider are no different. Meet your organization's unique requirements with custom license terms, volume discounts and flexible payment options. Negotiate pricing and terms with your Ping Identity representative or consulting partner, and they will create an offer for AWS accounts you designate. Once the offer is accepted, the negotiated price and terms will be accessible to your users.
Along with direct private offers, customers can also purchase Ping Identity solutions in AWS Marketplace directly from Consulting Partners. These partners have knowledge of your business, localized support and expertise, and you receive the same fast and friction-free purchase experience you're accustomed to in AWS Marketplace.

Ping Identity is an Advanced Technology Partner in the AWS Partner Network (APN) and we have also achieved AWS Security Competency status. Ping's identity security solutions complement existing AWS services to allow customers to provide a more secure and seamless experience for workforce and customer use cases alike across their cloud and on-premises environments.
For more information on Ping Identity in AWS Marketplace, please visit: