This blog is co-authored by Donna Shawhan and Edward Killeen, Technology Alliances, Ping Identity.

Digital collaboration has become vitally important as working from home is now a necessity to keep your business running smoothly. The move toward a distributed workforce has been trending upward for some time now, but events of the past few months have put even greater pressure on enterprises to fully enable productive remote teams.


Centralized authentication services with capabilities such as single sign-on (SSO) and strict identity verification are at the heart of making remote work seamless and secure. By allowing enterprises to authenticate users across any app, any data or any cloud, they make access easier for employees while ensuring that company resources are protected.

Ping Identity's integrations help you address two key work from home issues: communications and Zero Trust security. Our newest integration with Zoom improves communication by enabling user provisioning and single sign-on (SSO) to Zoom's video platform, and the integration with Zscaler allows an enterprise to enforce access policies in real time across a Zero Trust network access service. Beyond these two, we have an extensive integration directory with more than 1,500 integrations to enable secure, single-click access for all your remote workers.

Ping's Newest Zoom Integration


Ping Identity seamlessly integrates with Zoom to help more employees effectively work virtually anywhere by enabling secure single sign-on to Zoom's modern enterprise video communications. This new integration is an out-of-the-box connector that allows both PingFederate and PingOne to integrate with Zoom for user provisioning and single sign-on. The Zoom Connector can be used with or in place of just-in-time-based SAML provisioning.

Ping previously integrated with Zoom via SAML, the open standard protocol, but this new out-of-the-box connector offers additional user profile attribute support for provisioning to enrich a user profile. It gives companies the additional security that comes from automatic onboarding and offboarding (deprovisioning), which allows companies to easily add new users to Zoom or remove users when they leave an organization.

In addition, users can be easily created, updated, disabled or deleted with our Zoom Connector. A template is also included in the Connector to simplify the configuration of single sign-on (SSO) by pre-populating Zoom SSO and Provisioning connection settings.
---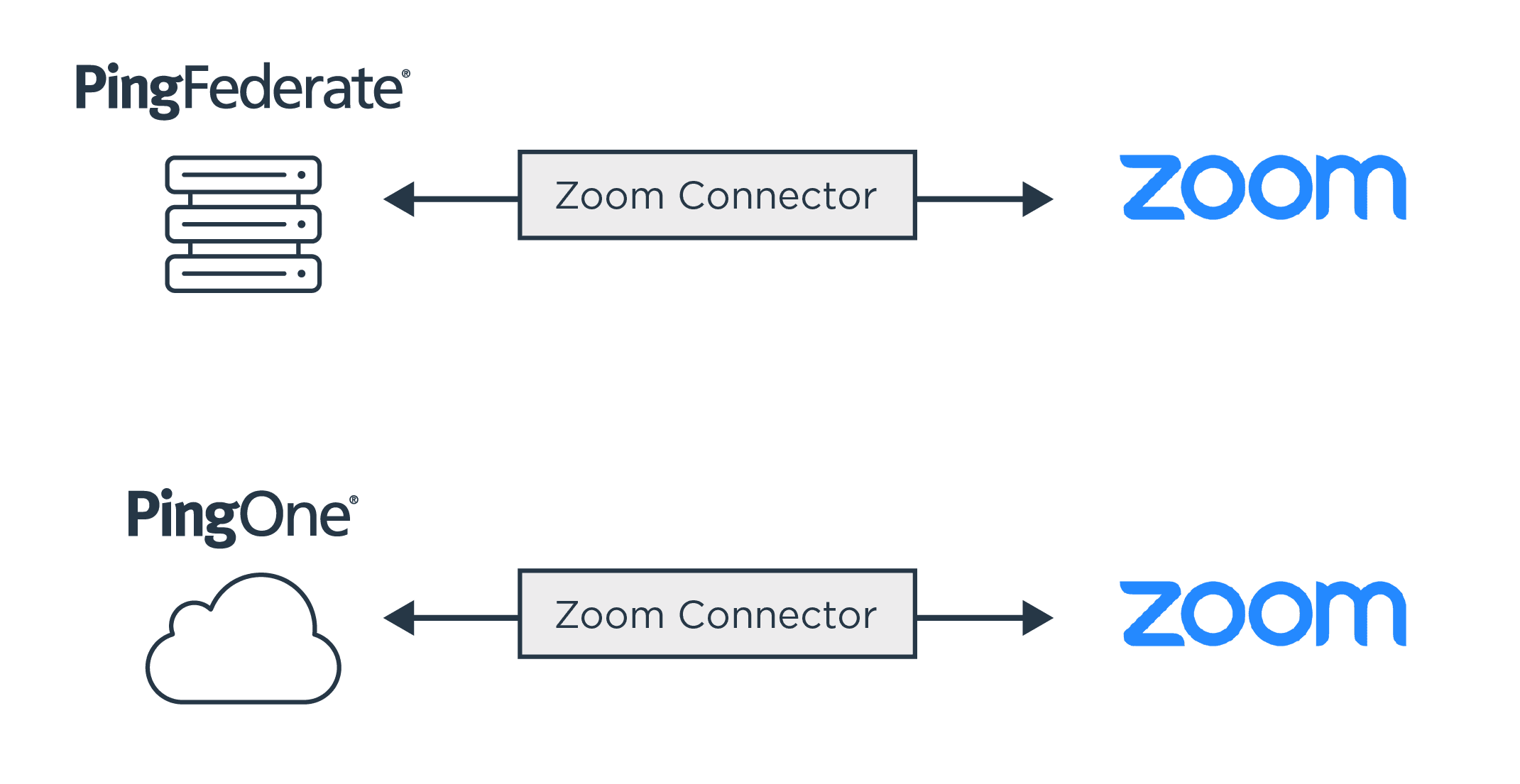 ---
Ping's Zscaler Integration

Ping's integrations extend beyond applying SSO to applications to the realm of protecting networks as well. Traditionally, organizations have relied upon VPNs to allow work from home, but recently these networks have been the source of some high profile hacks and the subject of an NSA advisory. VPN replacement network Zscaler Private Access (ZPA) is a cloud-delivered, Zero Trust network access service that provides secure access to private applications without the need for a remote access VPN.

Ping Identity's integration with Zscaler enables work from home with Zero Trust security at its core. In this model, the enterprise strongly authenticates the user, checks for updates to group memberships, and enforces security policies at both the network and application level. PingFederate's ZPA Connector provisions and updates users and groups in real time so they are able to access the network remotely, and assures that only authenticated users have access by leveraging PingFederate's authentication policies. With Zscaler's VPN replacement and Ping's powerful federation and multi-factor authentication (MFA), users are able to access on-premises applications securely and easily.
---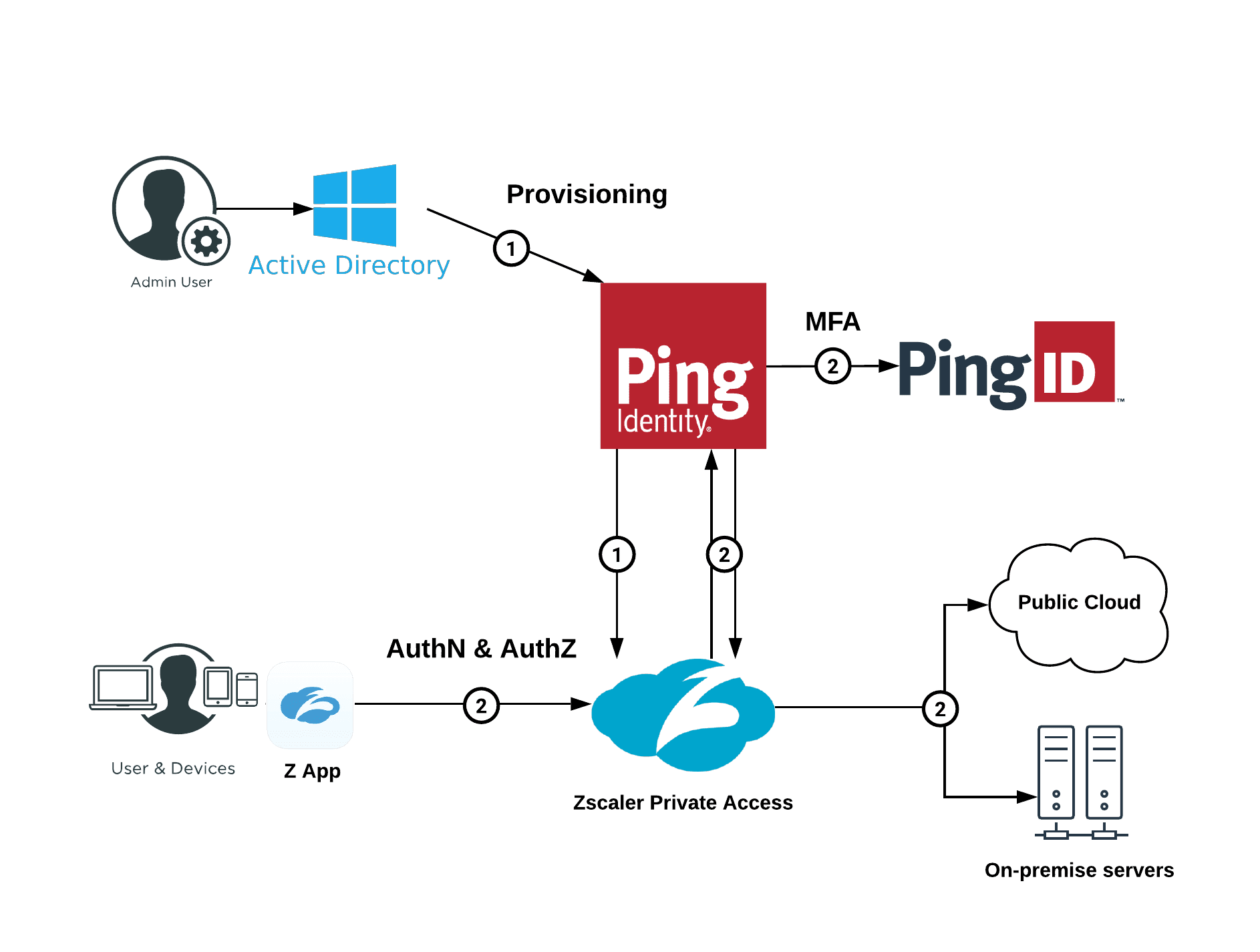 ---
Additional Ping Integrations for Remote Work
Ping has a number of out-of-the-box integrations that make it simple for enterprises to add SSO and provisioning to secure some of the most common workforce applications, including:




Adding SSO to your workforce applications to reduce password sprawl and mitigate the risk of a data breach is even more important in today's world as you enable employees to work outside of the corporate firewall or on their own devices.

This is why Ping is proud to not only be an industry leader and proponent of standard protocols such as SAML and OIDC, but we have developed several out-of-the-box integrations that make it easy for you to not only get to work faster (speed up time to value), but to also add automatic onboarding and offboarding, which strengthens your security posture. Adding SSO also increases employee productivity by reducing the number of passwords to manage and help desk calls to reset passwords.

In addition, Ping has many MFA integrations—including those with popular VPN and VDI solutions like Cisco ASA, VMware Horizon and more—to increase your remote work security posture.

The Ping Integration Directory
At Ping, we've always strived to offer market-leading workforce integrations. But these days, with work from home mandates touching virtually every industry across the globe, it's more important than ever that enterprises have battle-tested digital collaboration tools that enable the remote workforce to conduct business easily and securely.

We invite you to explore our 1,500+ powerful identity and access management integrations, including our SSO integrations, via our Integration Directory. To learn more specifically about how Ping Identity seamlessly integrates with Zoom, please visit our Zoom Single Sign-on Integration page.