Digital transformation is critical to moving your business forward. It gives you the power to drive needle-moving improvements by streamlining processes to accelerate time to market, create competitive advantage and develop new revenue streams.

But digital transformation success isn't a foregone conclusion. In fact, only 16% of organizations say digital transformation improved performance and was sustainable, according to a McKinsey Global Survey. The missing link for many is in giving their workforce access to the digital resources and information they need. Case in point, the same McKinsey survey found that those who invest in digital tools to provide this access are 2.1X more likely to experience digital transformation success.
Organizations who invest in digital tools to make information more accessible across their organization are 2.1X more likely to experience digital transformation success.
Source: Unlocking Success in Digital Transformation Survey, McKinsey
If you're challenged to provide your workforce with streamlined access today, digital transformation will only amplify those challenges and could cause initiatives to come to a screeching halt. You can effectively double your odds of success by accompanying digital transformation with a transformation of your workforce access. Workforce identity transformation involves giving your employees seamless access, while at the same time minimizing friction and strengthening your enterprise's security.
The balance between frictionless access and strong security is a delicate balance to strike, but it isn't as difficult as you may think. By making workforce identity the new security perimeter, you can provide the secure access your workforce needs for successful digital transformation outcomes. With an identity-centric, Zero Trust security approach, you can ensure:
A productive workforce able to get work done anywhere, anytime
A secure enterprise with access controls in place to prevent costly data breaches
An agile enterprise architecture that can easily adapt to new business models and requirements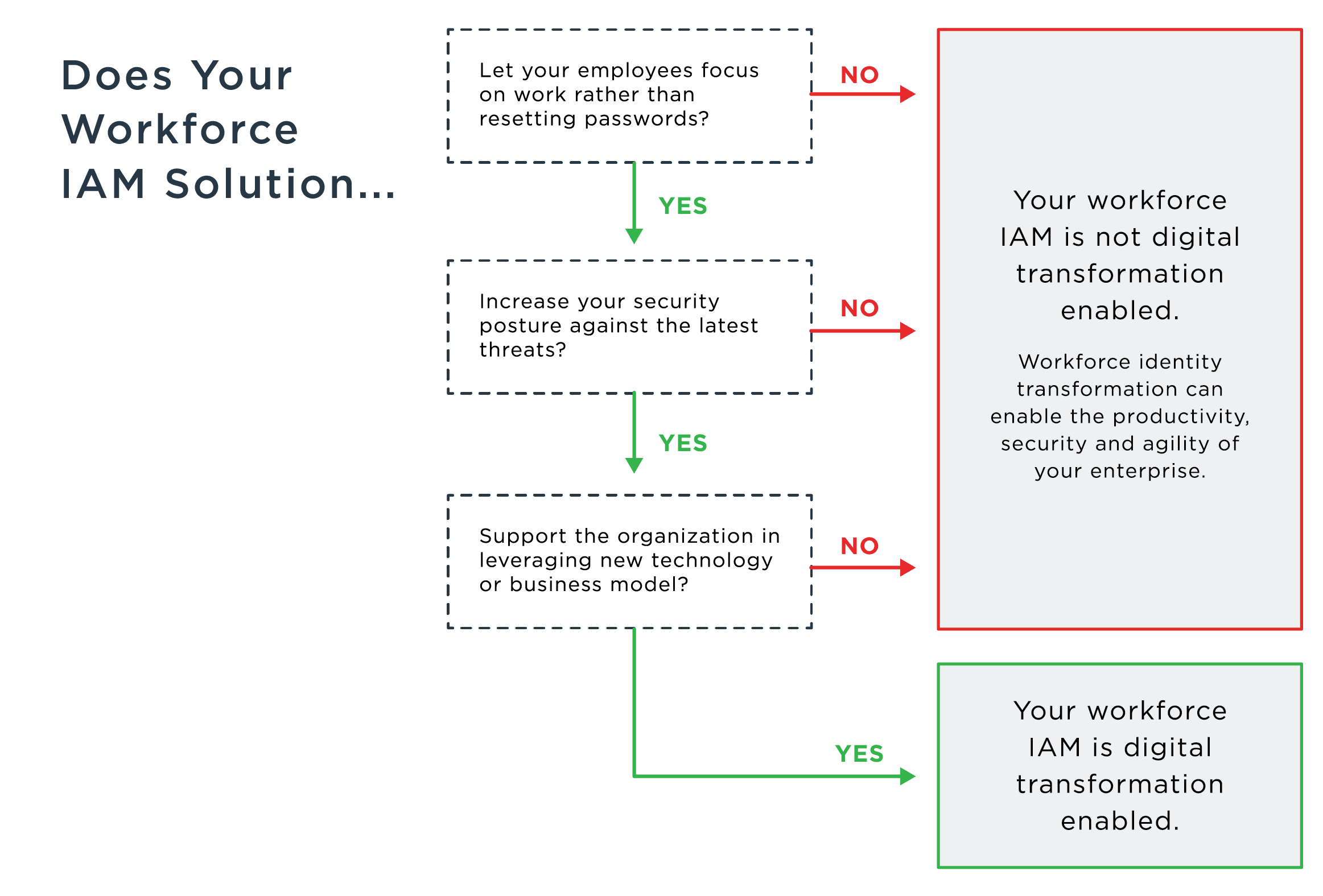 Read on to learn how you can transform workforce identity to enable a Zero Trust security model and ultimately set you up for digital transformation success.