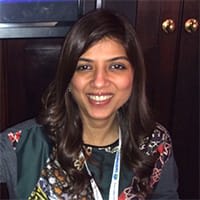 Divya Handa
Senior Director, Marketing
---
Here at Ping Identity, we've been grateful for the opportunity to work with customers and partners for 19 years and counting. Every year, we're able to help you achieve your unique identity management goals, and in doing so, you've helped us reach our goals too.
But, we couldn't have done it without each other.
It goes without saying that the pandemic has been difficult for all businesses. Unfortunately, we still don't know what the future will look like. But, your dedication to Ping—whether you're a customer or a partner—has helped us make it through these hard times, and we hope we've helped you, too; from moving over to the cloud or getting your infrastructure ready for remote work, Ping hopes to always be the company our people can count on.
To celebrate these important relationships and give back to the community at large, we've started a program in EMEA called Ping4Good. Let's learn what this all means:
What is Ping4Good?
Ping4Good is a program started by Ping Identity in order to pay it forward to the planet and the people, making these the priority of our business—not just profit.
---

---
With Ping4Good, we plan to run several initiatives and programs to give back. Right now, Ping4Good is in its first year of taking small steps to help make a big impact. Our first big project involves planting trees to support community employment, sustainability and reforestation goals in places like Peru, South Africa, Rwanda and West Africa.
Ping Identity has a goal of planting over 26,000 trees in 2021 and it's all thanks to you!
We have other programs in the works as well, including some to help mitigate the talent shortage in cybersecurity, encouraging diversity in tech, women in identity and girls in STEM. You'll have to stay tuned to see what exciting things are yet to come!
How Can I Get Involved?
If you've been interested in working with Ping at some point but you haven't gotten around to it yet, we hope that initiatives such as these will help motivate your decision to work with us. We value businesses that also share similar values to us, and we look forward to hearing from you and hopefully working together.
Let's get those trees planted!