Ping Identity's global partner network comprises customer-first companies dedicated to solving the digital business challenges of the world's leading enterprises. We have the pleasure of teaming with many world-class partners who play a leading role in helping us champion identity, and we couldn't do it without them. This year, we're especially grateful for our partners working with us to help customers tackle the challenges of pivoting to digital-first experiences in the wake of the global pandemic.
As we look back on the challenging time that 2020 was, we're in admiration of our trusted partners' dedication to meeting our customers' evolving identity needs. So I'm pleased to announce four honors to the partners who exemplified outstanding commitment to customers and to Ping, earning our 2020 Partner of the Year awards.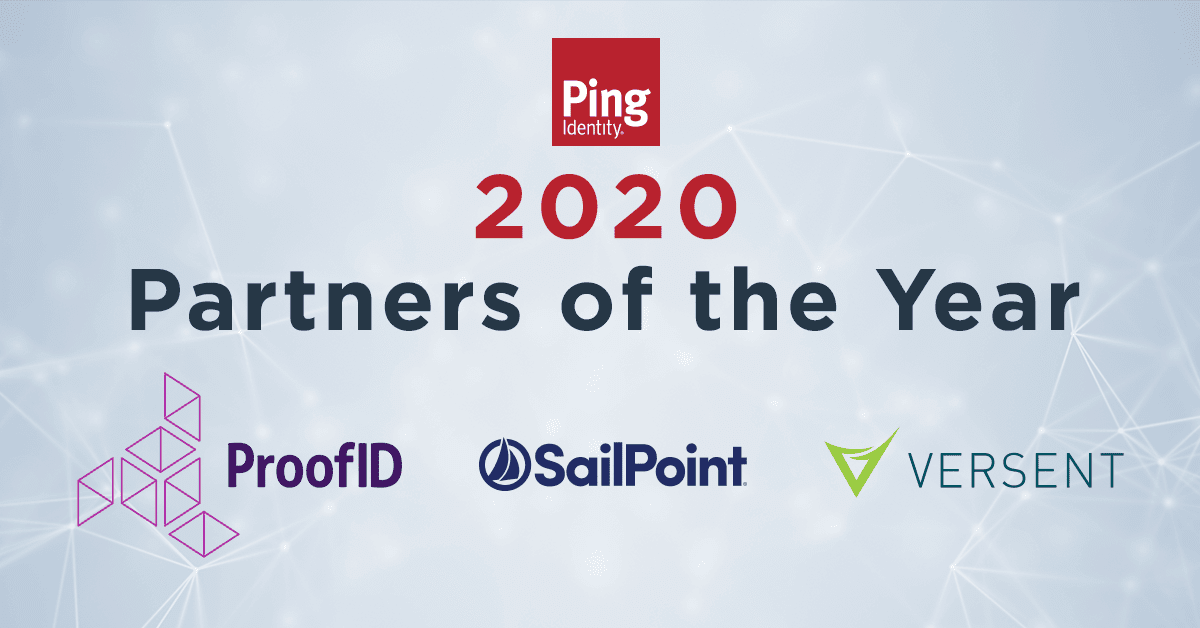 2020 Channel Partners of the Year: ProofID and Versent
The Channel Partner of the Year awards go to our channel partners who exemplify, no matter the circumstance, the best of Ping. They have a positive impact on Ping's business through growing our customer base, furthering beneficial alignment and engagement with our field, and making strong pipeline contributions to our company.
I'm pleased to announce not one but two recipients of the Channel Partner award—the North America Channel Partner of the Year and the International Channel Partner of the Year.
First I'd like to congratulate ProofID, our 2020 North American Channel Partner of the Year. ProofID saw outstanding success in 2020, selling Ping Identity products and bringing value-added services to customers to help transform their digital business initiatives. Together with Ping, they sold and implemented into several enterprise accounts. They continuously go above and beyond to meet and exceed the complex requirements of some of our most strategic customers.

The other award goes to Versent, our 2020 International Channel Partner of the Year. Championing the needs of the enterprise customer while professionally partnering with vendors is the Versent way. Being customer-first was certainly true in 2020 when it came to our joint success, as Versent worked together with Ping's Asia-Pacific team to successfully migrate many customers, including FlyBuys, Service New South Wales and Land Services South Australia, to cloud-based identity solutions. Their commitment to partnering with Ping Teams and delivering quality, transformative digital solutions are the reasons why Versent is pivotal in accelerating the new era of intelligent identity access management.
2020 Technology Alliance Partner of the Year: SailPoint
The Technology Alliance Partner of the Year is a global award that recognizes the technology partner who has demonstrated excellence in innovation and a commitment to solving critical business challenges with Ping technologies alongside their own. This partner shows a commitment to driving field engagement, aligning go-to-market motions and truly championing the needs of our common customers.
I'd like to congratulate SailPoint as our 2020 Technology Alliance Partner of the Year.
In 2020, SailPoint worked side by side with Ping at several enterprise accounts, and was a critical part of our continued success delivering value-added solutions with our technology partners. They helped develop a reference architecture for strategic accounts, participated in numerous joint activities, and assisted us in showcasing our joint solution with our common customer Freddie Mac. They truly exemplified a "better together" story in 2020.
2020 Delivery Partner of the Year: ProofID
This global award recognizes the Ping delivery partner who has displayed extraordinary skill, combining Ping technologies with their own IP or methodology, and has risen to the highest levels of the newly released Delivery Approved Program, including achieving an Innovator specialization. This partner has contributed to positive business outcomes for Ping customers, as evidenced by innovation, providing exceptional customer experience and accelerated time to value in solving complex enterprise identity challenges. We consider this delivery partner to be highly skilled and without hesitation, we recommend their service capability to our customer base.
I'm pleased to announce that in addition to being our NA Channel Partner of the Year, ProofID is our 2020 Delivery Partner of the Year, repeating their wins from 2019 and 2018.
ProofID was our first partner to achieve Elite Status within the Delivery Approved program. They displayed extraordinary skill throughout projects with leading global enterprises and were awarded an Innovator specialization because of exemplary work performed in a complex enterprise customer deployment. Their relentless attention to detail is paramount to their success with our customers.
On behalf of my colleagues and the entire team here at Ping, I thank these outstanding companies, along with all our valued partners, for helping us create new solutions, set standards in the identity industry, and drive business at a global level. We look forward to working with these partners and our partner ecosystem in 2021!
Interested in becoming part of the Ping Global Partner Network? Visit pingidentity.com/partners.