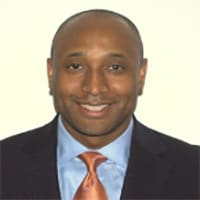 Aubrey Turner
Executive Advisor
---
In 2022, the Metaverse is primed to be a digital social space that is not limited to the narrow realm of physical possibilities—creating simulated digital worlds that mimic our world. While this may sound like something from science fiction, in the real world, some influential organizations are taking the first steps and paving the way for the future of the Metaverse.
The Future of Digital Business
While the Metaverse may sound like a daunting prospect, there are plenty of business opportunities that it will bring. We have already seen multiple product placements and advertising of in-game purchases and skins, plus high-value sponsorships for in-game events and concerts. The launch of NFTs has seen a demand for digital-only products, while, Facebook's Horizon promises a remote working environment, with co-working spaces, meeting facilities, and in-Metaverse training sessions bridging the gap between remote workers globally.
Who is Building Out the Metaverse?
Big players such as Meta (formerly Facebook) and Microsoft have detailed their plans for the future of the Metaverse, but while their plans are in their infancy, we should be aware of key players already building into the Metaverse. Built on Blockchain, four virtual worlds are leading the race into the Metaverse:
The Sandbox
Axie Infinity
Decentraland
MyNeighborAlice
Dealing in cryptocurrency, users on these platforms can purchase exclusive NFTs to that Metaverse and digital property inside the Metaverse that creators can build on. Land in the Metaverse is limited, so as land in the Metaverse is bought up, the value of these plots will increase as the demand increases.
5 High Profile Brands Making Strides in the Metaverse
According to Leading Digital Asset manager Greyscale, the global Metaverse revenue is forecasted to reach $400 billion by 2025. Driven by millions of visitors, several brands are already making strides within the Metaverse, showing what is possible for brands in the future:
Samsung - The tech giant has recently opened a virtual version of its New York flagship store in Decentraland, serving to showcase new announcements and product launches, with the opportunity to win exclusive digital wearables. This is one of the largest brand takeovers to date and is only open for a limited time. Samsung plans to open more versions of the store across multiple platforms.

Coca-Cola - On International Friendship Day in July 2021, the brand launched their first NFT collection: ​​a custom wearable, a sound visualizer featuring audio clips, and revamped artwork from the 1940s. Alongside this, a virtual event was held in Decentraland on top of their virtual Coca-Cola can building with the opportunity to win wearables and NFTs.

Nike - In December 2021, Nike acquired one of the strongest NFT fashion brands in the metaverse to date. The sports brand acquired RTFKT Studios, a digital fashion brand with a significant presence within the NFT Community. This allows Nike to create exclusive digital versions of their products and NFTs that can be redeemed for physical items.

Adidas - To date, Adidas has launched an NFT collection in collaboration with Punks Comics, Gmoney, and Bored Ape Yacht Club. Plus, they have also acquired land inside the virtual world of The Sandbox.

Burberry - In 2021, British fashion house Burberry partnered with Mythical Games to bring branded NFTs to the game Blankos Block Party. Products ranged from Burberry armbands at $25, while the Burberry Sharky B game character had a $300 price tag.
Digital Twins
While multiple worlds are being created, Avatars are a core part of the experience. Users can move between worlds and you can customize your avatar with NFTs, limited edition wearables, and items. However, this freedom of travel opens up the user to new risks of hacks and exploits posed by the world you travel into. The real world consequences of users hypothetically taking the "blue pill" and permanently "jacking-in" to the Metaverse over taking the "red pill" to face reality are potentially catastrophic. The types of protections—legal and ethical—that keep our physical identities safe are not as developed in the digital world. While digital and physical experiences coming together to form "the phygital" seems like an exciting prospect, it also leaves us vulnerable.
Risks of the Metaverse
As with anything new, there is considerable concern about what this new technology will bring and the risks it may present to its users. Payment fraud is projected to cost $40.6 billion by 2027, that's $5.68 per $100. With the global Metaverse revenue forecasted to reach $400 billion by 2025, we can estimate a loss of over $22 billion to fraudulent payments. Ping Identity has highlighted key risks that the Metaverse could present, rating them out of five so users can be vigilant in the future:
Risk Rating: 5/5

Misinformation - With high-profile organizations now getting involved with the Metaverse, such as Facebook, it opens up the platforms to the spread of misinformation or fake news. Social sites such as Facebook and Instagram already have this problem, so how can this be policed within the Metaverse when it is a creator-driven platform?

Risk Rating: 4/5

Lack of Regulation - Lack of regulations can cause serious privacy concerns or court cases over intellectual property (asset) ownership. Most global governments haven't modernized their legal infrastructure yet to deal with the future Metaverse. It's no secret that there is a Grand Canyon-sized misalignment between regulation and technological innovation, which is moving faster than ever due to convergence and democratization.

Risk Rating: 4/5

Risks of Personal Privacy - Data mining has been a big concern when it comes to big players such as Facebook. With organizations such as these building the foundations for the future of the Metaverse, this could intensify. Alongside this, a significant element of the Metaverse is built on the sale of virtual goods, which means advertising which will require data collection of individuals. With few government regulations on this, the Metaverse threatens to continue and amplify the data mining trend for users.

Risk Rating: 3/5

Potential Fraud - Because the Metaverse environment is completely unpoliced, it makes it the perfect space for fraud, money laundering, child exploitation, misinformation, and cyber-attacks. Collaboration will be required between industries, experts, governments, and regulators to ensure terms of use, privacy controls, and safety features are appropriate to the new technology.

Risk Rating: 3/5

Cybercriminals - Cybercriminals and scammers could intercept the Metaverse. They could hack users' avatars to take control, hold them hostage, or create copies allowing them to extract sensitive data. What if AI's go rogue and wreak havoc in a DEFCON type scenario? Facebook's inability to enforce robust user integrity and trust throughout its existing platforms raises concerns about further exploitation within the Metaverse. AI-driven content moderation, identity verification, user authentication, dynamic authorization, and transaction monitoring will be essential for the safety of users on the platform.

Risk Rating: 3/5

Smart Contracts - The rise in the use of smart contracts opens up the opportunity of embedding code within these contracts that can be used for illicit and illegal activity. If the programmer is knowledgeable in their field, smart contracts can be safe and secure. Still, bugs, errors, or malicious actors can often trigger undesirable results that are hard to correct. Users need to evaluate the need for smart contracts instead of regular scripts and traditional contracts.
Aubrey Turner at Ping Identity, "While the Metaverse may be seen as a pandora's box for potential illicit or illegal activity, we need to prepare for the inevitable digital future as consumers and employers embrace digital in the wake of the global pandemic. Businesses are pivoting to a digital-first experience and while there are plenty of risks - implementing strong and secure practices will limit the possibilities for attack and help keep our customers safe."
---