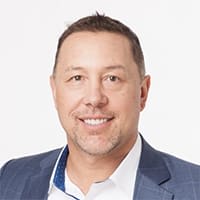 Andre Durand
CEO & Founder
---
The Identity Excellence Awards are always one of the highlights of my year. Reviewing all the nominations and seeing all the ways our customers continue to innovate in the field is both exciting and inspiring.
But when it comes to actually choosing a winner? That's not so easy. Each and every nomination reflects truly impactful work. That's why it takes hours of review and deliberation amongst our judging committee to whittle down the field into the eight winners we decided to award this year.
This year we celebrated the award recipients at our annual user conference, PingYOUniverse. There, I was happy to again roll out the digital red carpet for all these deserving companies alongside our very own Chief Identity Champion. And now, it's my privilege to announce the 2021 Identity Excellence Awards winners as follows.
---
CEO's Choice
The CEO's Choice award recognizes those who don't fit neatly into another category but are challenging the industry by pushing our products to new levels and being amazing business partners.
Winner: TIAA
TIAA was chosen for this award due to their achievements in transforming from a legacy paper-based financial services company to a digital one. TIAA has embraced the modern web application renaissance and is now working to apply those technologies to the next generation of their products and services. With their new API Identity Perimeter, their development teams have enjoyed fewer found vulnerabilities related to access and authorization plus made their security review times significantly more efficient.
---
Identity Innovation Champion
The Identity Innovation Champion award recognizes the team that's fearlessly pushing the limits of identity and blazing the trail by adopting new technologies.
Winner: SCL Health
SCL Health was acknowledged for their innovative implementation of a more holistic and secure IAM platform. This allowed them to modernize their workflows, enable physicians to work more effectively and adhere to strict patient data confidentiality. Over 12,000 physicians now utilize the platform to provide secure and efficient care to their patients.
---
Identity Security Champion
An Identity Security Champion is shaping the industry by using new and novel approaches to secure their enterprise.
Winner: Johnson & Johnson
Johnson & Johnson was recognized for their successful implementation of a risk-based authentication solution amidst the challenge of the COVID-19 pandemic sending their workforce to work remotely from home. In a typical work week, they're able to suppress MFA for around 80% of logins while protecting all of their SaaS applications equally well. With more than 700k logins per week, they estimate that they have avoided approximately 1900 lost person-hours of work weekly by using their new risk-based authentication solution.
---
Cloud Identity Champion
The Cloud Identity Champion award recognizes the enterprise that's achieved exceptional gains in cloud adoption and migration.
Winner: Eurofins
Eurofins earned the top award by building a comprehensive identity experience to allow approximately 55,000 users access to all their in-house developed applications. This removed duplicate accounts in corporate and clinical domains for frictionless UX, allowed users that weren't integrated with the company in the past to now use all services needed with a single account and password and achieved a geo-redundant global federation hub.
---
Modern Identity Champion
A Modern Identity Champion is modernizing legacy IAM systems by connecting powerful new identity capabilities to existing investments.
Winner: Old Mutual
Old Mutual, along with their partner Altron Security, were recognized for migrating an on-premises legacy IAM platform to a modern one deployed in the Cloud (AWS). 41 business applications were migrated for a user base of over 2 million users. As a result, costly upgrades and software licenses were avoided, user experience was improved and additional capabilities such as passwordless authentication and consent-controlled access management were introduced.
---
Champion of Change
The Champion of Change award recognizes enterprises that are using identity to keep people safe, keep business going and steer us all in a new direction.
Winner: Banco Itaú Unibanco Brazil
Banco Itaú Unibanco Brazil took the top spot with the help of their partner Netbr by being one of the first banks in Brazil to implement open banking and open ID certification. This helped them set the standard for the banking industry in Brazil and created a foundation of identity for more than 50 million users in Brazil and all of Latin America. Now their users can securely share information in Brazil's Financial Ecosystem—giving them the opportunity to access better and more customized rates, better bank offers and centralized financial management.
---
Better Identity Together
The Better Identity Together award recognizes the customer and partner who are working together in unique and meaningful ways to advance identity security.
Winner: BGL Group & ProofID
BGL Group and their partner ProofID were acknowledged for their re-platforming exercise to produce a frictionless customer experience for their insurance application. With over three million active users and an insurance database developed over more than 20 years, the task was a challenging one. But the collaborative efforts of the two teams resulted in a slick and frictionless experience for BGL customers, a more standardised modern solution that can easily be adapted for additional brands and improved customer security within the app.
---
Congratulations to the winners of these well-deserved accolades, as well as to all of the nominees for their exceptional achievements and unwavering customer focus. On behalf of our judging committee, it was our honor to review this year's submissions, recognize these exciting and innovative advancements in identity security and celebrate the teams who brought these projects to life. We can't wait to see what you're working on next!