Want to become a ForgeRock expert? Here's how in five simple steps.
Becoming an expert is hard work, and finding your route there is often harder. In the world of digital transformation, expertise is central to unlocking the value in your business. So how can you make your journey to new skills easier, and earn recognition for your growing expertise along the way? The answer to that is ForgeRock digital badges.
Digital badges demonstrate your achievements as you make progress towards becoming a ForgeRock master. In recent years the Open Badges standard supported by the Mozilla Foundation has led the charge in helping individuals develop new skill continuously with achievement recognized as learning progresses.
ForgeRock University is just starting out on this journey to digital skills enlightenment as we join all our learning programs together with digital badges and connected pathways that anyone can follow. Starting with essential product knowledge and industry knowledge, the pathways continue through core ForgeRock skills, advanced skills and on to certification. For our Trust Network Partner community the pathway continues further through the ForgeRock solution specialist program until the final stage of achieving ForgeRock Accredited status - the gold standard of ForgeRock skills.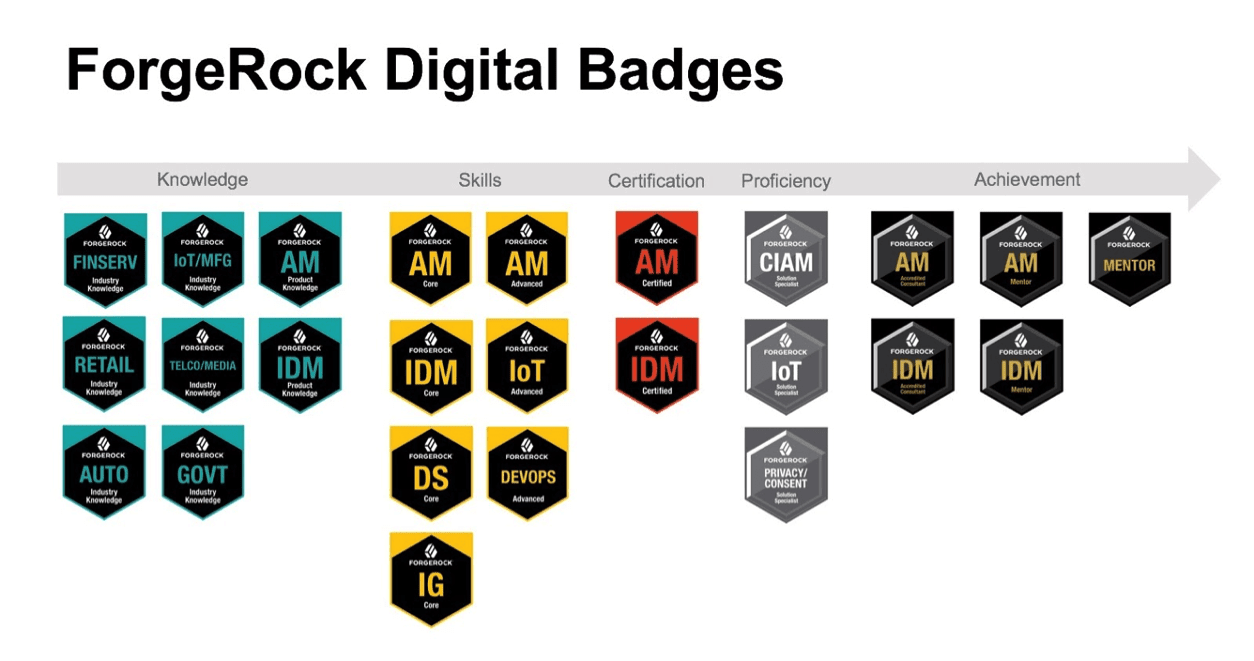 Shout it out!
Once you have earned a badge, you'll want to shout about it. This is easy with digital badges - the unique URL allows you to add your achievement to a resume, website or social media profile - and the more badges you collect, the more sharing you can do to spread the word about how great you are at digital identity. If you have attended a ForgeRock University training event[1], look out for your first digital credential coming your way shortly! And now you can tell everyone about how much of an expert you are.
Ready to begin your journey to becoming a ForgeRock expert? Visit ForgeRock University for a full list of courses. ForgeRock training is available globally, with both in-class sessions and virtual offering enrolling now.
1. Standard Core badges are currently being issued to students who have taken one of the following training events: FR-462, FR-421, AM-400 and IDM-400.