Why You Must Deliver the Experience Your Customers Expect
Today's customers don't just want seamless and secure digital experiences; they expect them. This includes being able to access resources from anywhere and have access to everything, regardless of where the application is hosted or what type of authentication it requires.
They expect to be able to use their social credentials for login, authenticate once, then have contextual access to all of the services your enterprise offers. Of course, it's also expected that you'll add the necessary security, especially to the most critical assets.
Should you fall short and get the customer experience (CX) wrong, the penalties are dramatic. All it takes is one bad customer experience for 32% of consumers to completely abandon a brand. But the benefits of getting it right are equally impactful. It's estimated that multi-billion dollar companies who make CX improvements recognize an average $258M in increased revenue.
How to Provide Seamless, Secure Access to All Applications
You understand the importance of providing the digital experiences your customers demand, but how do you do it? You give them a secure and seamless authentication experience, plus easy access to everything they should have access to. You do this by:
Providing a modern cloud directory that provides access to all applications
Delivering a consistent experience whether apps are on premises, SaaS, in a different cloud environment, use modern authentication standards or legacy headers
Centralizing authentication and authorization policies, and providing the data the application needs to contextually serve your customers
You also give your customers access to all applications with one set of credentials, entered a single time via single sign-on (SSO). But these applications almost always include legacy on-premises applications that don't use identity standards. These apps are often the lifeblood of your business, the core applications that customers use to access your cornerstone products. But if your modern cloud directory can't provide seamless access to these resources, your customers have a disjointed and disappointing experience.
Enter Ping + Microsoft Azure AD B2C. PingFederate and PingAccess with Azure AD B2C make it possible to provide secure and seamless hybrid access to on-premises legacy applications for users of Azure AD B2C.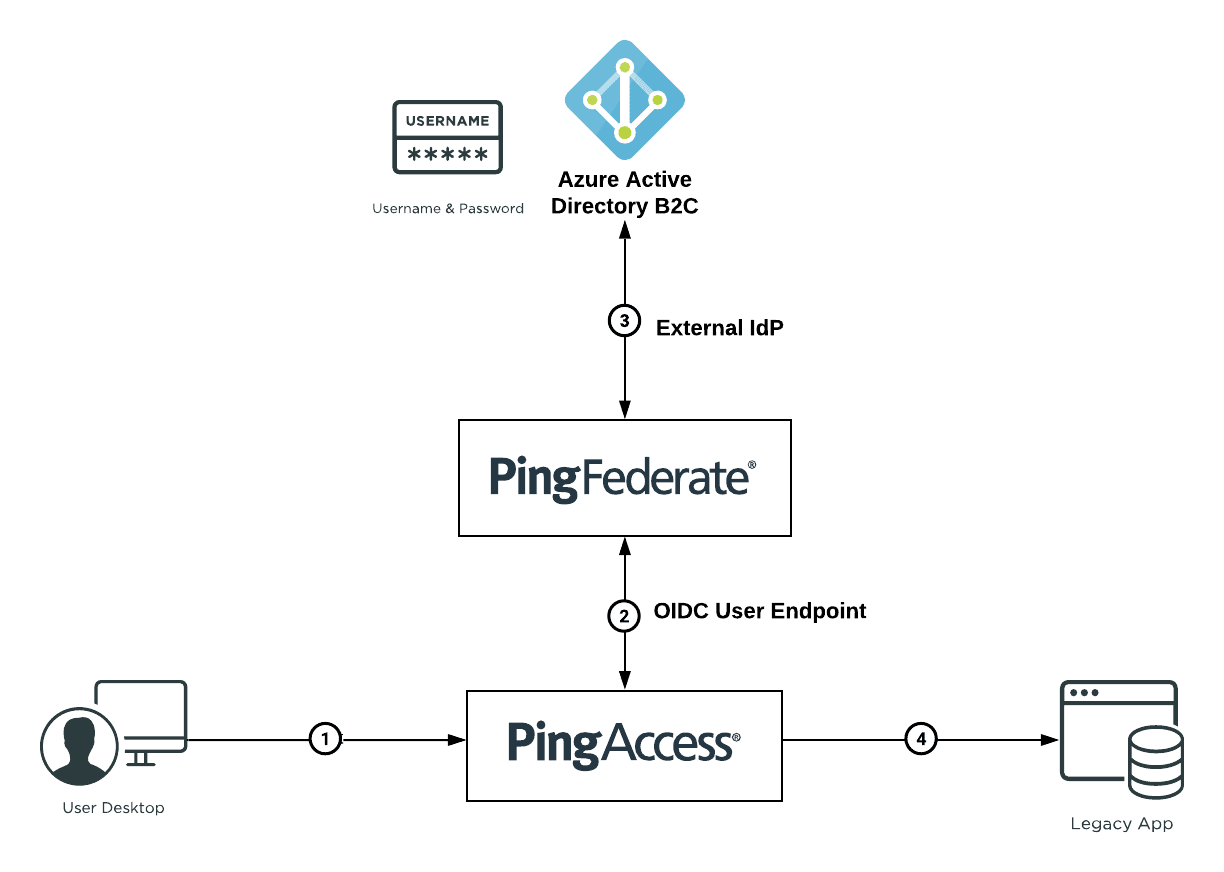 By leveraging Azure AD B2C as a versatile cloud identity provider and modern cloud directory, PingFederate and PingAccess integrate to provide consistent access to all of your applications. You can connect to custom, on-premises and non-standards-based applications, as well as those spanning multiple clouds.
When you use PingFederate and PingAccess with Azure AD B2C, you can deliver a seamless experience, even if your customers use multiple services with segmented user data governed by separate policies. By acting as a federation hub, PingFederate lets you give customers a single session regardless of how many IdPs you have in your organization. With the addition of PingAccess, a centralized access security solution with a comprehensive policy engine, your customer is able to authenticate once and gain access to all resources and is able to transition seamlessly between them.
Your customers also get a secure authentication experience. Often legacy and modern applications expect access to user data and attributes that you don't want to and shouldn't store in your cloud directory. PingFederate solves this vulnerability with token decoration, adding in attributes from multiple disparate data sources into the header or token to give more advanced authorization capabilities to the application. At the same time, your organization can apply centralized authentication and authorization policies, including risk-based authentication policies that analyze user behavior, browser data, IP addresses and more.
Deliver Seamless, Secure Customer Experiences with Ping and Azure AD B2C
Your customers want to have consistent and convenient interactions with you that are also safe and secure. You can deliver the customer experiences they expect with PingFederate and PingAccess for Azure AD B2C.
To learn more, visit pingidentity.com.