You want to deliver incredible digital experiences. We want to help. At Ping, we champion your identity as a company and give you the capabilities you need to provide secure, seamless interactions to your customers, employees and partners.
But what about your experience? As a leader, administrator or engineer, you are responsible for building IAM solutions that streamline the user experience, but your experience should also be streamlined and easy to use. That's why we're excited to unveil a new administrative console to use with any Ping solution. This solution, now available in beta, is designed to simplify and improve your overall administrative experience.
A Bird's Eye View of Your Environment
Our new PingOne home page, provides you with a 10,000-foot view across all of your solutions and environments. No matter the complexities of your deployment, you will be able to log into Ping, have a view of the activity occurring across all of your products and environments, and perform whatever tasks you need to accomplish. Think of the PingOne home page as your administrative dock to access any component of your solution within one click.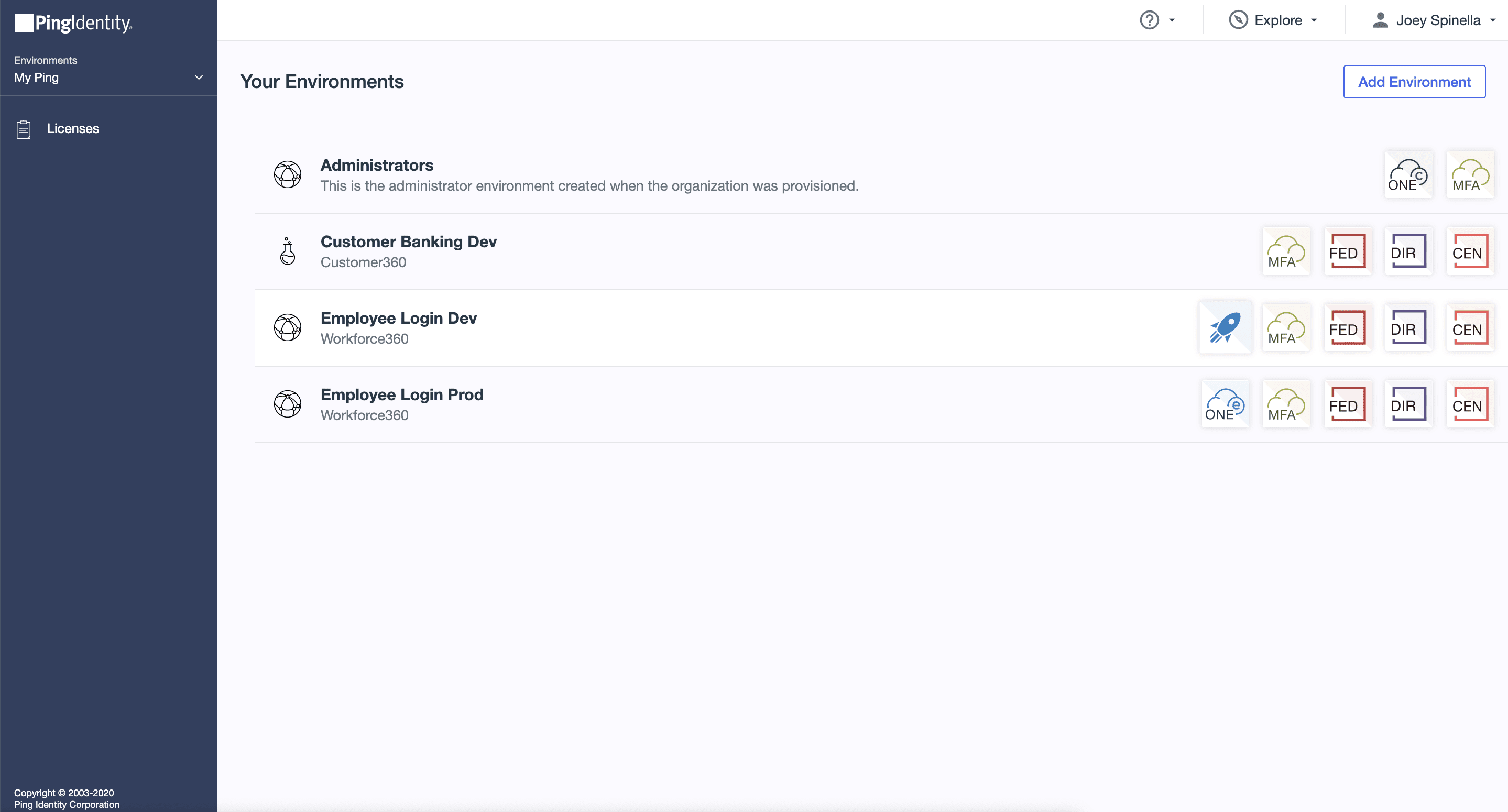 Product icons allow administrators to quickly identify and launch the product consoles from one overview page.
As part of this new administrative console, you'll notice we're introducing a left-hand navigation and an improved look and feel with a new set of product icons. This experience provides structure to your solutions and allows you to quickly identify and launch your products and services.
Dive into Data
While a high-level summary is nice, we know that you need to efficiently access the data you care about. With a single click on an environment, you jump into that environment's admin console and see the Overview dashboard. Our goal with this environment-specific overview is that you have a comprehensive summary of activity available, regardless of which products and services are included in your environment.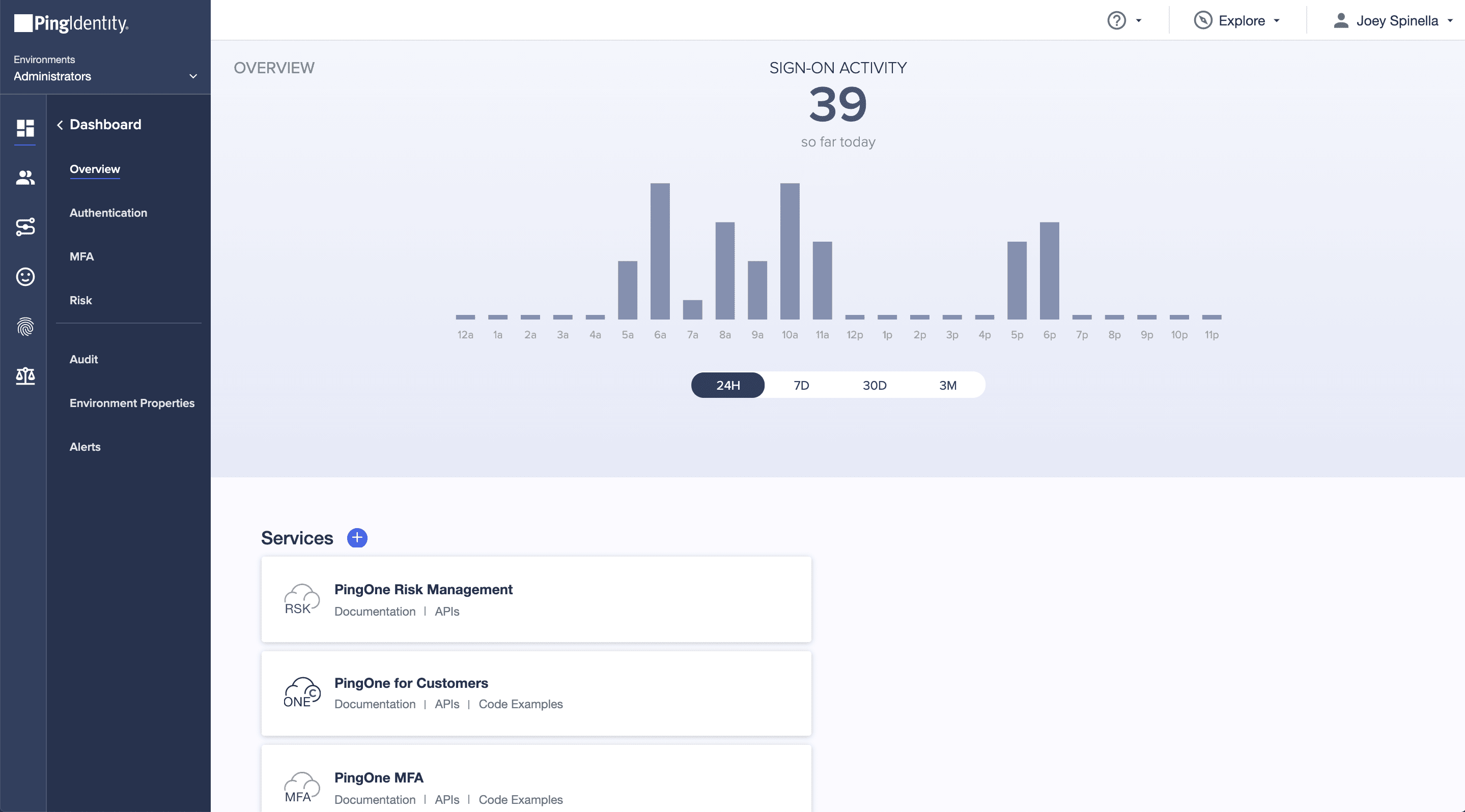 You can access the new home page from the home icon located in the top left corner of any PingOne for Customers environment.
For example, if your solution includes PingFederate and PingOne MFA, you'll see a graph displaying the number of MFA transactions that have occurred, as well as links to the PingFederate admin console. The Quick Actions section of the overview dashboard will also help you deploy advanced solutions using DevOps, alert you if licenses are expiring, and display other relevant information.
From hundreds of interviews with you, our users, we've heard that your IAM teams are relying too much on institutional knowledge, which makes onboarding harder than it needs to be. These smart resources, which are available precisely when you need them, will allow you to spend less time hunting and more time doing.
Never Get Lost
We've also simplified the menu to make it easy to navigate within each environment. They now contain only a few options: Dashboards, Identities, Connections and Experiences.
Dashboards gives you an overview of the environment and allows you to view products and services, access reports and configure alerts.
Identities is where you manage populations of users and organize them into groups so you can give them access to apps and APIs.
Connections is where you build the standards-based integrations with resources to which you are managing access.
Experiences is where you define the end-user experience, including branding, logos and policies such as multi-factor authentication.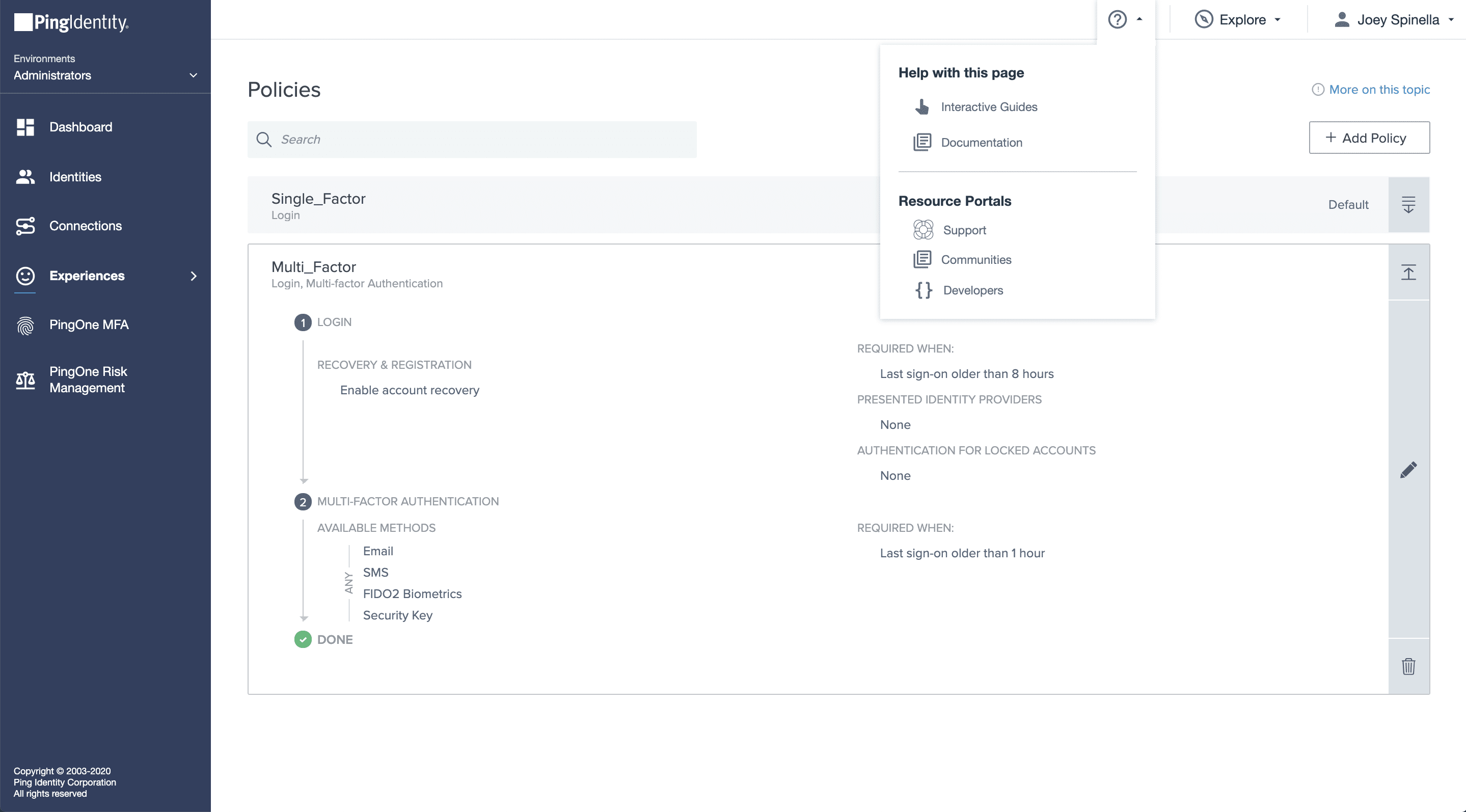 This new menu structure preserves all existing PingOne administrative functionality, while creating straightforward categories that are easy to find and remember.
To view instructions on setting up the PingOne admin console and configuring it as your administrative operations center, access the getting started guide.
All the Pieces You Need
At the heart of this approach is a shift in focus from individual products to connected solutions. Our advanced Customer360 and Workforce360 solutions include multiple products that can be deployed in PingCloud or with Docker. These solutions work together out of the box to solve the most common IAM problems, such as single sign-on, directory, multi-factor authentication and delegation to business and technical admin users. And if you're looking for IDaaS solutions, PingOne for Customers and PingOne for Enterprise incorporate complete IAM functionality entirely from the multi-tenant cloud.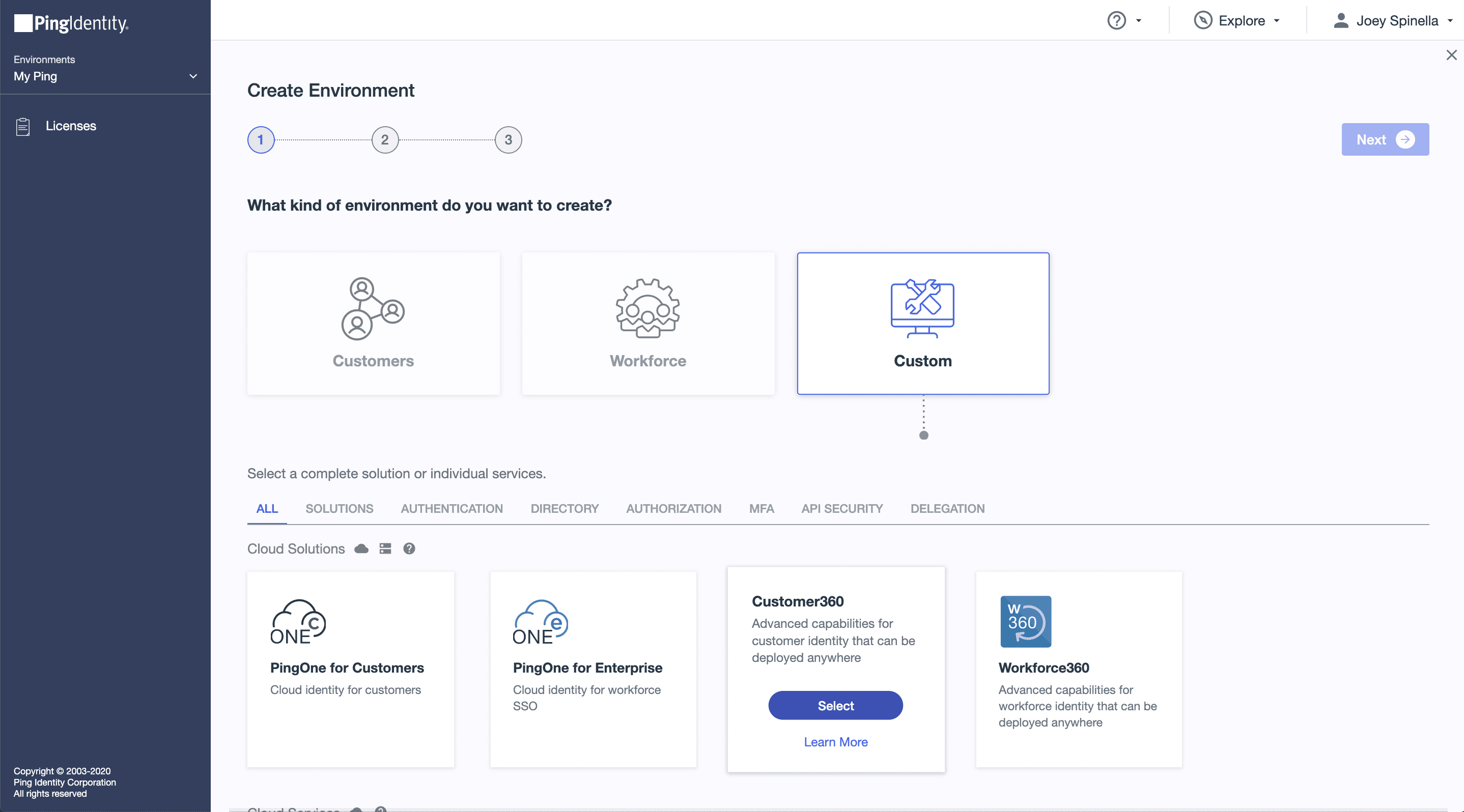 Filter Cloud Services and Cloud Software by use case or by category to find the solution you need.
As you know, unifying and streamlining the customer experience cannot be done overnight, and neither can the improvements we're committed to making. But you can rely on us to champion you as you champion identity for the users you serve.
To take this beta experience for a test drive, log into your Support portal and click Login to PingOne. If you don't yet see the button, you can start using PingOne immediately by signing up for a trial account, which gives you access tothe PingOne admin console as well as trials for all Ping products and services.