Digital transformation continues to take place in all sizes and types of organizations around the globe. Arguably, some measure of digital transformation is unavoidable. Advancements in digital technology have dramatically changed the way we work, conduct business, and live our lives. Those who wish to benefit have little choice but to modernize or risk becoming irrelevant.
---
"Digital transformation...is the necessary but challenging journey of operating digital-first with the speed and nimbleness to change rapidly, exploit technology to create lean operations, and free people to do more complex tasks."
—Forrester
---
Digital transformation can help organizations increase workforce productivity, deliver better customer experiences, and create new digital products and revenue streams. But digital transformation is also notoriously challenging.
Enterprises who have yet to get started may be stymied by obstacles, while others who have embarked on their journey may feel they are no closer to achieving success. McKinsey found that just 16% of organizations believe their digital transformation efforts improved performance.
As you navigate the complexities of digital transformation, how can you increase the likelihood of achieving your goals? Read on to learn three steps to help ensure your digital transformation initiatives deliver on their intended outcomes.
1. Take Change Management Seriously
McKinsey and others have studied what it takes for digital transformation success, and a thorough approach to change management is critical. Here are McKinsey's seven capabilities of successful digital implementers:
Plan for the long-term sustainability of changes from the get-go
Create clear ownership for and commitment to change across the organization
Assign accountability for specific actions during implementation
Make continuous improvements and quick shifts as needed
Use effective program and change management processes
Remain focused on priorities
Allocate sufficient resources and capabilities
Companies that incorporated these principles were 70% more likely to have successful digital transformation initiatives. They also executed more effectively along the way. For example, when an organization's expected outcomes for a digital solution were clearly and consistently communicated during the initial phase, they were 3.5 times more likely to report a successful outcome.
---
When the desired outcome of a digital solution was clearly communicated prior to launch, success was 3.5X more likely.
—McKinsey
---
By taking the time to carefully plan your initiatives, you can increase your likelihood of creating lasting and positive transformation. McKinsey provides the following guidance:

Stay engaged and on the lookout for blind spots: strong leadership and an honest assessment of potential roadblocks are essential ingredients for success.
Allow time to find the right skills: spending the time to find the right people and resources can mean the difference between success and failure.
Lead with agility: focus on KPIs to enable quick identification of needed pivots and shifting priorities.
2. Manage Risk Wisely
Risk management is nothing new for IT and security teams, but the traditional methods of evaluating risk need to be expanded for digital transformation initiatives.
In its report "Managing Risk in Digital Transformation," Deloitte identifies 10 areas where organizations need to evaluate and manage risk: Strategic, Technology, Operations, Third Party, Regulatory, Forensics, Cyber, Resilience, Data Leakage and Privacy. Including and extending beyond security vulnerabilities, this holistic view of risk requires that you also consider how your technology decisions impact things like customer experience, brand value, reputation and competitive advantage, as well as newer and evolving issues like regulatory compliance, third-party data sharing, and privacy and consent.
---
"An approach to digital risk management should begin with an understanding of the organization's digital footprint and creating a register of digital risks."
—Deloitte
---
You also need to strike a balance between security, usability and experience. Even if you find a killer technology at a great price and with easy implementation that meets your security requirements, if you don't first consider the needs of your users and get them engaged in the change, what you thought was a perfect solution could quickly become just another change effort that fails to deliver.

Additionally, make an honest assessment of your infrastructure. When you try to build modern solutions on an archaic foundation, you're at risk of encountering a number of obstacles that can quickly derail your budget and implementation schedule. You may also struggle to achieve the improvements that you envisioned.
3. Invest in the Right Technologies
While it's clear that digital transformation isn't about technology alone, you can increase your success rate by investing in the right technology solutions. New tools and technologies can enable business growth by providing access to data and insights that previously might not have been available. Therefore, organizations need to ensure the rights users have access to the right things which comes down to identity and access management. But often times their legacy identity systems are falling short and unable to keep pace with modern requirements for rapid integration, deployment flexibility and enterprise scale.
Further complicating things, many find that there's only so much cloud migration that's possible or practical for their operational needs. As hybrid IT and multi-cloud infrastructures become the new norm, business leaders in these organizations are looking for a platform that's capable of managing digital identity for their employees, partners and customers, as well as providing these diverse users with access to a range of on-premises, SaaS and cloud applications.
How Intelligent Identity Solutions Enables Digital Transformation
Digital transformation enables real time access to an expanding array of applications, APIs, and resources. One common thread to accessing disparate resources is digital identity.
An Intelligent identity solution matches a user's specific actions and context with an associated risk, and responds with access approval, denial, or step-up authentication to further verify the user's identity. With the help of AI, intelligent identity is continuously learning and detects patterns to identify anomalies to keep up with the latest security threats.
An intelligent identity solution utilizes risk factors, context and access policies alongside machine learning to determine tailored security outcomes that minimize end user friction while maintaining security. Critical capabilities of an intelligent identity solution include:
Risk Assessment: Define user, device, resource, location and network risks to determine the security measures required (e.g., multi-factor authentication) to complete the user action.
Context Assessment: Use physical and digital contextual information, such as user location and device security posture, to determine security requirements.
Policy Enforcement: Customize rules which govern what resources certain groups and types of users are able to access.
Self-Learning: Artificial intelligence and machine learning further help identify abnormal and/or risky behaviors that warrant additional security measures.
---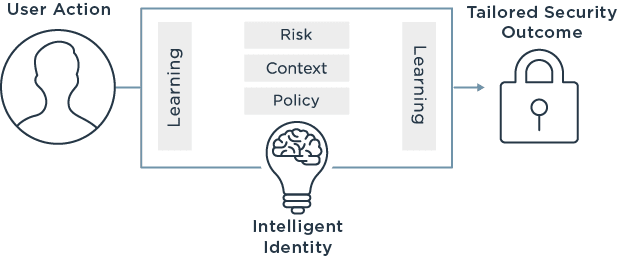 ---
Digital Transformation Success Starts with Intelligent Identity
Digital transformation initiatives often come with lofty goals, but utilizing proven change management methods, carefully managing risk, and relying on the right technologies can greatly improve your success rate. Many organizations are realizing firsthand the advantages of an intelligent identity solution to make smarter access security decisions and a more seamless user experience in support of their digital transformation initiatives.
To learn more about intelligent identity, get the white paper.

---