I just bought a Pebble Time. In between thinking of how I might plausibly claim it as a business expense, I've been tuning the sensitivity of the PlexFit app I'm using for step counting.
---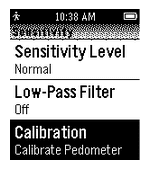 ---
The premise is that everybody walks differently, and so a generic one-size-fits-all algorithm isn't sufficient. Consequently, I've been marching up and down the street mentally counting 100 steps and then comparing to what the Pebble reports. I adjust one of the app's 4 sensitivity parameters either up/down and repeat to see if the delta between actual and measured is improved.
Two thoughts:
If how we walk is so unique, our gait could be a viable biometric.
Adjusting the sensitivity of your step counting algorithm is waaaay too much work (and, in certain circumstances, may cause your neighbours to be suspicious and report you to the police)
But more fundamentally, I've come to the realization that adjusting sensitivity is mostly unnecessary. Unless you are competing against friends or colleagues to see who walks the most in some period of time, the actual step count doesn't matter. If instead you are counting steps as motivation to get off the couch (or chair if that's your demon) and walk around more throughout the day, the accuracy of the count is less important than the precision of the counts from day to day.
---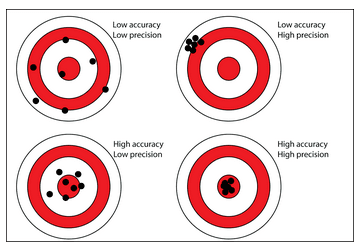 ---
Accuracy is how close a measured value is to the actual (true) value
Precision is how close the measured values are to each other
If motivation is the goal, you needn't worry about comparing how many steps you are taking in a day to reality, more important is comparing today's number to whatever value your Pebble (or Apple Watch if you are that type of person, I don't judge) has previously reported on a day you walked a lot.
The distinction between accuracy and precision may also be true for how we measure and analyze signals for continuous authentication. If we rely on a user's location to partially establish their bona fides, then if we are comparing their current location to the pattern they have previously established ( a behaviour check in the taxonomy presented in the above blog post) - the accuracy of the measurements doesn't matter but its precision does. For instance, if my geolocation were always reported as Uzbekistan (nb I do not live in Uzbekistan) then, even though incorrect, it could still be a useful indicator of my identity.
If, however, you are performing a context check (as defined above); i.e., comparing the current location to a blacklist of sketchy locales, then accuracy does matter because if your measurement is off, then your comparison will be off as well.
In closing, if you are a step counter (maybe we need a secret handshake or signal by which we could discretely spot each other, kinda like that cool thing Harley riders do with their finger) don't be a slave to the completely arbitrary recommendation of 10k steps that the Ambulatory Industrial Complex has mandated! Precision not accuracy.
---