The Broadcom Acquisition of CA Technologies
On July 11, 2018, Broadcom announced plans to acquire CA Technologies for $18.9 billion. If you're not familiar with Broadcom, they are a diversified global semiconductor company. They're also notorious for buying up companies and making them profitable by quickly capitalizing on synergies and trimming to focus resources on the core business.

When it comes to Broadcom's acquisition of CA Technologies, investors and analysts are already expressing skepticism, citing that the synergies are not readily apparent. Broadcom's semiconductor business is primarily hardware focused, while CA Technologies' core business is software.

---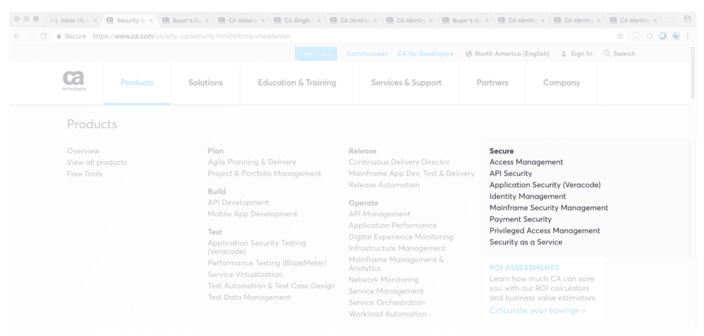 ---
As shown on its company website, CA Technologies has a broad portfolio, including security products (highlighted above) that are primarily related to identity and access management (IAM). This demonstrates CA Technologies' understanding of the way that security and IAM have become inseparable. But you can also see that security/IAM is just one small category of products, and it may be an even smaller part of Broadcom's diversified portfolio.

You're not alone if you're wondering how important IAM will be to the overall Broadcom portfolio. And if you're a current user of CA Technologies' CA Single Sign-on (previously CA Siteminder) or CA Directory, your identity security deserves to be a top priority.
Identity Security is of Strategic Importance

Today's enterprises are operating in a digital era where user experience is increasingly important, and security can't be sacrificed. The right identity and access management solution enables your organization to leverage a unified digital identity for each of your users. You're able to deliver secure and seamless user experiences across your business, and achieve greater business value and agility.

With the right IAM solution, you can:
increase your employees' productivity by enabling seamless and secure access
drive value across your supply chain by streamlining partner access
leverage a single customer view to deliver personalized customer experiences
support your move to the cloud, while maintaining access to legacy, on-premises apps
comply with increasing regulations around privacy and data security
accelerate time to market for new applications and services

Because of identity's strategic importance, your identity and access management vendor is a critical partner to your enterprise. Once you've invested in this partnership, you expect your vendor to continually invest as well, so you can stay focused on your core business.

Evaluating an IAM Partner

As an organization using CA Technologies for IAM, you may have already realized you don't want to divert your critical investments and resources to building identity and access management capabilities yourself. Perhaps you're considering adding or transitioning to a new IAM vendor instead. If so, here are a few things to look for:


A product roadmap that aligns with your future needs, so your vendor is able to grow with you.
Ongoing investment in research and development to stay on the leading edge of the rapidly changing identity space.
Active leadership in the development of technical standards to ensure secure integration in today's open business environment.
These are just the baseline expectations. As you narrow down vendors and solutions, there are other important capabilities to consider:


Deployment in a variety of complex and hybrid environments, encompassing both on premises and private/public cloud (such as AWS and Azure).
Flexibility and scalability to handle millions of identities across an enterprise, not just certain departments, regions or user types (i.e., customer, workforce, partner).
Open identity standards support (such as OpenID Connect, OAuth2.0, SAML, SCIM, WS-Trust and WS-Federation) enabling out-of-the-box integrations and vendor neutrality.
Commitment to their customers, enlisting customer input to drive product releases and updates.
Active involvement in the IAM industry, leading and participating in conferences, customer round tables and summits.
Healthy investment in enterprise-grade IDaaS capabilities and a future focus to drive product innovations.

Navigating the Best Way Forward

It's too soon to tell what the future holds for the identity and access management portfolio at CA Technologies if/when the Broadcom acquisition goes through. But there are things you can do now to evaluate the best way forward if you're a CA Single Sign-on or CA Directory user. For starters, you can explore what's involved in migrating to a new solution.

To learn about a phased approach that's proven to provide a smooth migration, get the CA Single Sign-on Migration Guide.

---