Since our beginnings in 2002, Ping Identity has maintained our focus on better serving you, our customers. Today, thousands of you use our intelligent identity platform, and many of you have partnered closely with us to expand your enterprise identity security capabilities.
Our customer-first culture has helped us achieve tremendous growth. Over the years, our CEO, Andre Durand, has shared our evolution with Nathan Latka, host of The Top Entrepreneur podcast. In episode 963 from 2016, Andre shared how Ping was founded on the concepts of using identity to secure an anonymous internet and helping large enterprises connect and secure their internal systems. He also shared how that vision has expanded to zero login and real-time access security that helps organizations deliver frictionless yet secure user experiences.
The 2020 Latka 250
After selling his own business in 2015, Latka launched GetLatka.com, where he maintains a database of the top SaaS companies. In addition to producing a daily podcast where he interviews SaaS CEOs, Latka also publishes an annual list called the Latka 250 that recognizes the fastest-growing SaaS companies.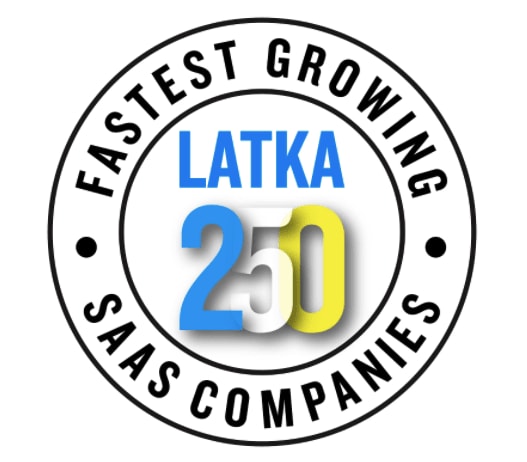 To identify the top 250 companies for the 2020 rankings, companies' December 2019 monthly recurring revenue was annualized and compared to their revenue in December 2020. The companies were then split into three categories to recognize the unique growth challenges at each stage: $1 million to 10 million, $10 million to $20 million and $20 million to $100 million. In total, the top 250 companies for 2020 do $8.5 billion in revenue, service 2.2 million customers, and have raised a total of $12 billion dollars.
Latka received a whopping 5,091 applications for just 250 positions on the 2020 list. And Ping made the cut!
It's an honor to be recognized for our growth, which we attribute to our unrelenting focus on helping you solve your biggest challenges. Championing your identity needs and simplifying how you deliver secure and seamless digital experiences for your workforce and customers is what gets us out of bed each day.
As we've all experienced rapid and unpredictable shifts in how we work, shop and live over the past year, our mission has become more critical. We're more committed than ever to providing new ways to help our customers through the challenges of supporting remote work and increasingly online customers, and trying to resume business and life as normal as quickly as possible.
Supporting Your Cloud-first Initiatives
For many, the transition to working from home was swift, unexpected and created even more urgency to accelerate cloud initiatives. When you must provide your employees access to resources from anywhere, as well as give your customers seamless and consistent digital experiences, your ability to leverage the cloud is key. Whether you're just starting out or need more advanced capabilities, you'll find that Ping has a cloud identity solution for you.
If identity-as-a-service (IDaaS), or SaaS-delivered IAM, is the best choice for you, PingOne will get you up and running quickly. You can onboard both customer and workforce applications and users in a matter of minutes. You'll enjoy support for thousands of SaaS applications and popular open standards including SAML and OpenID Connect, as well as access to advanced services that enable enterprises with legacy and nonstandard applications to achieve cloud mandates.
Alternatively, if you prefer to host and manage our software yourselves, you can leverage cloud automation and orchestration capabilities, including Docker and Kubernetes, to deploy our solutions in the cloud of your choice. This option gives you the most flexibility and allows you to rapidly integrate identity security into your DevOps initiatives.
Whichever fits your needs best, our cloud identity offerings will help you achieve the increased speed, agility and efficiency you're looking for at every step of your journey. To learn more about our cloud-based identity solutions, visit pingidentity.com.
Helping You Get Your Business Back to Normal Faster
As we approach one year since the first pandemic shutdowns, we all want to get our businesses and lives back to normal. If only there were a simple solution to the complex challenge of proving vaccination and COVID test results in a secure and privacy-aware manner… but wait, there is!
Our Project COVID Freedom initiative, which leverages personal identity through Ping's recently-acquired ShoCard application, allows healthcare providers, businesses and individuals to easily share digital proof of COVID test results and vaccinations. Project COVID Freedom creates a secure and privacy-enabled way to verify test and vaccination results, while keeping users up to date on vaccination status over time via private encrypted messages.
With Project COVID Freedom, individuals can securely capture, store and share proof of COVID-19 test results and/or vaccination in seconds—and it's free for all. Click here to learn more about how Project COVID Freedom can help you get back to normal faster.
Thanks for Letting Ping Be Your Identity Champion
We're humbled to be recognized for our growth by the 2020 Latka 250. We wouldn't be where we are today if it weren't for the trust and confidence you place in our team, our partners and our solutions to champion your identity needs and help you solve your toughest challenges. Thanks for being in our corner, and stay tuned for more exciting new products and features to help you deliver seamless and secure access to your workforce and customers.
In meantime, if you haven't had a chance yet to see how Ping ranks in the 2020 Gartner Magic Quadrant Report: Access Management (hint: we're thrilled about this ranking, too!), get your free copy of the report here.