To all our customers—we want to say a big thank you! Your thoughts, ideas and suggestions play a major role in helping us discover new opportunities to improve our identity solutions. We are so appreciative and honored that 827 people recently took the time to participate in our annual customer survey: the Net Promoter Score. When you take the time to respond, you are giving us a clear direction on where to invest and where to change course. It's good for our customers—and it's good for Ping.
We're happy to announce that our score this year is +65! That's considered world class and an indication that a strong partnership with you—our customers—is helping to deliver sweet, secure user experiences.

What is NPS?
Net Promoter Score, or NPS, is a customer loyalty and satisfaction measurement taken from asking customers how likely they are to recommend a company's products and services. The score can range from -100 (where all respondents would not recommend) to +100 (where all respondents would recommend).
Hubspot shows that a typical benchmark for software companies is in the +28 range, but it is not uncommon to see results in the negative numbers. Ping's NPS of +65 is a leading score among our peer group, according to third-party NPS estimates. NPS survey company Delighted says a score of +65 places us in the 100th percentile of software companies.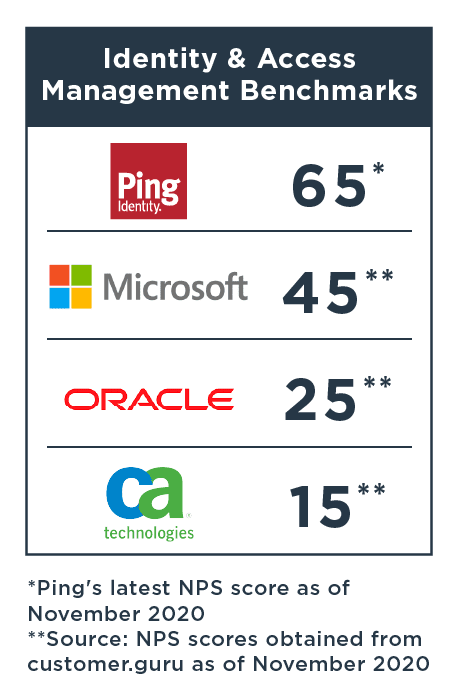 Why Is NPS Important?
According to Capterra, two thirds of software buyers said reading reviews significantly impacted their purchase decision. If you're like 74% of B2B buyers, your journey to purchase starts with a lot of online research before you even think about contacting an actual vendor. We understand the importance your experience with Ping plays in interactions with your peers and how you carry this experience throughout your career.
This is why we read every comment, and oftentimes engage to dive deeper and better understand your feedback. In turn, we share that feedback with each department within our organization so every team knows where to focus their efforts to make your lives better.
A Sampling of Ping's NPS Reviews
In addition to the quantitative feedback generating our +65 rating is the qualitative feedback portion of the survey. These are text responses on what we're doing well and where we can improve. You gave feedback on everything from the sales process, your implementation experience, the sense of partnership you have with Ping, ways we can continue improving the products, and comments on our website and documentation. This is invaluable to us in our pursuit of creating extraordinary customer experiences.
You've told us we're on the right track with positive comments about our products and services. We learned that you value our focus on offering helpful support, promoting high-quality relationships throughout our company, and upholding the core functionalities, stability and flexibility of our products. Here are a few examples you mentioned:
"Ping has been an outstanding partner to our company for the products that we have purchased and have their eye on the ball as it relates to the future of where identity is going as well. It is clear that the company is looking to be leaders in the space and to be the innovators, not the followers."
—CISO, Global Manufacturing Organization
"Ping Identity has been able to solve some complex integrations for us and has allowed us to expand our customer experience. The APIs have provided additional functionality for our customer-facing portal and the new acquisitions have allowed us to streamline our processes."
—Collaboration & Identity Services Lead, Large Insurance and Healthcare Provider
"Absolutely would recommend Ping Identity. I have worked with the products and Ping team members on problems and projects, and I know they have the expertise and interest in assisting us. The engineering team has been responsive in troubleshooting and getting improvements we asked for. Professional services have been so helpful in planning major changes. The products offer coverage for most of our identity needs."
—Identity Management Engineer, Multinational Conglomerate Company
"The support that we get from Ping moves our interactions beyond the realm of just vendor and customer and into the realm of a partnership. The platform that we have is very stable and easy to mold our strategy for identity around."
—Director of IAM, Global Software Company
"The Ping product set is excellent. It is standards based and products receive updates frequently...Ping understands the importance of regulatory compliance. The company and staff foster excellent relationships."
—Solution & Technology Architect, Large Commercial Bank
How We've Implemented Your Feedback
You've also shared your suggestions for ways we can better serve you. Over the past few years, we've delivered on both product and customer experience improvements based on NPS feedback. Some of the more notable improvements include:
Cloud-delivered IAM
We have made large-scale cloud investments in direct response to feedback, including this year's launch of PingOne Services: a suite of stand-alone cloud services that provide advanced identity and access management capabilities with flexible integration options. These services can be rapidly implemented and deployed together or individually to meet an organization's unique needs. PingOne Services offerings can be easily integrated with existing IAM infrastructure, including Ping Identity solutions as well as third-party products, so that enterprises can pick and choose which advanced capabilities they need.
Intelligent Identity
The first two PingOne services we released this year were PingOne MFA and PingOne Risk Management, addressing enterprise needs to balance security and convenience for their workforce and customers. PingOne MFA is a multi-factor authentication cloud service that protects from account takeover attacks, compromised credentials, fraud and other malicious activities, while delivering a smooth and frictionless user experience. PingOne Risk Management is a cloud service that uses machine learning to evaluate risk signals and detect threats in real time. Alongside these services, Ping is doubling down on our commitment to deliver exceptional user experiences by improving our own customer experience. We are launching a unified cloud administration experience that provides a single location for administrators to view and manage their identity solutions deployed on-premises and in the cloud.
Easy Access to Support
We re-launched our Support Community earlier this year, where you can go to get quick answers on technical challenges. We also continue to develop our Ping Identity Support Portal, where you can easily access documentation, training, product downloads and more needed for Ping product success.
Going forward, we are looking at ways to further these improvements and more. Stay tuned for exciting 2021 announcements regarding enhanced cloud services, dynamic authorization and our efforts in paving the way to personal identity.
Care to Share More Feedback?
We're thrilled that as a whole you would recommend Ping to other groups in your company and peers in your industry, based on your experiences with our intelligent identity solutions and our technical support team. We're grateful that these recommendations help propel our business forward, and we plan to continue to invest to bring more value to our customers.
To all of our customers, we would love to hear more. We have a customer advocate community, where you can share feedback and connect with other customers on Pingtopia. Interested in joining? Reach out to our customer advocacy team. You can also read more NPS reviews or leave a review on Gartner.