Ping Identity is pleased to announce that Microsoft is our 2018 Better Together Technology Alliance Partner of the Year! Microsoft continues to work with us to expand the integrations between our platforms, making Ping Identity the best way to connect Azure AD to your hybrid IT environment.
To add to the groundbreaking PingAccess for Azure AD integration released in 2017, Microsoft and Ping collaborated on three major integations in 2018:
These three integrations all have one thing in common: They are necessary for any enterprise that lives in a hybrid IT world with applications across multiple cloud platforms, SaaS and on premises.

In this hybrid environment, you still need to provide your users with the ability to authenticate and gain secure access to all of their applications, whether SaaS, on premises or in any private or public cloud. Yet, many identity and access management (IAM) solutions aren't able to support hybrid IT well or at scale. The complicated workarounds required to connect disparate environments can delay your cloud strategy, increase risks and costs, and even hurt the user experience.

The combination of Ping Identity and Microsoft Azure AD smooths the way for enterprises operating in hybrid IT environments. It enables secure and seamless access for all of your users to all of their applications, regardless of their authentication route or where applications reside.

PingFederate to Office 365 Using Azure AD Connect
With the integration of PingFederate and Azure AD Connect, PingFederate users gain a simple way to federate on-premises Active Directory with Azure AD. This integration enables fast and simple configuration of PingFederate and Azure AD, which in turn provides your users with convenient access to Office 365.

---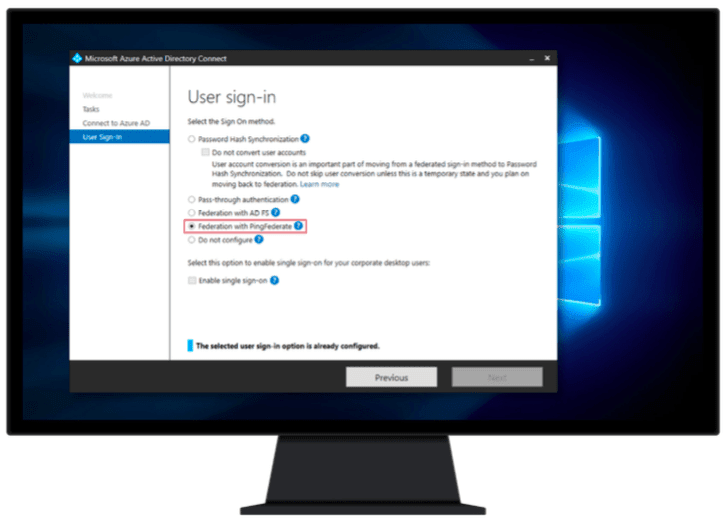 ---
To set up the federation bridge, simply select "Federation with PingFederate" in the User Sign-in section of the Microsoft Azure AD Connect installation wizard. Azure AD Connect handles the configuration and sends a file to PingFederate with the settings needed to federate to Azure AD and Office 365.

Because federation is critical to your enterprise, you need a powerful federation bridge that can enable connections to on-premises, SaaS and Microsoft Azure applications (like Office 365), while still being able to connect to applications in other virtual clouds. PingFederate + Azure AD Connect simplifies the configuration of federating from on-premises Active Directory to Azure AD, so you can grant employees secure single sign-on (SSO) access to their productivity suite, a critical first step in any identity project.

PingID for Azure AD & PingID for AD FS
Authenticating with usernames and passwords alone is outdated and risky, especially for sensitive data and applications. PingID for Azure AD and PingID for ADFS add contextual multi-factor authentication (MFA) to your user login protocol for an added layer of security.

MFA—which requires an additional form of authentication based on something you have (like a mobile device) or something you are (like a fingerprint)—is a proven security measure that can reduce the risk of data breach. PingID is an identity-as-a-service (IDaaS), adaptive MFA solution. It provides contextual MFA that allows you to step up authentication requirements only when warranted and based on policies you define. This allows you to balance security with user experience.

When sensitive data or transactions are involved, your users are becoming more accepting of and even welcoming additional authentication requirements because of the added peace of mind they experience. PingID's integration with both Azure AD and AD FS allows you to define and enforce authentication policies that are tailored to your specific requirements. PingID for Azure AD and PingID for AD FS provide support for all of your enterprise use cases, giving you the freedom to apply MFA everywhere it is needed for your employees, partners and customers.

---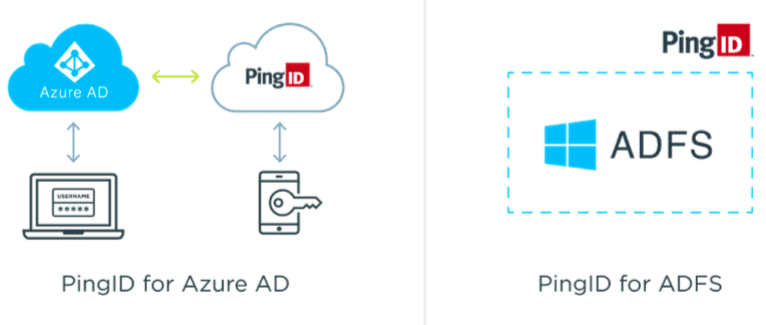 ---
Ping and Microsoft: Improving Security in 2019 and Beyond
Microsoft and Ping are committed to continue to innovate to ensure that enterprises have an easy and secure path to the cloud. To learn more about how these integrations will improve your security while on this journey, please read this solution brief. With Ping and Microsoft together, let's make 2018's integration successes your 2019 security improvements!

---