Identity has become the most common vulnerability that hackers exploit to gain access to sensitive data, business systems and personal information. In the past few years, massive data breaches made headline news with such regularity that many people now simply assume that their records have already been compromised. These large-scale breaches also had a massive financial impact on the target organizations. According to the Ponemon Institute, the average cost of a single data breach is $3.86M, and nearly double that for U.S.-based companies. Some massive breaches racked up costs in the hundreds of millions.
But this isn't just a problem for the mega-corporations of the world; this problem afflicts every company. Poor password practices, strained IT resources and sprawling app portfolios that need to be available from anywhere are the norm no matter what kind of organization you're running, and hackers know just how to exploit those weaknesses. Identity-related security threats are real and your business can't afford to ignore the risk. But addressing them is no easy task.
---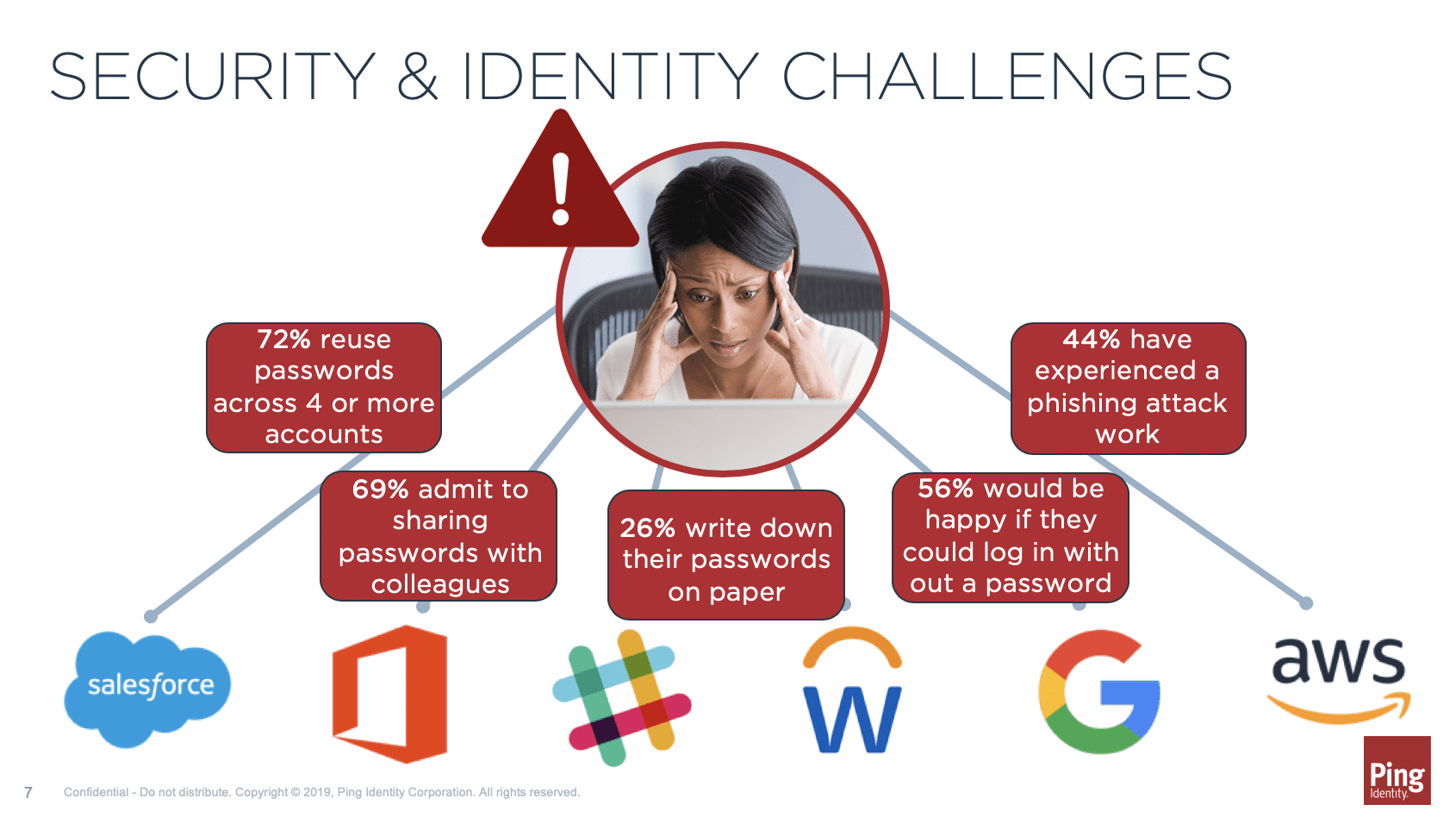 ---
Insecurity on All Sides

In order to stay competitive, organizations have adopted a constantly growing library of SaaS applications. While accumulating SaaS apps is often a convenient way to provide critical services to your employees and partners, it can also lead to security challenges that can be hard for your IT team to manage. Each app requires users to create and remember different login credentials. As a result, employees and partners may choose passwords that are weak, reuse them across multiple apps or even just write them down—not to mention the time and effort they waste signing in to each service and the burden of recovering or resetting all those forgotten passwords.
And in some cases, the resources and data stored in those SaaS apps are sensitive enough that a password simply isn't enough to protect them; phishing and the use of stolen credentials are the top causes of data breaches, after all. So, faced with insecurity on all sides, how does an organization bolster their security and future-proof their company without affecting productivity or overwhelming their IT team?
SSO and MFA: Better Together
More and more, enterprises are choosing to pair single sign-on (SSO) and multi-factor authentication (MFA) to protect applications and data from hackers that exploit attack vectors like phishing, stolen credentials and more.
Single sign-on ensures that your employees have one-click access to the SaaS apps they use daily with a single set of corporate credentials. This reduces your attack surface, gives users a better experience and can even decrease your IT costs.
And while single sign-on remains a high priority to increase productivity and improve enterprise security, the surface area for cyber threats has expanded and attack methods have evolved. With these considerations, it's equally important for customers to implement additional security for sensitive resources, high-value transactions and other elevated risk scenarios using multi-factor authentication.
Ping's Cloud MFA and SSO Bundle
With Ping's identity-as-a-service (IDaaS) MFA and SSO bundle, you can adopt both of these security solutions in one easy package. You'll benefit from ease of use, fast integrations and the ability to grow without needing to switch vendors as your business matures. Ping provides an intelligent, cloud-based identity and access management solution so that your IT team can deploy rapidly and your workforce can seamlessly access all the applications they need.
In Ping's 2018 State of Enterprise IT Infrastructure & Security survey, it was revealed that 90% of respondents trust multi-factor authentication as an effective security control to protect identity data in public clouds, yet only 60% of organizations have formally adopted it. Ping's MFA and SSO bundle is specifically designed to help overcome the inherent challenges of MFA adoption by minimizing associated burdens while also providing exceptional end user experiences and best-in-class solutions.
The bundle includes the following features and functionality:
Effortless integration: Integrations take place rapidly, making the transition seamless with existing infrastructures.
Straightforward administration: With a centralized console and multiple self-service options, administration is easier than ever.
Advanced access policies: Contextual policies—typically only found in the premium, high-priced MFA solutions in the market—grant administrators flexibility to help balance security and convenience for end users.
Covering many popular use cases: The cloud MFA and SSO bundle was built for easy deployment across popular use cases, including SaaS, cloud apps, VPN, Microsoft Azure and more.
Ping's cloud MFA and SSO bundle will not only accelerate your organization's security initiatives to protect against an ever-increasing threat landscape, but will also improve user experience and productivity. Ping already has 2.5 million unique monthly users for the cloud MFA solution alone. The solution joins the rest of Ping's product portfolio, which is trusted by more than 50% of the Fortune 100 and secures over two billion identities globally across the Ping customer base.
Try Ping's cloud MFA & SSO bundle free for 30 days and see what Ping can do for you.

---