Your employees, customers and partners expect to have convenient access to applications and services when and where they need it. It's up to you to provide this accessibility, while also ensuring the security of those resources being accessed.

To help you do that, there are a host of identity and access management (IAM) solutions available. Depending on the solution, it might offer point functionality geared narrowly on a specific use case, like connecting employees to SaaS applications, or it might provide comprehensive and flexible capabilities that allow you to support a range of identity types, use cases and complex hybrid IT environments.

The Ping Intelligent Identity™ platform is the latter. In fact, it's one of the best overall IAM solutions available according to the most well-respected analysts covering the IT sector. Providing industry-leading capabilities in single sign-on (SSO), multi-factor authentication (MFA) and access security, the Ping Intelligent Identity platform is used by the world's largest enterprises to connect their users to cloud, mobile, SaaS and on-premises applications and APIs.
---
"Ping Identity is one of the most trusted access management vendors in the IAM market, with one of the broadest access management policy definition capabilities."

—Forrester IDaaS Wave
---
Obviously we feel pretty proud of our platform and the customer relationships we've built. But it sure doesn't hurt to get props from leading analysts either, who offer an invaluable and unbiased third-party perspective for those who are evaluating IAM solutions—and maybe even a little validation for those who've already made a wise decision. So if you'll bear with me for the next few paragraphs, you'll learn exactly what it is about the Ping Intelligent Identity platform that earns the highest accolades from the analysts.

Once. Twice. Three Times a Leader in Access Management
For the third year in a row, Gartner recognizes Ping as a Leader in their Magic Quadrant (MQ) for Access Management. In the 2019 MQ, Ping moved up even higher and to the right in the rankings, demonstrating continued growth in both our ability to execute and the completeness of our vision.
To be eligible for Leader status, vendors must provide global sales and support, the capabilities to meet current use cases and the ability to develop new solutions to emerging challenges. They also must have a long list of happy customers, as well as a well-conceived product portfolio and roadmap.
Ping is proud to fit the bill and also receive Gartner's recognition for:
New products that address market needs, namely PingOne for Customers (P14C) and PingIntelligence for APIs (PI4APIs)
Our customers praise for our flexibility, ease of deployment and integration
Authentication standards development and our leadership in advancing initiatives that are progressing modern identity protocols
Microsoft partnership and integrations
Not to toot our own horn too much, but Gartner's endorsement provides even more proof that the Ping Intelligent Identity platform is just as capable and flexible as our customers already know it is.
---
"Ping has presented several updates to its AM functionality, including an extended partnership with Microsoft… and standard methods for authentication with Azure AD Connect and ADFS, receiving one of the highest scores in terms of market responsiveness and track record."

—Gartner Magic Quadrant for Access Management
---
Great Minds Think Alike—and Agree that Ping Provides Exceptional CIAM Capabilities

In its most recent Leadership Compass for Consumer Authentication, KuppingerCole evaluated vendors on product and service functionality, relative market share and innovation. Their conclusion: Ping is an Overall Leader in customer identity and access management (CIAM).
---
"Ping Identity products and services are mature and highly capable and should be considered for consumer authentication RFPs, particularly for companies that need customizability."

—KuppingerCole Leadership Compass: Consumer Authentication
---
Specifically, Ping was noted for the following strengths:
Large selection of innovative multi-factor authentication options
Excellent support for identity standards
OOTB threat intelligence integration
Sophisticated risk engine
KuppingerCole also provided the following spider web graph, which provides a visual representation of Ping's strengths in six core capabilities that a CIAM solution must address.
---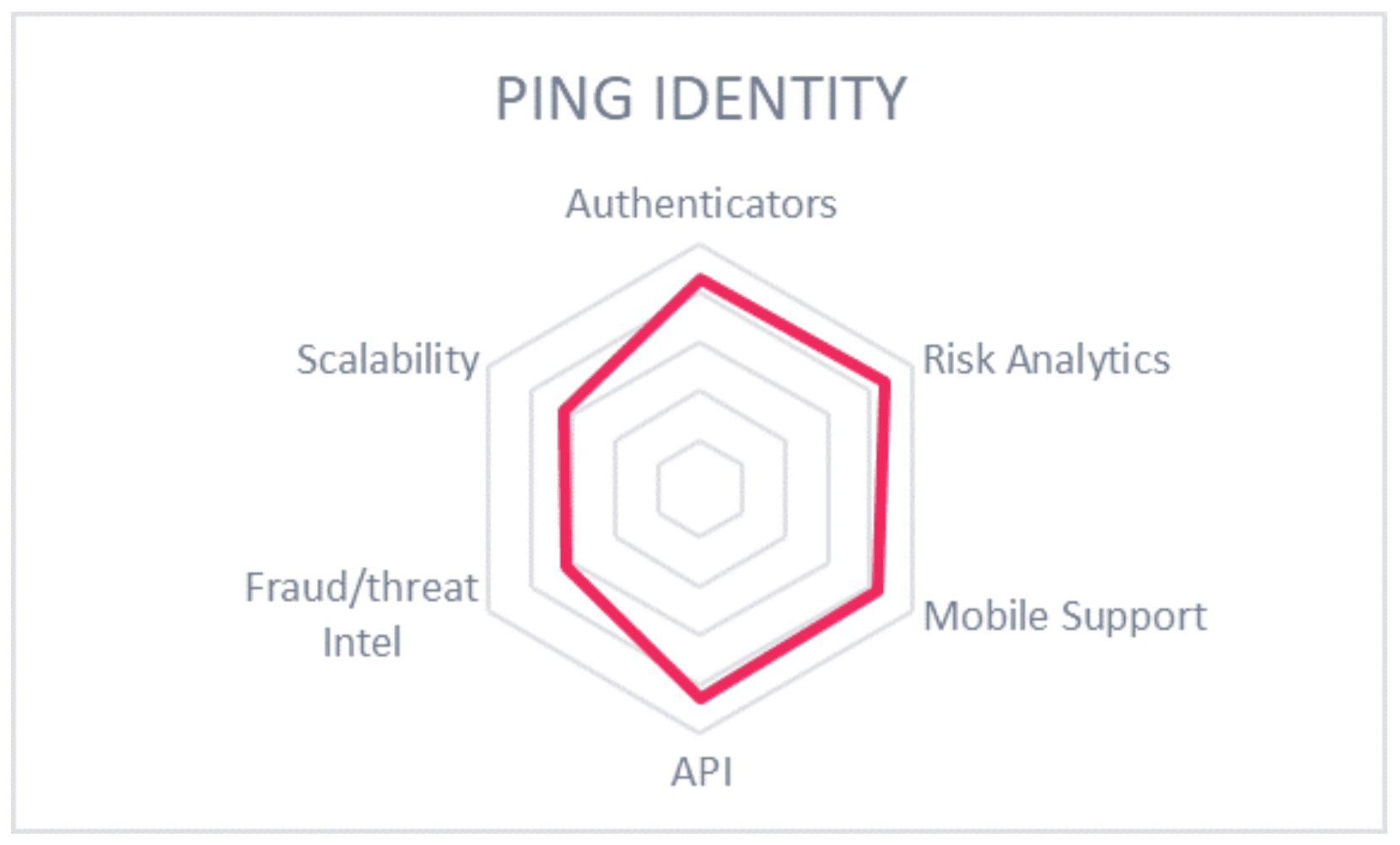 Source: KuppingerCole Leadership Compass: Consumer Authentication, Sept 26, 2019
---
As if kudos from KuppingerCole didn't have us blushing already, Gartner also gave Ping exceptional marks in its Solution Comparison of CIAM Capabilities. When it comes to customer identity and access management capabilities, Ping was among only a select few of the nine vendors evaluated who provide:
OAuth Mutual Transport Layer Security (MTLS) extension support, a critical capability for open banking initiatives
PSD2 Strong Customer Authentication, also an open banking imperative
Stand-alone consent management, made possible by PingDataGovernance and PingDirectory
Both inbound and outbound SCIM provisioning
Gartner goes on to recommend selecting a CIAM offering that provides a solid identity and access management foundation for your longer-range digital initiatives and overall business vision. While there are a number of CIAM solutions in the market, many are point solutions that provide capabilities specific to the segments they serve. Choosing a mature enterprise-grade customer solution that's part of a comprehensive enterprise IAM solution—like the Ping Intelligent Identity platform—will provide you with a solid footing on which to grow, scale and succeed.
The Ping Platform and Hybrid IT: A Match Made for Over 50% of the Fortune 100
According to Gartner, "There is still a significant installed base of software-delivered AM products; however, existing clients are evaluating alternatives to either expand or migrate their workloads to the cloud. For those situations, SaaS-delivered and software-delivered AM solutions can be bridged together to deliver hybrid use cases." We couldn't agree more. And the Ping Intelligent Identity platform isn't just up for the challenge, it was made for it.
Transitioning to the cloud is a critical step in many enterprises' digital transformation. But not every on-premises application has a SaaS substitute, nor can all on-premises software effectively migrate to the cloud. The need to support resources across SaaS, cloud and on-premises data centers has made hybrid IT a reality for almost every large enterprise.
IAM solutions that aren't designed with hybrid IT in mind can add delays and risks to your cloud strategy. The end result is often complicated workarounds that come with a hefty price tag and take a toll on user experience.
To support hybrid IT environments, vendors need to give their customers the flexibility to deploy and manage IAM how and where they want. Yet of the 14 vendors covered in Gartner's MQ for Access Management, only a handful provide both software and SaaS-delivered access management solutions. And you guessed it, Ping is among them.
If you're looking for a vendor that can support your hybrid IT needs—or provide any of the capabilities covered here and more—we hope you'll give us a closer look. To learn why Gartner also believes we're worthy of your consideration, download your complimentary copy of the Gartner Magic Quadrant.

---