Like many companies, we're off to a busy start to the year here at Ping. We held our annual kick-off in January and wrapped our annual week-long Sales University meeting earlier this month. At that meeting of more than 400 Ping go-to-market professionals from around the globe, we laid out our biggest initiatives and highest priorities for the year ahead.

Of the many things we have cooking, building even stronger relationships with valued partners is among our most important initiatives. I'm excited to share with you the changes we just rolled out to our partner programming. We've made significant investments in this program for 2019, including:


Reinventing our entire partner program to better support and reward your success.
Launching a new partner portal to make working with us easier.
Building a new partner directory and integrations catalog to clarify our partnerships and offerings.

Read on to learn more about what's new with our Channel program and understand the benefits of adding the Ping Intelligent Identity Platform to your current offerings.

1 - Join a Global Network of Ping Partners
The Ping Global Partner Network is our new and combined program encompassing our alliances with all partners. Within this network, we've structured individualized and tiered programs for both our Technology Alliance Program (TAP) partners and our Channel partners.

The Channel program is designed for resellers, integrators and related service providers who want to generate new business and grow existing customer relationships by extending their offerings to include the Ping Intelligent Identity Platform. This new and improved program gives you invaluable resources, tools and enablement to help your customers strengthen security and deliver better experiences through the deployment of Ping's market-leading identity and access management (IAM) tools.

You can partner with Ping across four levels—unlocking increasingly valuable marketing benefits, sales and technical certifications, and discounts as you progress—ultimately culminating in Elite Channel Partner status. The program is available to Channel partners across three service delivery models:


Advisory and Systems Integration: deliver services that complement deployment of Ping solutions, like planning, program management, design, implementation and support
Value-added Reselling and Referrals: refer or resell Ping solutions at competitive margins and with seamless deal registration
Managed Security Services: offer turnkey IAM deployment and support models that speed customers' time-to-market and lower their TCO

2 - Access Resources Via a New Partner Portal
To support our global network partners, we've invested in a brand-new Ping partner portal that's easier to use and provides more resources than ever to support your success. You can use the portal to access the Ping team, as well as gain visibility into your partnership status. Built on Salesforce's acclaimed portal technology, the Ping partner portal now gives you the ability to:


Register deals
Receive on-demand or instructor-led training
Track your program progress
Collaborate with the Ping team
Access support and enablement resources

You'll find everything you need to be successful, from courses and certifications to resource library access. The partner portal also provides channel partners with exclusive access to members-only resources, like deal registration.

3 - Enjoy Directory Inclusion & Recognition
Our new partner directory and app integrations catalog make it clearer than ever that you're part of our Ping Global Partner Network. With improved search capabilities positioned front and center, our directory and app catalog make it easy for prospects and customers to search and find all of our integrations and partnerships around the globe. Updates to our new partner directory include an ability to search by geography, expertise and partner type.

4 - 2018 Partners of the Year
Last but not least, we're pleased to announce our first annual channel partner awards. Each year, we'll be recognizing channel partners who share our passion for serving the identity security industry. For 2018, our Channel Partner of the Year is Optiv, for outperforming their 2017 performance by nearly 200%. Our 2018 Channel Delivery Partner of the Year is ProofID because of their consistent service and performance achievements in serving Ping customers' most complex identity challenges.

---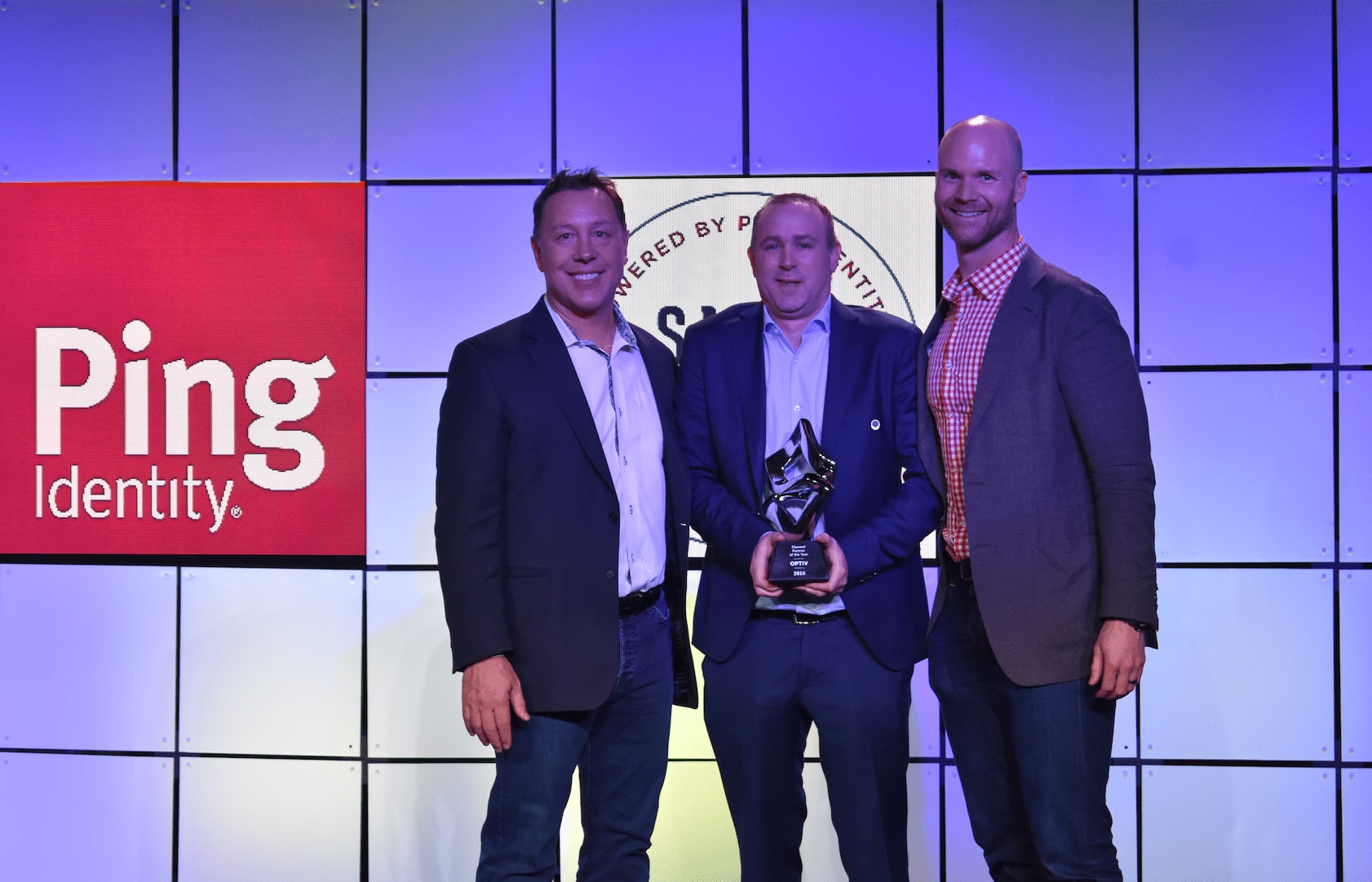 Andy Walker, Sr. Director – Digital Access Management, accepts the 2018 Channel Partner of the Year award on behalf of Optiv.
---
Cody Cook, Director, Professional Services, accepts the 2018 Channel Delivery Partner of the Year award on behalf of ProofID.
---
To learn more about our new Global Partner Network, visit our Ping Partner page.

---