PingFederate's inclusion as a federation server option in AAD Connect now in public preview

With its newest version released on May 16, Microsoft's Azure AD Connect now includes PingFederate as a selectable option for federation between on-premises Active Directory and Azure AD. This inclusion enables easy, fast and simple configuration of PingFederate and Azure AD so your users can have easy, fast, simple and secure access to Office 365. This feature is now in public preview, which means the current version has the capability in it.


Office 365 is growing and Ping is keeping pace
Azure AD and Office 365 are growing at an incredible 45+% year over year—and PingFederate is the largest third-party connection to Microsoft AD and Office 365, according to a blog post written by Microsoft's Alex Simons. So both Ping Identity and Microsoft felt the need to make the federation as simple as possible.

Configuring federation is simple with Azure AD Connect:
The wizard generates the configuration details you need for PingFederate.
That information is put into PingFederate.
Azure AD Connect then queries PingFederate to auto-populate the Azure AD configuration.
---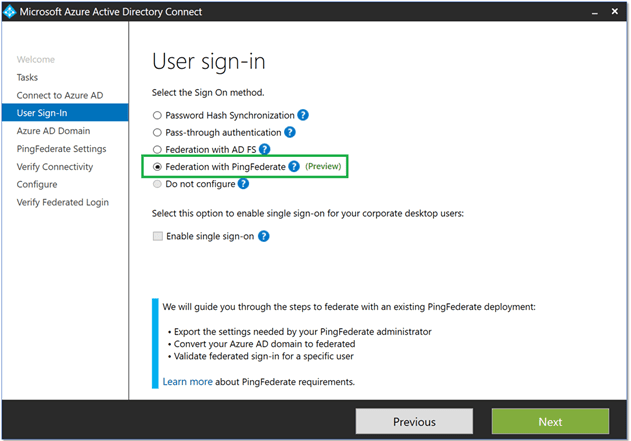 ---
This eliminates the need for manually coding PowerShell commands to accomplish the task, putting all of the heavy lifting on Microsoft's AAD Connect.

Federating is, of course, the best solution for single sign-on (SSO) to Office 365. It offers a seamless and fast experience for your end user, authenticating only once on premises and delivering simple one-click access to their apps (and O365 in particular). You have faster response times for your users than options like pass-through authentication, while never being confronted by another login screen. Passwords are never sent through the "wires" as in password hash synchronization (the other option in AAD Connect). Federating is the way to go and we just made it easier with Microsoft's help.

What is a public preview?
A public preview is one of the testing periods for software, where the code is complete and has been tested by a smaller group of customers and partners in the private preview period with no problems. Documentation is done, and the code is downloadable in the main branch and available to anyone using the released version. Support is available with faster escalation times to help uncover any issues more quickly. However, the developer reserves the right to make changes if improvements are identified as a result of the public preview and it isn't recommended that the software be in production.

With PingFederate's inclusion as an AAD Connect federation server option now in public preview, you get all of the benefits of deploying PingFederate as a federation server to Azure AD. Ping Identity's support is exactly the same, since you will be using a production version of PingFederate. The same is true with Azure AD; this will be a production tenant you are using. This is an interesting case because the only thing in public preview is the configuration tool, Azure AD Connect, and even then, only the feature for configuring PingFederate. We definitely encourage our customers to use this tool for configuration. We can walk you through the process if you would like!

Microsoft and Ping Identity's partnership going strong
Adding to the success of our 2017 rollout of PingAccess for Azure AD, this integration with Azure AD Connect is a continuation of our strong partnership. Ping recognizes the strength of Office 365 and Azure AD and wants to ensure that all enterprises are able to securely access these applications with convenience and flexibility.

Now with the public preview of Azure AD Connect's newest feature, this federation is easier than ever. For more information detailing how PingFederate compares with ADFS for federating to Office 365, read the solution brief How PingFederate and ADFS Tackle Office 365 Federation.

For additional resources on this new version of Azure AD Connect, please:

---