As enterprises journey to the cloud, IT infrastructure has been stretched across on-premises and cloud environments*. The result for these enterprises is a hybrid IT infrastructure with portions that are built and portions that are consumed. This trend has changed the way identity and access management (IAM) is approached at the enterprise level, and has also resulted in an increasing number of options and vendors.
Enterprises will find the IAM platform for their needs by considering four key factors:

What management resources do you have available?
How much control do you need over your environment?
What customization and configuration options do you need?
How will the IAM platform integrate with your existing infrastructure?

In part three of this four-part blog series, we'll cover why some enterprises value customization and configuration options in an IAM solution.

How much customization do you want or need?
Demand for customization can be polarizing across enterprises. Some enterprises customize heavily to have solutions tailored to their specific needs and use cases, while others abstain from customization so that they are less beholden to maintaining custom options. Certain preferences dictate, to a certain degree, what options are available to you. These preferences are often a result of prior business decisions and partnerships or because of security reasons.
There may be a specific brand or type of server hardware that is in an enterprise's data center, or perhaps a choice has been made to primarily use Microsoft or IBM for your IaaS needs instead of Amazon Web Services. Maybe processes are already in place for which operating systems are being used for physical or virtual servers.
As enterprises grow larger, so much variety already exists that having configuration and/or customization options is required for systems to function and communicate with one another.
---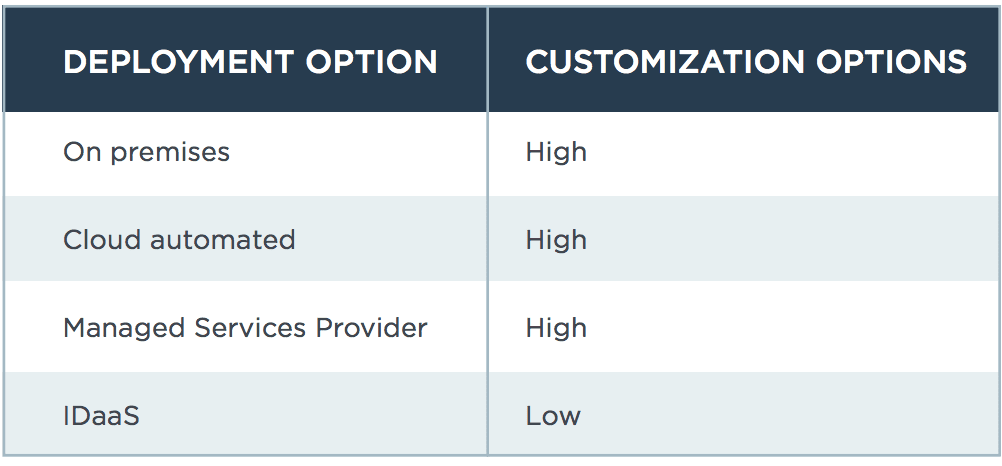 ---
Similar to the amount of control over your enterprise environment you need, when it comes to customization options available to you, on-premises deployment options will offer the highest level of customization options while IDaaS will offer the lowest, as IDaaS is built for more mainstream use cases. As we've mentioned throughout this series, we don't recommend choosing just one aspect when deciding on what may be the best solution for your needs. In this case, the customization and control you gain with on-premises deployments will take more management resources to execute than alternatives.


Enterprise cloud IAM offers options for different levels of customization
With enterprise cloud IAM, enterprises are able to leverage a platform that offers various options so that you can choose what best suit your needs as an enterprise and matches where you are in your cloud journey.
---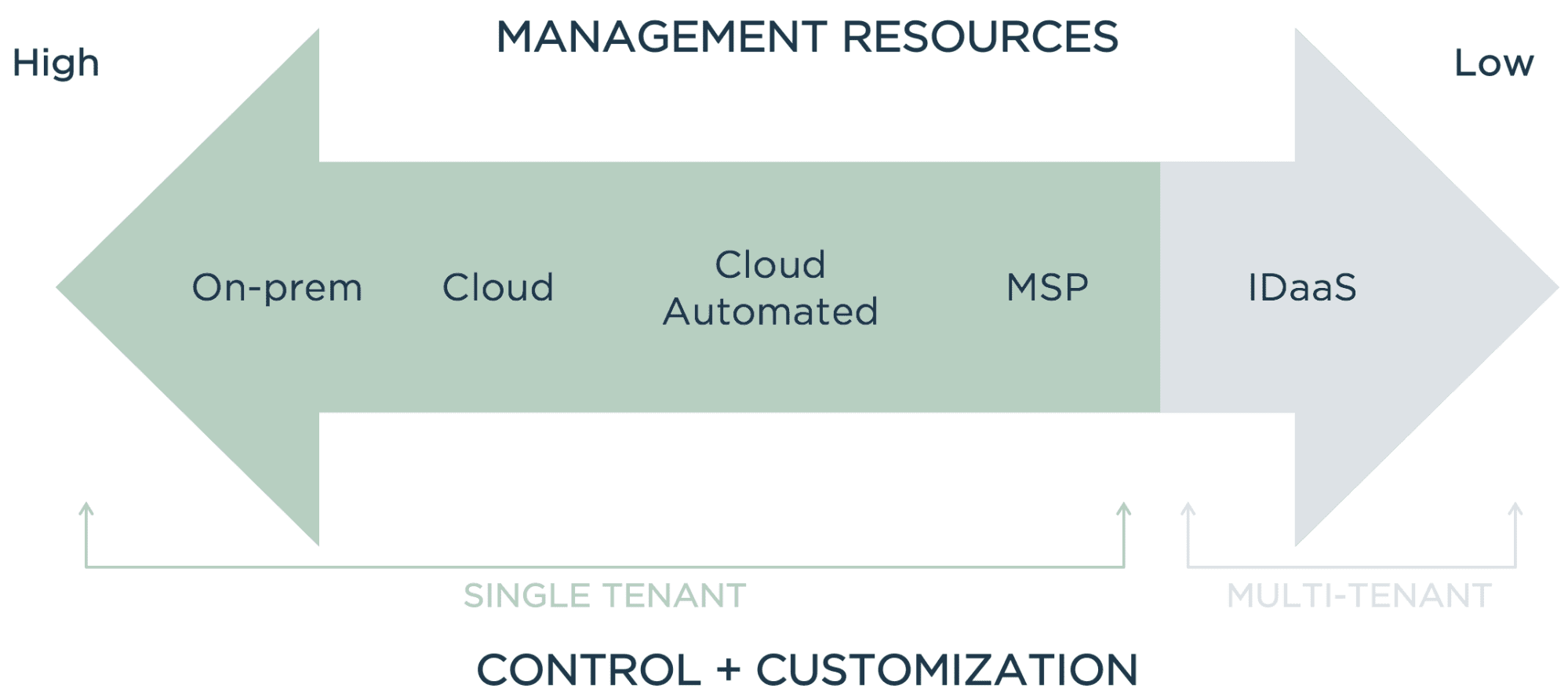 ---
This allows enterprises the ability to outsource and choose tenancy options as needed. For organizations early in their cloud journey with a heavy on-premises footprint and high control and customization requirements along with available management resources, an on-premises deployment option exists. However, here at Ping Identity we find that most enterprises today are in the midst of their cloud journey. While situations exist that justify an on-premises approach, most are looking for cloud deployment options.
If your enterprise has outsourced its IT infrastructure to an IaaS vendor, Ping Identity also offers IAM solutions that can be deployed in your cloud of choice. Many of Ping's customers are also leveraging infrastructure-as-a-service with infrastructure-as-code to automate the manual tasks involved in deploying Ping's cloud IAM solutions. Today, PingAccess is available with cloud automation out of the box.
When it comes to outsourcing the management of your IAM solutions, there are two options available. IDaaS is available for those cases where control and customization requirements are low and management resources are hard to come by. Alternatively, leveraging Ping Identity's IAM platform with a managed service provider can be a great combination that allows you to benefit from the power of Ping Identity with low impact on your management resources.

Balance customization, control and management resources
While aspects of customization, control and management resources are relatively intertwined, there is also a fourth aspect that can tip the scales: How will you integrate with existing and planned infrastructure?
---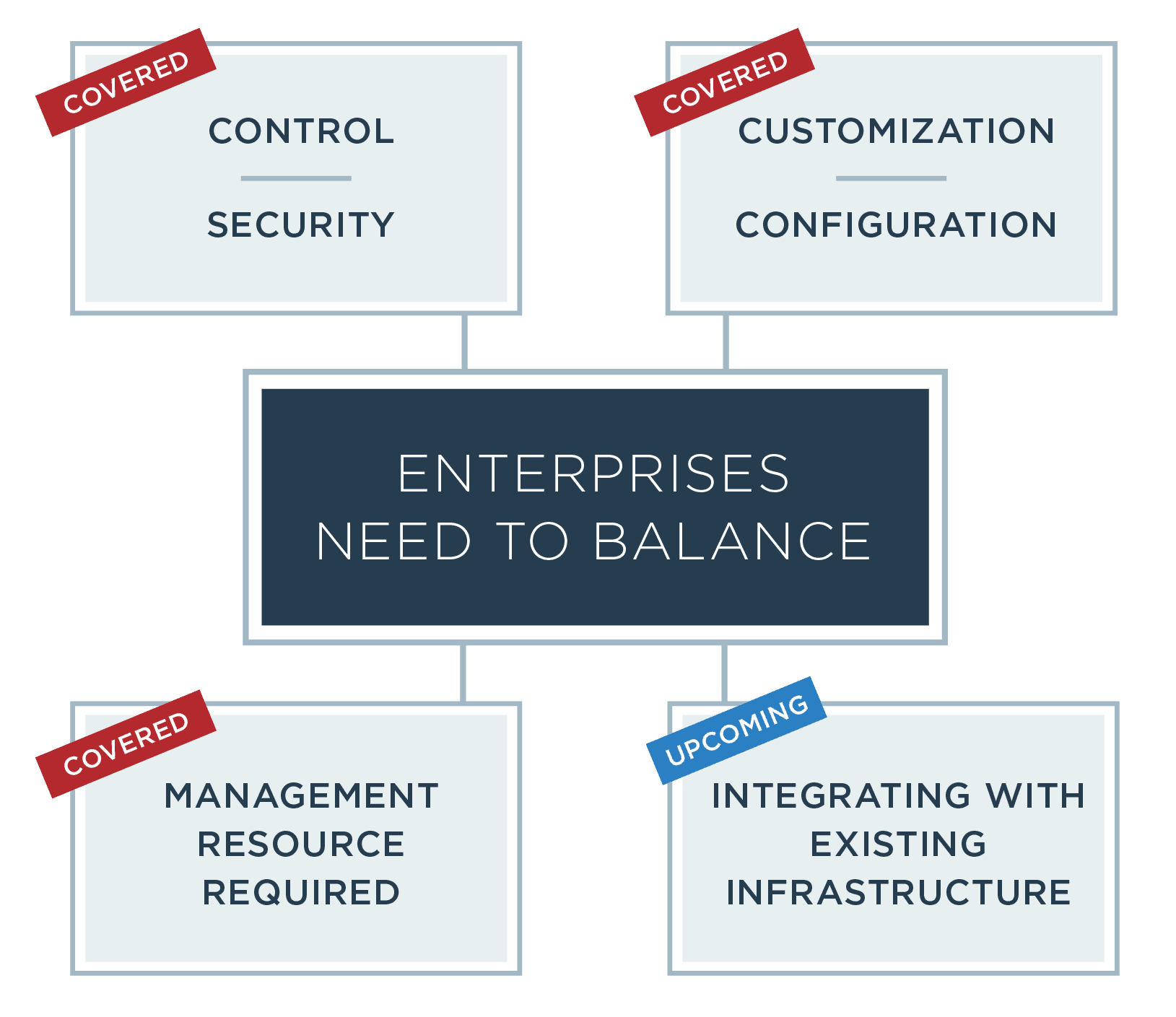 ---

---

---
*Arul Elumalai, Irina Starikova and Sid Tandon, "IT as a service: From build to consume," McKinsey&Company, September 2016, https://www.mckinsey.com/industries/high-tech/our-insights/it-as-a-service-from-build-to-consume

---