Microsoft Ignite 2017 was the first Microsoft event we've attended since PingAccess for Azure AD became generally available in June. The great news is that, just like last year, hordes of interested people swarmed the booth. The better news is that we have a product they can put into production now.
From the opening keynote, it was apparent that Azure Active Directory (Azure AD) is a key strategic component of Microsoft's vision. It was mentioned session after session, and conditional access was a constant topic in the hallways and at our booth. What became clear during our discussions was that moving to the cloud is indeed a journey--and it's just starting at most organizations. Thankfully, PingAccess for Azure AD helps make that journey smooth, and it lets organizations keep single sign-on (SSO) from Azure AD to all of the on-premises applications that aren't ready to move to the cloud yet.

Leave no app behind on your journey with Azure AD
The headline in our booth was "No App Left Behind" for exactly this reason. Most organizations are mid-way through this journey. Some have identities in the cloud, some have them on-premises (and Ping can help with all of it). But it's the applications that are most in flux. It all started with moving to SaaS apps, then moving some apps to private clouds. But then there are an awful lot of apps still on-premises. PingAccess for Azure AD works with Microsoft's app proxy to let your users enable single sign-on (SSO) to these "left behind" apps when authenticating through Azure AD.
---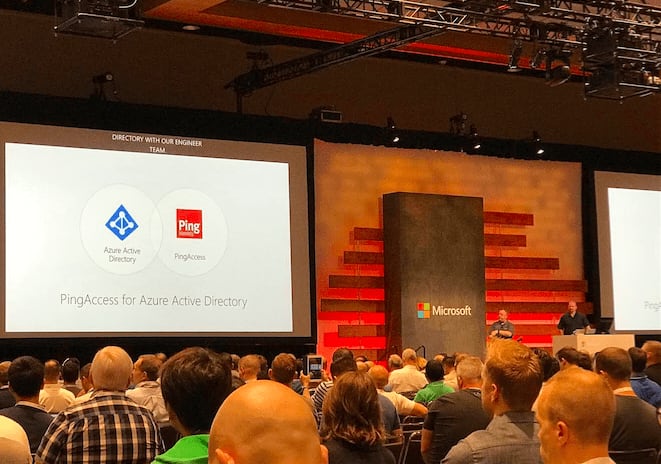 ---
Alex Simons and Nasos Kladakis presented the identity keynote (start at the 15:50 minute mark) on Tuesday, giving a great overview and demonstration about how PingAccess for Azure AD bridges that gap from the cloud to on-premises applications, truly leaving no app behind. This one-click access allows organizations to move their authentication flow from on-premises AD to Azure AD while still giving users the digital experience they expect. This is the wave of the future, and Ping is excited to be a significant part of it.
Office 365 and Azure AD growth
Office 365 and Azure AD comprise one of the fastest growing business segments in the history of Microsoft, showing exponential growth year over year. This was reflected in our booth traffic as we saw a tremendous increase over 2016, including our first production customer ever for PingAccess for Azure AD who came by to tell us about how well it's working. As a testament to that growth, Alex Simons shared with us that PingFederate enables federation for over 2.8 million active weekly users to Azure AD, which is double the nearest federation provider. It's pretty amazing to see the strides Microsoft is taking. It's even more amazing to know that we're helping a lot of large organizations take advantage of the benefits of Office 365 and Azure AD.
There's always more happening with Microsoft. Come to IDENTIFY in London, New York or San Francisco and hear all of the new things we're doing with Microsoft so that your organization can be a part of this growth.

---