IDENTIFY New York is just two days away, and we're thrilled to welcome industry analyst R "Ray" Wang as he takes center stage at 1:00 pm on Wednesday, November 8. During his keynote presentation, the audience will learn how digital business disruption has shifted from optional to necessary in the corporate world. Wang will reinforce how we're standing at the dawn of a digital business revolution.

---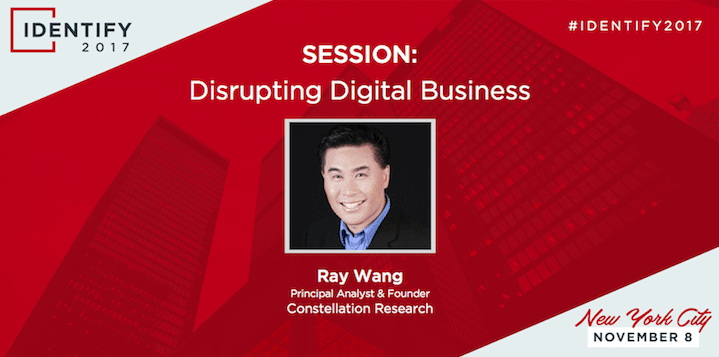 ---
Disrupting Digital Business in the World of Identity
Social, organizational and technological shifts require a new way of thinking about business. Today's businesses need to leverage a digital DNA to deliver experiences and outcomes, and to transition from selling products to keeping brand promises. Identity and access management (IAM) plays a key role in delivering digital transformation at the convergence of context and mass personalization. Arm yourself with the knowledge of how digital transformation allows you to use digital avenues to disrupt instead of becoming one of the disrupted.
Are you ready to take bold steps to disrupt digital business? Register now to hear Ray's presentation and take advantage of the unparalleled content and networking opportunities available at this year's conference. Attendees will also have the ability to:
Dive into solution capabilities and best practice deployments through industry thought leadership, customer case studies and product overviews from leading companies such as Accenture, BCBS Tennessee, GE Digital, Johnson & Johnson, Microsoft, Motorola Solutions, Netflix, T. Rowe Price and Windstream.
Explore advanced product features and hear tips about how to optimize existing Ping implementations such as how to embed multi-factor authentication (MFA) into any application, integrate mobile single sign-on (SSO), mobile device management and much more!
Take a peek into the future and discover new Ping product deployment scenarios and use cases.
See you there!
If you're going to the event, we'd love to hear from you on LinkedIn or Twitter, so make sure to use the #IDENTIFY2017 hashtag. If you can't make it, you can follow the event on Twitter.

---