It's been a whirlwind two weeks for Ping and identity and access management (IAM) experts all over the U.S. We gathered at IDENTIFY 2017, first amid the bustle of midtown NYC, then in eclectic San Francisco, to tell our stories, share best practices and discuss how identity is driving business transformation. It's been amazing to hear how companies are applying IAM to enhance security, boost productivity and provide seamless customer engagement.


IAM of the Future
Our CEO Andre Durand started us off with a keynote on the trends that are shaping our world today. He focused on how businesses are changing as a result, and how it all ties back to identity. Andre explained how dramatically increased accessibility and mobility have led to a new "open everything" era that will drive innovation and competition for enterprises around the world. Ping's CTO Patrick Harding added automation, personalization and intelligence to the list of top trends that are making IAM more relevant than ever.
---

---
Captivating Guest Keynotes Take Center Stage
The afternoon keynotes were also about envisioning how identity is shaping the future. In NYC, R "Ray" Wang, Principal Analyst and Founder of Constellation Research, discussed how social, organizational and technological shifts are changing the way we think about doing business. He argued that identity plays a central role in enabling digital transformation. In San Francisco, author, inventor and entrepreneur Byron Reese explored how artificial intelligence, robotics and identity are changing the workplace, society and humanity itself.
---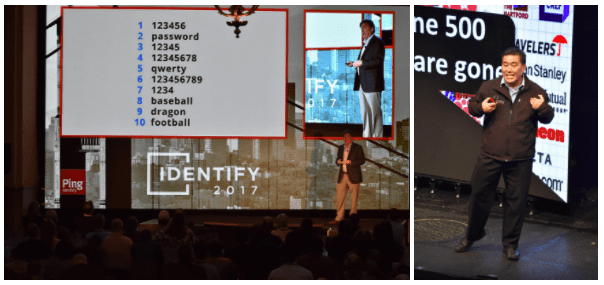 ---
These fantastic keynotes gave us all a lot to think about, and the sessions that followed complemented them perfectly, with deeper dives into how Ping products are helping businesses face these changes and challenges. Speakers provided insights on customer consent and regulatory compliance, customer identity and access management (CIAM) best practices, securing hybrid IT environments and identity's role in the IoT. These were packed with how-tos, product features, tips on how to optimize Ping implementations and some excellent live demos.

Customers Carry the Day
Many of the most powerful sessions delved deeper into the experiences of our customers. The agenda was packed with honest and insightful stories about how companies are putting Ping's IAM solutions to work to help their businesses achieve success. Customers shared new approaches and use cases, how they're getting the most out of their Ping products and the lessons they learned along the way.
The success among these identity leaders across a wide range of initiatives has been truly amazing:
We heard from Netflix on how they successfully automated their identity services to help engineers easily onboard and maintain applications.
Motorola showed us how they built a seamless single sign-on (SSO) user experience for First Responders on modern identity standards.
BlueCross BlueShield of Tennessee shared how they're migrating to a single modern directory solution.
We learned how Applied Materials is achieving passwordless mobile single sign-on for their enterprise users.
Many other customers joined us on stage as well, including Hewlett-Packard Enterprises, Monsanto, TIAA, PayPal, GE Digital, and Windstream Communications. To wrap the day up, a group of IAM thought leaders participated in a panel at each event with Ping's CMO Brian Bell to discuss their industry challenges such as modernizing web access management (WAM) and the future of identity.
---

---
We were also pleased to have so many of our partners at the event--a truly amazing group of companies that share Ping's vision and help us bring innovative solutions to life for our customers. Accenture, Aquera, CTI Global, Cyberinc, IDMWORKS, Microsoft, Netskope, Optiv, PEGRight, Radiant Logic and Saviynt were all in attendance, meeting with customers and several speaking at sessions.
Thanks to everyone who joined us at IDENTIFY 2017, whether we saw you in London, NYC or San Francisco. The presentations, the demonstrations, the workshops and the networking all came together in three days of learning, sharing and fun! We even got a sneak peek at Ping's product roadmap and strategic direction to see how our products continue to evolve to help enterprises solve their toughest identity and security challenges.

Want to learn more? Meet up with us at the Gartner IAM Summit Nov 28-30, or join us at Identiverse June 24-27, 2017 in Boston. Of course, we also invite you to come back for next year's IDENTIFY!

---