In the spirit of Valentine's Day, we've been exploring a blog series on building relationships with your customers. In part one, we talked about making a good first impression through seamless registration and authentication, and part two talked about how to go beyond first impressions and create unforgettable, personalized, multi-channel experiences for your customers.
Cupid may be gone until next year, but we wanted to wrap the series up by discussing how to augment those experiences with a solid foundation of trust that'll turn your customers into loyal, life-long advocates of your brand.


Build a foundation of trust through privacy and security
After dating for a while, new relationships tend to get more serious and may even become life-long relationships. To get to that point, the first impressions and memorable experiences in the previous stages have to be augmented with a rock-solid foundation of trust. Once that trust is established, your significant other may begin to confide in you, ask for your advice and see you as an indispensable part of their day-to-day life.
That same type of trust should make up the foundation of the relationships you have with your customers if you want them to become loyal, life-long advocates of your brand. This means being a good steward of the information that your customers share with you. Your customers often trust you to keep their credit card numbers, home addresses and other personally identifiable information (PII) from being compromised by cyber criminals, but they also trust you to be honest and upfront with them about how you're using that data and who you're sharing it with. Customer identity and access management (CIAM) solutions offer many capabilities that help to meet the privacy and security expectations of your customers and build that foundation of trust.
Protecting your customer data from breach requires end-to-end security, which includes security during authentication, at the application/API layer and where customer information is stored at the data layer. Security during authentication can be achieved through contextual multi-factor authentication (MFA) and other best practices during registration and sign-on. Contextual MFA requires customers to use second authentication factors (such as biometric, SMS or email verification) based on contextual risk factors. These risk factors can be associated with the type of action being performed by a customer, the device a customer is using or even the geolocation of the customer as they sign on.
Security at the application/API layer is achieved by centrally managing a customer's access to applications and content across all channels, like restricting premium content from customers who aren't premium members. It also means providing session management and capabilities like single logout across all of your applications. Finally, data-layer security can be achieved by encrypting customer data at all stages--at rest, in motion and in use--and providing other capabilities like data access governance, tamper-evident logging and more. These CIAM capabilities ensure that your customer data has end-to-end protection from data breaches.
In addition to securing customer identity and profile data from breach, you need to be upfront with your customers about how you're using the personal data they share with you. There's a large collection of customer privacy laws and regulations you may need to adhere to--such as GDPR, HIPAA and others--that require you to collect customer consent and adhere to many other rules. But from a customer's perspective, the bottom line is that you need to be honest and upfront about how you're using their data and and ask for their permission (consent) before you do it. It's also important to let them know what personal data you're collecting and how it'll be used to enhance their experience with your brand.
Customers can often assume the worst about the reasons you're collecting specific types of data if you aren't upfront with your reasoning. When collecting customer consent, it's important to collect attribute-level consent to give customers full control over how their data will be used and shared. After consent is collected, you should also give customers access to see which of their profile attributes are currently being shared and with whom, and they should be able to revoke consent if necessary.

Conclusion: Happily Ever After?
Sure, building customer relationships may require a few more technical CIAM capabilities, but the fundamentals are the same as building personal relationships. You have to make a great first impression (through registration and authentication), you have to provide unforgettable experiences (through multi-channel personalization), and you have to establish a foundation of trust (through privacy and security).
The Ping Identity Platform provides these capabilities and more through the most comprehensive CIAM solution available. With cloud, on-premises and hybrid deployment options, it's easy to enable secure, engaging, multi-channel customer experiences at scale. By offering these capabilities to your customers, they may just fall in love with your brand and become loyal, life-long advocates.
To learn more about Ping's CIAM capabilities check out our webinar replay: Introducing the Most Comprehensive Customer IAM Solution.
To sum up our blog series, here's something that can fit nicely in a Valentine's Day card next year:
---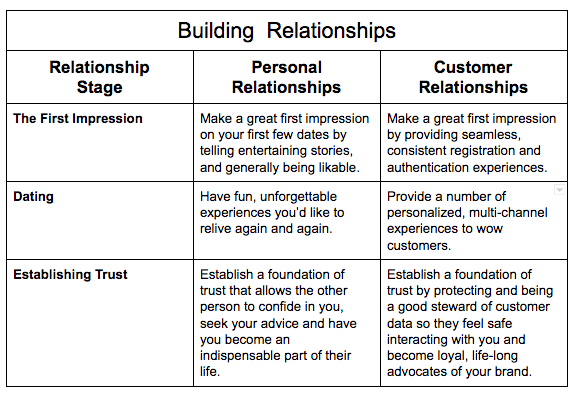 ---
---