It's with great admiration and respect that I share the news that Ping Identity CEO, Andre Durand, received a huge honor in Denver this week.
On Wednesday, November 8, Andre was recognized with the "Bob Newman Lifetime Achievement Award" as part of the 17th Annual APEX Awards program. The APEX Awards are sponsored by the Colorado Technology Association, a professional network focused on fueling Colorado's economy through technology.
---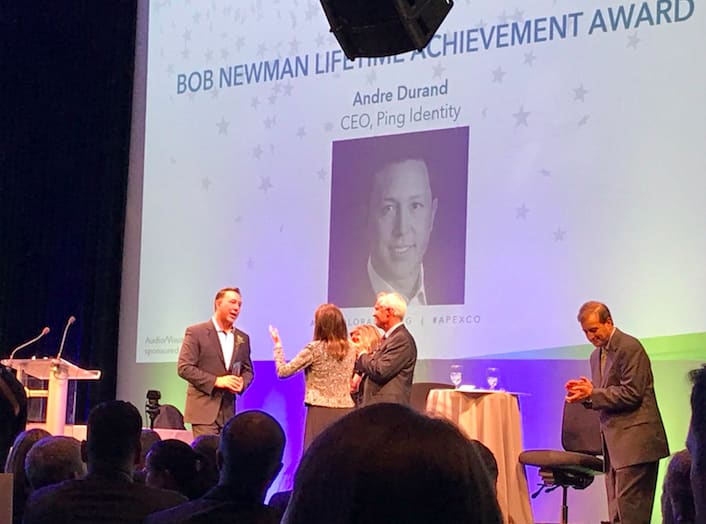 ---
The honor acknowledges Andre's countless contributions to furthering innovative, disruptive technology in Colorado and across the technology industry. As the founder of Ping Identity, he's created one of the most highly valued companies in identity security, attracting positive attention to Colorado's technology landscape.

A Lifetime of Achievement
Even before he founded Ping in 2002, Andre was active in the Colorado tech scene. In 1999, he started Jabber Inc., an open source enterprise messaging platform, that later sold to Cisco. Before that, Andre founded Durand Communications, where he created the first online photograph database for the bulletin board industry and the first Windows NT client/server bulletin board, called MindWire. That company was sold to Denver-based Webb Interactive in 1998.
According to Andrea Young, President & CEO of the Colorado Technology Association, the Bob Newman Lifetime Achievement Award recognizes those with a true dedication to driving and maintaining the good health of Colorado's tech economy. Andre embodies this and so much more.
He's not just a strong supporter of the technology and identity and access management (IAM) community in Colorado and beyond, he's woven community service and giving back into the fabric of Ping. I'm proud to say our charity-matching programs support causes not just in Colorado, but all over the world. And PingIdentians donate hundreds of hours annually in the communities where we live and work.
Andre sets a high bar, and speaking on behalf of all of us at Ping, we're thrilled to see him receive this much-deserved recognition. Please join me in congratulating Andre and thanking him for his tireless commitment to advancing the security software industry.

---