Get set to spend less with PingFederate 8.1


Does the big expense of your Identity and Access Management (IAM) infrastructure make you gasp a little? Maybe a lot?
Do you wince at on-premises costs in the face of mounting complexity and unpredictable demand?
Are you struggling to support user demand and protect your bottom line?
Take a deep breath. PingFederate® 8.1 is here!
The PingFederate server is a full-featured federation server that provides identity management, web single sign-on (SSO) and API security for your customers, partners and employees. Embracing open standards (SAML, WS-Federation, WS-Trust, OAuth and OpenID Connect), PingFederate lets users securely access the applications they need, using any device--all with a single identity.
---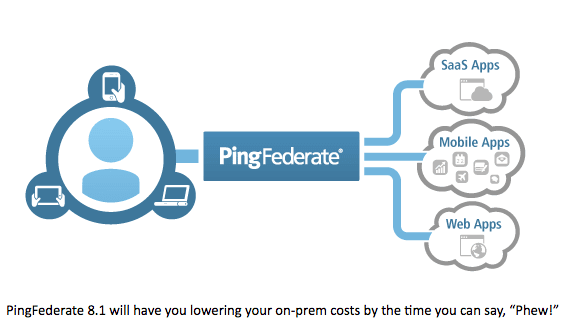 ---

Keep Costs at Bay with Auto Scaling Support
PingFederate 8.1 lets you leverage auto scaling features that are readily available in Amazon Web Services (AWS) and OpenStack. You pay only for what you need, when you need it.
Working through a dynamic discovery mechanism, PingFederate allows you to bring additional engine nodes online with no configuration changes beyond the initial setup. As new nodes come online to service traffic load, their address details are published in shared storage that's accessible to other members.
So how is the data shared? Well, that tends to be IaaS-specific. AWS uses S3 buckets, and OpenStack uses Swift. Regardless, as long as nodes within your PingFederate cluster can find each other, they can share state and configuration information to give your end users a seamless experience.
As traffic winds down--this is where the magic happens---nodes are taken offline. Their addresses are removed from shared storage to clean things up, and your costs shrink accordingly.

PingFederate and FAM: Two Sighs of Relief
Think of our Federated Access Management (FAM) solution as the Buddha of secure access. Today's answer to access management, FAM extends beyond the firewall, leveraging identity to ensure the right people access to the right things.
FAM is built on a three-part foundation of multi-factor authentication (MFA), identity federation, and modern web and API access security. With FAM, you can construct secure, cross-domain SSO for web and mobile applications, regardless of a user's location or device to ensure your users are able to access what they need, when they need it, seamlessly and securely.
The PingFederate server arms you with high-integrity identity security. You can securely keep identities and passwords where they belong, and give users seamless access to the applications and information they need. With PingFederate, you can:
Centralize control over identities and authentication
Standardize user provisioning and de-provisioning
Monitor and audit usage for governance and compliance
Develop custom administration services using extensive admin APIs
PingFederate and FAM will prepare you for today's challenges and tomorrow's. And you can breath a sigh of cost-reducing relief right away.
Taking complex use cases off your worry list is a daunting task. But now isn't the time to dumb down your IAM infrastructure. You need to be able to accommodate peak periods of traffic, while maintaining the agility you've come to expect from PingFederate.
---