Silicon Valley has been buzzing over the past decade with the development of software for audiences outside of data centers. Applications are no longer solely purchased and administered by IT. Thousands of companies have popped up to develop software as a service (SaaS) and mobile apps that are used by everyone and often dedicated to a specific function within the organization.
As a result, enterprises are undergoing a digital transformation. They want to move their apps and data to the cloud and give their employees the freedom to take advantage of this change: to safely go mobile. The risk? Security concerns could hold them back.
As apps and employees go beyond organizations' perimeters, traditional security has left much to be desired. Hackers have shown that security that's based on data centers, networks and endpoints doesn't cut it in this open and hyper-connected world. But an Identity Defined Security solution follows people and devices as they journey across the perimeter.
This is where Ping Identity comes in. As enterprises consider identity and access management as a service (IDaaS) providers, they should look at two benchmark reports: the Gartner Magic Quadrant for Identity and Access Management as a Service, Worldwide and the KuppingerCole Leadership Compass for Access Management and Federation, published in March 2016.

Today's enterprises need more than a basic IDaaS solution
Gartner defines IDaaS as delivering "a predominantly cloud-based service in a multi-tenant or dedicated and hosted delivery model that brokers core identity governance and administration (IGA), access and intelligence functions to target systems on customers' premises and in the cloud." So in essence, this category of solutions is identity and access management (IAM) as a service.
Today's enterprises have sophisticated application environments that they've developed over many years. As they move to the cloud, they want to take advantage of SaaS apps. But they also want to migrate part or all of their data centers to infrastructure-as-a-service (IaaS) environments like Microsoft Azure and Amazon Web Services (AWS). They also need to be able to integrate to their legacy applications and infrastructure such as Web Access Management (WAM) solutions, where IAM software is needed as well. To meet both of these requirements, a true enterprise IDaaS solution will extend basic IDaaS to IaaS and on-premises with IAM software. So it looks like this:


---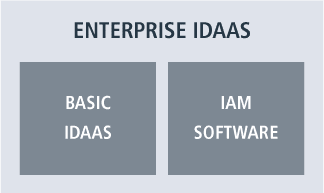 ---

The 8 principles of enterprise IDaaS
To go beyond basic IDaaS and be able to address the complexities of the enterprise, an enterprise IDaaS solution must be able to deliver on eight primary principles.
Say 'Yes' to Any Application

Support all apps wherever they are: SaaS, mobile, on-premises and IaaS.

Handle Millions of Identities

Scale to support all employee, partner and customer identities into the millions.

Plan for the Future

Use SAML, OIDC, OAuth and SCIM standards to ensure interoperability today and tomorrow.

Use the Best Directory for the Job

Store identities in the cloud or bridge to existing stores like AD, Azure AD and SQL.

Stay Compliant and Flexible

Extend IDaaS to IaaS and on-premises deployments to meet configuration requirements.

Modernize Your Investments

Augment and integrate your existing infrastructure, including legacy WAM systems.

Integrate with Speed

Use out-of the-box integration kits for custom and industry-specific apps.

Improve Security with Adaptive MFA

Incorporate access policies and controls specific to user location, behavior, device, etc.
Ping's ability to meet these broader requirements is captured in both of these market leadership reports. We were rated as a Visionary in the 2016 Gartner Magic Quadrant for IDaaS, and as an overall leader in the KuppingerCole Leadership Compass published in March 2016.

Straight from the reports
In rating Ping a Visionary, Gartner spoke to the breadth and depth of our solutions, saying that "Ping has demonstrated support for multiple workforce and external identity use cases," and "has broad vertical and geographic market penetration." They go on to say that enterprises can accelerate their move to the cloud without losing out on the investments they've made in the past via Ping's "integration with a variety of identity repositories, existing customer access management systems and target application systems." Gartner also highlights Ping's "strong leadership in identity standards development," a good reminder of the importance of interoperability for today, and for tomorrow.
KuppingerCole assessed IAM software providers in four areas of leadership: product, innovation, market and overall. Based on features and overall capabilities, Ping's IAM software was recognized as an overall product leader as well as a leader in the other three categories. We received positive and strong positive marks across all five analysis areas: security, functionality, integration, interoperability and usability. To take it a step further, KuppingerCole writes that, "due to the specific role as one of the Innovation Leaders and overall leading-edge solution for identity federation, we see PingFederate as a must in shortlists for identity federation."
Are you an enterprise looking for an IDaaS solution? If so, Gartner and KuppingerCole have given you two more reasons to look at Ping. Identity is what Ping is all about.
---