According to Wikipedia
The uncanny valley is a hypothesis in the field of aesthetics which holds that when features look and move almost, but not exactly, like natural beings, it causes a response of revulsion among some observers. The "valley" refers to the dip in a graph of the comfort level of beings as subjects move toward a healthy, natural likeness described in a function of a subject's aesthetic acceptability.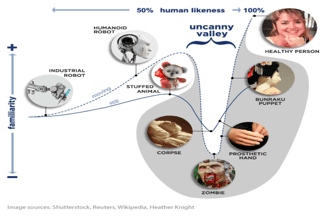 The term "uncanny valley" was coined by Masahiro Mori in the 70's to describe people's reactions to robots that look somewhat, but not perfectly, like humans. As a robot appears more and more human, people's comfort levels go through a drop (or revulsion levels rise) as the robot's appearance better mimics a real human.
We're fine with a robot that doesn't make any attempt to look human (like factory floor machines, R2D2 or any Keanu Reeves acting role) - the negative reaction kicks in only when the robot conceivably might be human.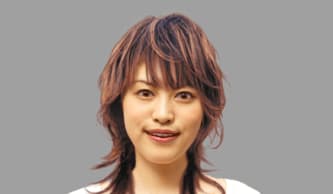 One proposed explanation for the uncanny valley effect is that it is an artifact of our evolutionary-driven inclination to avoid anybody who looks unhealthy or sick (and so possibly contagious). The drop of comfort level to the depths of the valley is triggered by something that looks almost-but-not-quite human because this is what a sick tribe-mate on the African savannah would have looked like. In such a situation, revulsion is a 'good thing' from an evolutionary standpoint. Such pathogen avoidance also explains our revulsion at seeing feces, vomit, and the Toronto Maple Leafs play hockey.
Hmm, a rising sense of unease as some experience approaches that to which we are accustomed - but isn't quite perfect.
Those same ancestors would have known everything about each other - from political allegiances to social and sexual relationships. When humans lived in tribes of 20 to 50 people there would have been very few secrets (which would have caused no end of issues with their web login systems but that's another issue).
But, of course, there also would have been no secrets about how everybody else knew each others' secrets. Our ancestors' tribes would have been both open and transparent. If Grok knew that Ting invited Blem back to his cave to 'see his etchings', both Ting and Blem would also know how Grok learned about their activities: He saw them get up from the fire and sneak off. While Ting and Blem might have been disappointed that Grok knew about their secret dalliances, they would not have been surprised.
But with today's web applications, we are often surprised by what some site or service knows about us. Amazon can predict what product we might be interested in buying even when we didn't directly indicate to Amazon any such intent. Google filters my search results based on some set of criteria that are not always evident. The resulting list is undeniably better than it would be without such personalization but it does beg the question 'How did they know that?'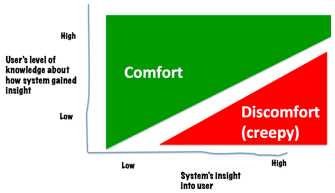 Perhaps (and I fully acknowledge how much of a reach this is), like our revulsion to almost-quite-right faces, our uncomfortableness (sometimes characterized as a 'creepy' feeling) we experience when faced with online providers knowing 'more than they should' is an artifact of our evolutionary social history.
We are evolutionarily prepared for facts about ourselves to be known by others; that is, of course, part of being social animals. But perhaps we are not evolutionarily prepared to deal with that knowledge being magically synthesized (as Steve Wilson puts it) from other data as opposed to being obtained through direct and obvious (and so apparent) mechanisms.
When a provider knows something about us, but we don't know how they gained that knowledge, they have an advantage over us. Perhaps the creepy feeling is a manifestation of that relative disempowerment. That's why giving users meaningful and accessible information about how providers collect PII, whether obtained: 1) directly from the user, 2) indirectly from other providers, or 3) synthesized, is so important. Because, as the saying goes 'Knowledge (of how knowledge is gained) is power'.
---