Last year, at Cloud Identity Summit 2012 in Vail, Dan Headrick from GE, Sateesh Narahari from Ping and I were kicking back with some cigars. At a lull in the conversation, Sateesh asked Dan what was new with him. Dan got a sheepish look and admitted that he had gotten into a new hobby with his kid, geocaching. Although I'm a long-time geocacher, this was a new idea to Sateesh. As I listened to Dan explain it to Sateesh, an idea started to hatch in my brain.
"Hey, guys, what if next year we set up some geocaching contest at CIS 2013 with cool prizes?!" They thought is was great idea.
So now came the follow through, turning an idea into reality.
Geocaching has been described as outdoor hide-and-seek. People hide small containers outdoors, ranging in size from a lip balm tube to ammo boxes or even larger. They will put a few items into the cache, like a paper log sheet or small toys. They note the GPS coordinates of the cache. Then they create an entry on geocaching.com for this cache, including the coordinates, a description and usually a hint. The entry is assigned a unique code, like GC3WCX0.
Now other people find the cache. Usually they start with a search on geocaching.com for caches around a particular location, like the ZIP Code 68144. They will pick a cache that looks interesting and go look for it using a handheld GPS receiver or a smartphone that has a GPS receiver embedded in it. However, the cache coordinates only get them within 10 to 20 feet of the cache. Then they have to search the surrounding area, using the cache title, description and maybe a hint to help them. Sometimes the cache is in plain site, but unobvious. Sometimes the cache is up on a shelf or ledge, or tucked into a nook or cranny, or under something.
My broad plan was to have eight prizes, four appealing to kids and four appealing to adults. I would hide eight new caches around the conference site. I could set it up so that the first to find (FTF in geocache-speak) won the prize. But given that people would be arriving all week and have free time at different periods, I decided that finding the cache would simply allow you enter a drawing for the prize associated that cache. We would put slips of papers in the caches that would have a random 6 digit code number unique to that cache. When the finder got back to the registration desk, they would enter a card with their name, phone number, the cache ID and the code number.
I checked the terms & conditions on geocaching.com, since I would be creating eight new entries. They are clear and straightforward, but also comprehensive. Caches labeled with corporate branding is prohibited. Hmm. I put in a support ticket to make sure that I was playing by the rules. When the support person got back to me, she was friendly and helpful. But the first thing she did was rain on my parade. "Caches are meant to be forever," she said. "They are to be owned and carefully tended by one person. Creating caches that lasted only during the week of the conference would probably outraged the geocaching community." Then came the break-through! She said, "Why don't you hide your code number slips in existing caches?" Duh! The lights went on! The same idea, except I get to skip all the hassle of hiding eight caches.
I had to be in Bay Area in January for a user group meeting. So I took an extra day, went up to Napa, scouted out the hotel and found 5 geocaches. I happened to be on crutches, but I wasn't going let that stop me.
Then in April, my associate, Trish Rose, did the same itinerary. After the user group meeting she too went up to Napa and found 3 more.
We wrote up copy about the contest and put it on the Overview page of cloudidentitysummit.com. We made up inserts for the welcome packets listing the cool prizes and explaining the contest. We had entry cards designed and printed up. We got a nice box to hold the entries. And lastly, we generated the 8 secret code numbers and printed them up on little slips, 1" x 2".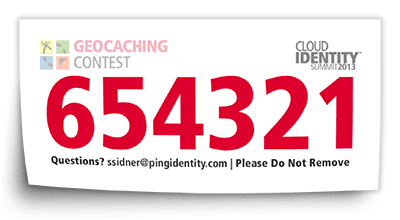 We got to the conference early, on Friday, July 5. We went out to find the 8 caches. Two were missing! So we quickly looked up 2 more, found them, and updated our records. Then we sent off an email Saturday afternoon to Ben George, our Web Dev wizard, to update the live site with the eight geocaching code numbers. Our contest was launched!
We had 3 caches within walking distance of the hotel. The rest took transportation. One was in a mall parking lot; one in a small city park; one by a city reservoir; one at the top of hill in a large county wilderness park; and one on the edge of a briar patch.
The contest was a big hit! Right on the first day I got phone calls and emails from families wanting more explanation. No problem! I had set watch-alerts on all the caches on the geocaching site so I started getting emails every time a find was logged. Lots of emails!
The rules said that everybody in a party that found the cache got to enter a card. And conference staff and vendors, everybody!, was welcome to enter.
On the final day, Friday morning, we stopped the contest. We sorted the cards into the 8 piles. There were 347 entries and every one of them had the correct code for that cache's prize. With great care and trepidation, we drew one card from each pile. We made a presentation with a page for each prize and a fly-in with the winner's name. At the closing session, we stacked all the prizes front and center on the stage. Andre Durand, Ping Identity's CEO, made the presentations. With each announcement there were yells of joy from the winner and sighs of disappointment from all the others who had entered.
A new tradition is born for the Cloud Identity Summit. See you next year! But why wait? Take a look at geocaching.com. Easy, fun and a great reason to be outdoors.
---