Enterprises continue to adopt cloud computing environments and shift from building IT to consuming IT, especially over the last three years.

This trend provides specific challenges and opportunities in the way enterprises approach identity and access management (IAM), such as:

Balancing management resources
Controlling the environment
Customizing & configuring as required
Integrating with existing infrastructure

In part one of this four-part blog series, we'll overview some of the challenges and opportunities involved with balancing management resources.

How are your IT resources?
Not every enterprise has the same challenges when it comes to IT resources. Some have skills gaps regarding a certain domain, others have bandwidth limitations, and still others may have both time and expertise on their side. This doesn't apply only to the enterprise as a whole, but it could also apply to specific projects.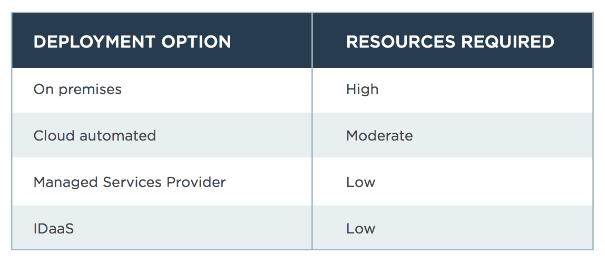 As you can see, on-premises components typically require the most management resources, while identity as a service (IDaaS) or managed services provider (MSP) require the least. Cloud automating IAM falls somewhere in the middle.

How do you prioritize your needs?
At first glance, the chart may lead you to believe that most organizations choose IDaaS or MSP because of the lower tax on management resources. However, in reality that's not the case. The truth in enterprise IT is that there is not an enterprise-wide, one-size-fits-all solution that covers every project. Simply put, IDaaS and MSP are strong in this dimension relative to cloud automating and on-premises deployments, but there are strengths and weakness to each approach listed above.
Ping Identity solves the IAM challenges of over half the Fortune 100, and we've learned that enterprises demand a platform that allows them to address a variety of requirements and use cases. This is increasing in importance as enterprises find themselves in hybrid IT environments while implementing their cloud-first initiatives.

What are Ping's customers prioritizing?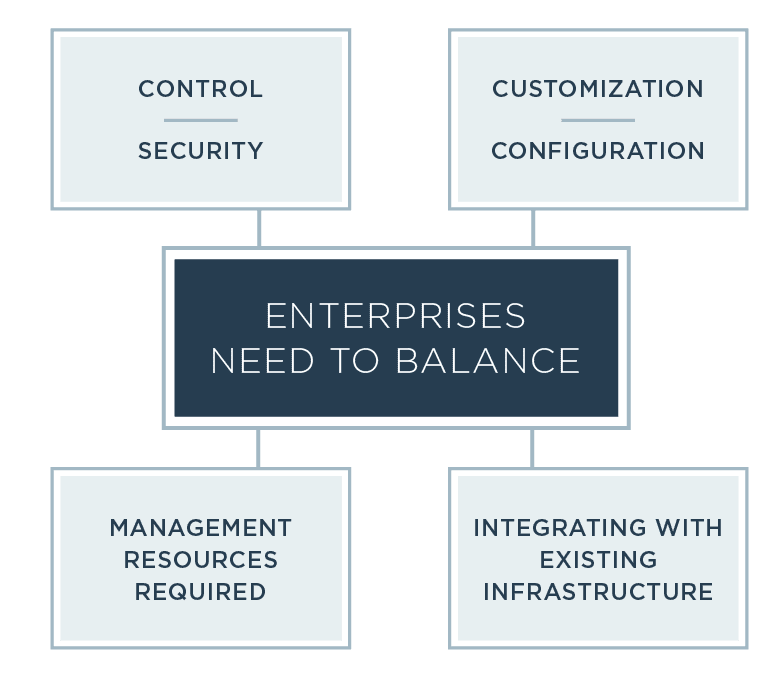 We've had customers that have chosen the MSP route over IDaaS because handing over control of their data was a non-starter, but they still wanted to move to the cloud. We've also had customers that have chosen on-premises or cloud identity and access management deployments to manage critical applications and data, while pairing that with an IDaaS deployment for less critical apps and data to free up resources.

Expand your view
The burden on management resources to your enterprise is an important factor to consider--and to some enterprises it may be the most important--but it is not the only important factor.
Stay tuned as we dive next into the importance of control over your environment in blog 2 of this 4 blog series.
In the meantime, learn more by downloading our Enterprise Cloud IAM eBook.

---