This is the third article in a four-part series, where you'll discover how financial services organizations are relying on identity and access management (IAM) to ensure compliance with regulations and protect against data breach, while delivering exceptional user experiences and facilitating agility and innovation.
Customer experience (or CX) is more than just the latest business buzz term. It's topping the list of strategic initiatives for savvy brands and innovative financial services firms. And for good reason. Customer experience may very well hold the key to creating customer loyalty in a technology-driven world.
As customers grow increasingly connected via their computers and mobile devices, their tolerance for clunky and inconvenient technology decreases in inverse proportion. This type of relationship, not coincidentally, resembles a slippery slope.
Though financial services organizations may have more at stake from a security and compliance standpoint, you aren't exempt from the reality that a poor user experience won't be tolerated by today's connected consumers--aka your customers. Maintaining the status quo is a recipe for lost customers and revenue, which can be just as damaging as non-compliance fines or a data breach.
But just as you have a choice to view the cup as half full instead of half empty, you can also choose to see this as an opportunity to win new customers and build brand loyalty. While the challenges may seem daunting, your ability to deliver exceptional customer experiences really comes down to doing just two things very well:
Make it easy for customers to do business with you
Provide the personalized experiences that make them feel valued

Single Sign-on Convenience
It only makes sense that if you want consumers to do business with you, you shouldn't make it hard for them to do so. To make it easy, you start by providing single sign-on (SSO) capabilities, which enable those effortless connections your customers want and expect.
Federated SSO, as part of an identity and access management (IAM) solution, goes beyond your father's single sign-on, allowing you to deliver a simple, consistent and highly secure sign-on experience to your customers across all of the channels they use to interact with you. Whether your applications are on-premises or in the cloud, or delivered by you or your partners, they're easily accessible with a single login. Your customer need only authenticate once to gain access to all the services you and your partners offer, including bill pay, financial management, insurance quotes, personal banking, money transfers, loans, credit scores or all of the above.

Unified Customer Profiles
Think about the last time you walked into your local coffee shop, and the barista greeted you by name and put your order through before you even asked for it. Even if that's never happened to you, just think how you'd feel if it did. Wouldn't you feel kind of important and special? You'd probably even go out of your way to get your coffee there the next day.
Whether your product is a cup of joe or a car loan, your customers will reward you with their business if you make them feel valued. According to Salesforce.com's State of the Connected Consumer Report, "Connected customers expect consistent and intelligent experiences across every interaction or communication channel--and a large part of that is being recognized and remembered." Furthermore, two-thirds say they're likely to switch brands if they feel they're being treated more like a data point than a person.
---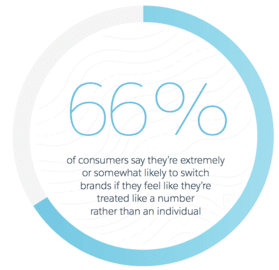 ---
Source: "State of the Connected Consumer," Salesforce.com, Oct 24, 2016.
To deliver the personalized and consistent experiences your customers expect, you need a single, unified customer profile. This profile, consisting of identity information, preferences, privacy consents and other personal data, must then be accessible to each of your digital properties.
An enterprise IAM solution will enable you to create, manage and leverage the power of a truly unified customer profile. It provides a secure repository to maintain a single source of truth about customers that can be shared across all applications and used to personalize interactions. Your customers expect lightning-fast experiences, so the IAM solution you choose must meet the most demanding SLAs, yet be highly secure and scalable to manage all the identities and attributes in your growing customer base.
Delivering the type of experiences your customers demand may not be simple, but it's not as hard as you think either. And it's well worth the rewards to work through the challenges. If you can provide the seamless and consistent experiences consumers expect, and exceed those expectations with personalization that makes them feel truly valued, you'll be ahead of your competition and reap the benefits of gaining new customers and keeping existing ones.
Learn more about how IAM helps financial services organizations earn and keep customer loyalty.

---