Believe it or not, one of the defining characteristic of an Internet of Things (IoT) device is that it's limited or constrained in some way or another--whether in its ability to support a UI, its processing power, storage or networking capabilities. If one device is fundamentally limited in its capabilities, then some other component in the architecture has to pick up the slack.
The IETF's working group, Authentication and Authorization for Constrained Environments (ACE), both acknowledges this reality in its name and normalizes the pattern in its architecture. The group formally defines how users are able to control the authentication and authorization of constrained devices through their interactions with less-constrained devices.


---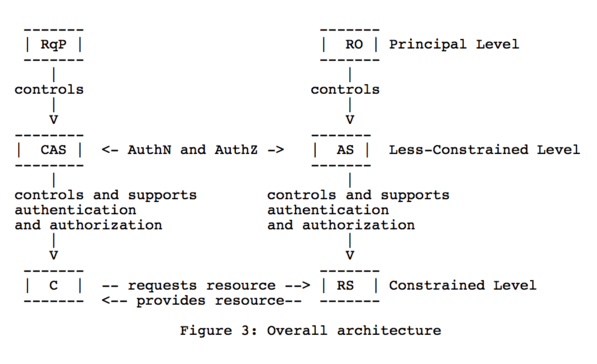 ---
Preceded by the recently reinvigorated OAuth Device Flow, the ACE effort is a distinctly different device flow. But it makes a similar distinction between constrained and unconstrained devices--specifically with respect to UX capabilities.


The device flow is suitable for OAuth 2.0 clients executing on devices that don't have an easy data-entry method (e.g., game consoles, TVs, picture frames, and media hubs), and also where the end user has separate access to a user-agent on another computer or device (e.g., desktop computer, laptop, smartphone, or tablet).

An emerging working group effort in the same space is the Token Issuance for Constrained Things (TICT) in the OpenID Foundation (OIDF). The plan for TICT is to take the concept of the token agent introduced by the OIDF's Native Applications (NAPPS) working group, and apply it to IoT use cases. If a thing or device is unable to participate fully in the OAuth token issuance flow, then a token agent app on a nearby device (without the constraints) can take on that responsibility and obtain tokens on behalf of that device.

The OAuth Device Flow and the TICT Token Agent model target the same use case, but may provide different security characteristics (e.g., resistance to phishing and DoS attacks).

Without a doubt, IoT devices will evolve to have faster processors, more storage, and more robust crypto. This will likely close the gap between constrained and unconstrained devices for these functions. But what appears to be different is the interaction with the user, which is vital for obtaining consent (and fundamental to privacy) for subsequent operations. It seems likely that there will always be some sort of user interaction that demands a richer UX than what's possible if it's directly provided by the device. As a result, this pattern of relying on a less-constrained device for UX function will remain important.
---