Your customers, partners, and employees are no longer asking for single sign-on (SSO), they're demanding it. Managing usernames and passwords in spreadsheets or on sticky notes is a huge security risk, and password resets are expensive both in terms of lost productivity and support costs. With SSO, life gets easier for your end users, and the apps they access are more secure.
With the increasing prevalence of conveniences such as social identity logins, users are no longer encouraged to reuse passwords--another security risk--but they're also becoming accustomed to not having a separate username and password for every application. This is why the demand for single sign-on is constantly growing.
SSO has long been touted to drive lower IT help-desk costs due to a reduction in password resets and improved productivity for employees by reducing password related overhead. Further, in the current breach-a-week culture we find ourselves, one of the culprits is weak or reused passwords.
It's clear that implementing single sign-on can help organizations in three distinct ways: help desk cost savings, user productivity (or retention) and security. In today's cloud and mobile world the need for secure SSO is now a necessity.
So, where do you get started? We recently completed an Ultimate Guide to Single Sign-On, which is designed to help organizations get started with their SSO initiatives and think beyond simple single sign-on to future proof their business in the cloud, behind the firewall, or on any mobile device. This valuable guide takes the user through all aspects of an SSO project and helps organizations of any size realize the advantages of secure single sign-on.
Like many other IT projects today, one of the first places to start is figuring out how it will benefit your organization. We've put together an ROI calculator to help determine the return on investment for an SSO solution. This post serves as a quick and concise guide to calculating SSO value. The chart below uses some nice, round numbers in the calculations, but you can easily adapt them to fit your specific needs and numbers.
---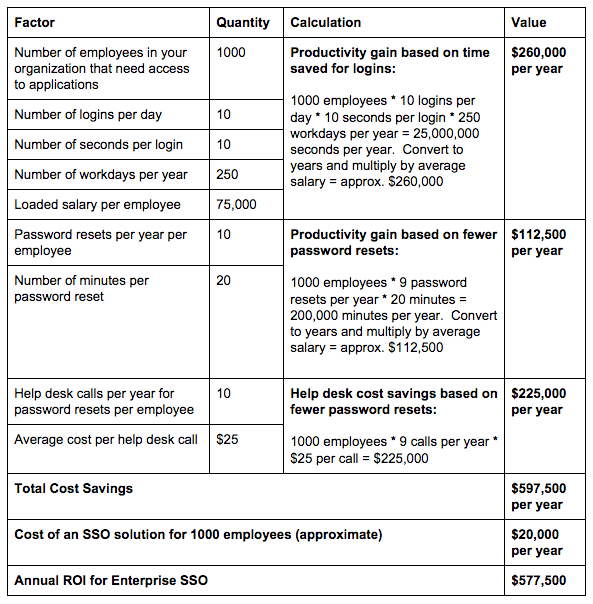 ---
Based on these numbers, it's easy to see how a company with 1,000 employees and 10 applications can quickly realize the cost savings of implementing a single sign-on solution. What's not reflected here is the possible costs associated with a data breach or an in-depth security audit following such an attack. When you factor in the value of mitigating risk for your organization along with these cost savings, it should become very clear that the time to implement SSO is now. Not only are your users expecting it, but the advantages are measurable and can be realized quickly with the right solution.


---