Boeing recently made public a new design for 737 overhead bins that promises to increase storage volume by 50%. Even acknowledging that the extra volume was claimed by reducing head room above passengers by 5 cm--this is awesome news right? This extra space will mean people won't have to struggle to get their roller bags in, they'll be able to easily store their bag and quickly take their seat. Boarding will be faster, meaning the flight won't be delayed, folks will get to their meetings on time and world GDP will surely soar!!
---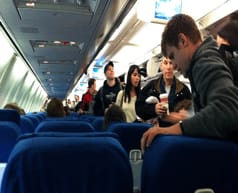 Not so fast. More likely is that, instead of the new overhead bin space allowing more of today's existing sized luggage to fit, either luggage size will increase or more people will choose not to check luggage (and so save the $$). Either way, the overhead bin space is still going to be a precious commodity that frequent flyers like myself prioritize as one of the most meaningful perks of status, boarding is still going to be a battle, and global GDP is going to stay right where it is.

Perhaps if the boarding process were even worse (i.e., it routinely caused cancelled flights or physical violence amongst passengers), then the new luggage bins might have a significant impact. But, as bad as boarding is, it's not that bad. Boarding pain is below some threshold of horrible UX (User Experience) that, if exceeded, would cause us to actually make the fundamental changes that would improve it.

The idea that the advantages of some advance in technology can be eaten up by our willingness to put up with a certain amount of negative experience in our lives (i.e., that we all have some Maximum Viable Pain) was codified in the 1996 book, Tog on Software Design, as Tog's Law of Commuting:
---
"The time of a commute is fixed. Only the distance is variable."
---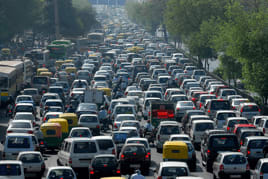 The Law's premise is that, as for boarding pain, humans have a threshold for the time it takes to commute to work. If the roads linking a suburban community to some metropolitan area are upgraded to 4-lane highway, rather than using the commuting time saved by the faster travel to spend time with their families or take up some hobby, people move further away in order to get a larger house or proximity to nature, etc. As bad as commuting to work is, most (but not all) people are comfortable with some sort of commute, especially if it means that their life improves in some other aspect.

Humans also have (different) thresholds for the complexity of our life experiences. We are comfortable with experiences that have a complexity below this threshold, we find those above the threshold to be stressful. Tog's Law argues that we don't aspire to have zero complexity (just like most people are comfortable with a non-zero commute time), only complexity below our thresholds.

Tim O'Reilly coined 'The Internet of Things & Humans' to emphasize that it will be the interaction between carbon and silicon-based entities that is particularly interesting about IoT. And for the IoTH, those corners of the IoT that directly impact humans (wearables, smart home, healthcare, autonomous cars, etc.), the expectation is that connected devices will somehow 'make life easier' for us - either giving us a new ability or by making an existing activity faster and simpler. As an example, I could carry a notepad around with me and diligently count every step I take throughout the day. My Misfit wristband does the same job but vastly simplifies the associated workflow for me. Similarly, I could stand beside my thermostat and constantly tweak the settings to reflect time of day, preferences of the current occupants, weather patterns, and electricity rates. The Smart Meter I have performs (some of) those functions, meaning I don't have to.

When devices and systems remove from our shoulders many of the burdens of life, what will we do with all the time we save? Tog's Law argues that as the IoTH removes complexity from our shoulders below our individual MVP thresholds, we will find ways to add complexity back.

What is the analogy of moving further away from the big city to keep our commute times constant? At least in the near term, I expect we'll find all the complexity we need in managing the network connectivity, identities and permissions for all the things we bring into our lives to reduce complexity. Which is somewhat ironic.
---
---