This is a guest blog post by Eric Barnes, Application Development Manager, Wawa Inc.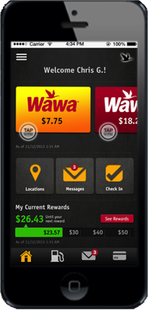 Identity management has never been easy, but in the past, the environment and the objectives were more straightforward than they are today. Typically, we were engaging with customers in our Wawa stores--a single interaction point that was predominantly focused around a transaction. But in just a few short years, engaging with our customers has completely changed, and we're expecting even more changes in the near future.
Customers are now increasingly mobile which has resulted in a growing number of touch points across multiple channels, devices and applications. We want to continue to provide our customers with exceptional customer experiences and that means engaging with them where they are--conveniently over their smartphones, tablets or the Internet. Add to this the fact that successful customer engagement is now not only transactional, but a full brand loyalty experience with offers and services that make our customers' lives better and easier. It's evident why a new set of demands is being placed on the technology infrastructures that support consumer interactions.
To consistently deliver great customer experiences, our identity management architecture needs to enable our strategic initiatives--initiatives developed around the innovative services we want to provide customers today, and initiatives that position us to take advantage of opportunities as they come up in the future. That's why we've recently implemented a new Consumer Identity Management (CIM) platform.
After researching several options, we determined that a data management stack purpose-built to handle consumer identities could deliver the scale, real-time availability and performance we needed to handle the large number of customers we serve. Additionally, CIM unifies data from different sources. We gain a single view of each customer, a key benefit in simplifying multiple customer entry points and building rich identity profiles that allow us to deliver personalized services.
Another important consideration for us was an infrastructure capable of managing applications in a hybrid cloud environment. We were also looking for a platform that could support the highest levels of security so we can protect our customers' personal data end-to-end at every single access point. CIM has allowed us to achieve these goals.
One of the first initiatives we've been able to launch as a result of our new CIM platform is a mobile consumer application released in conjunction with a rewards program. Customers can find store locations, check fuel prices and find nutrition information. They can also easily pay for purchases with gift cards and earn rewards. The services are a great step toward increasing customer loyalty and building the WaWa brand. This is just the beginning for us as we explore the possibilities of a Consumer Identity Management platform.
Read this customer engagement ebook to learn more about how Wawa is responding to today's industry trends and preparing for tomorrow's opportunities with a Consumer Identity Management platform.
---