---
Social and tech media was abuzz yesterday on the news that Samsung Smart TVs recorded conversations and uploaded them to the cloud for analysis and voice recognition.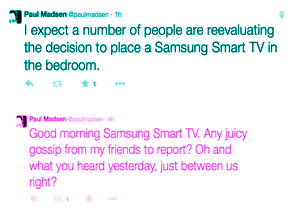 ---


Personal information in the cloud!!!

3rd party Stranger Danger!



Lost in the brouhaha was a recognition that Siri, Cortana, Google Now, etc. all similarly process voice in the cloud. Presumably, we are used to having our phones compromise our privacy, but thinking a TV would do the same was scary.

Samsung's relevant privacy policy describes the voice recognition feature (and the privacy risk)
If you enable Voice Recognition, you can interact with your Smart TV using your voice. To provide you the Voice Recognition feature, some voice commands may be transmitted (along with information about your device, including device identifiers) to a third-party service that converts speech to text or to the extent necessary to provide the Voice Recognition features to you. In addition, Samsung may collect and your device may capture voice commands and associated texts so that we can provide you with Voice Recognition features and evaluate and improve the features. Please be aware that if your spoken words include personal or other sensitive information, that information will be among the data captured and transmitted to a third party through your use of Voice Recognition.


The privacy policy describes a rather coarse mechanism by which TV owners can control the feature
If you do not enable Voice Recognition, you will not be able to use interactive voice recognition features, although you may be able to control your TV using certain predefined voice commands. While Samsung will not collect your spoken word, Samsung may still collect associated texts and other usage data so that we can evaluate the performance of the feature and improve it.
You may disable Voice Recognition data collection at any time by visiting the "settings" menu. However, this may prevent you from using all of the Voice Recognition features.


Unfortunately (and perversely), Samsung's own description of this voice recognition feature gives the impression that the TV is constantly and invisibly monitoring conversations in its vicinity - and streaming each and every recording up to a cloud endpoint.

But the reality is that the TVs are neither that nefarious nor that energetic (and bandwidth consuming). Before the TV records a conversation, and before it streams that recording to the cloud for analysis, the user must actively invoke the feature.

According to Samsung's clarification of the feature
---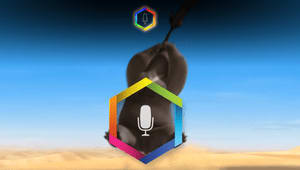 ---

Samsung will collect your interactive voice commands only when you make a specific search request to the Smart TV by clicking the activation button either on the remote control or on your screen and speaking into the microphone on the remote control.


Only on being invoked does the TV record the room conversation and stream it. And neither is the process invisible - the TV displays a large icon to the user to alert them to the recording.

You can see a simulation of the UX here.

Amazon Echo provides a similar voice recognition feature to the Samsung TV, but does a better job of describing how the user's privacy is protected


1. How does Amazon Echo work?
Either say the wake word, press the action button on top of Amazon Echo, or press and hold your Amazon Echo remote's talk button, and then ask Amazon Echo a question, such as "What is the weather today in New York?", or tell Amazon Echo to take an action, like "Add milk to my shopping list." or "Play Bruno Mars." Your question or request and related information, like your music playlists and to-do and shopping lists, will be processed in the Cloud so your Amazon Echo can answer your question or fulfill your request.

4. How do I know when Amazon Echo is streaming my voice to the Cloud?
When Amazon Echo detects the wake word, when you press the action button on top of Amazon Echo, or when you press and hold your Amazon Echo remote's talk button, the light ring around the top of your Amazon Echo turns blue, to indicate that Amazon Echo is streaming audio to the Cloud to process your question or request. When you use the wake word to talk to Amazon Echo, the audio stream includes a fraction of a second of audio before the wake word, and closes once Amazon Echo has processed your question or request. Within Sounds settings in the Amazon Echo App (Settings > Your Echo > Sounds), you can enable a 'wake up sound,' a short audible tone that plays after the wake word is recognized to indicate that Amazon Echo is streaming audio. You can also enable an 'end of request sound' that will play a short audible tone at the end of your request, to indicate that the connection has closed and Amazon Echo is no longer streaming audio.

6. Can I review what I have asked my Amazon Echo?
Yes, you can review your voice interactions with Amazon Echo by visiting History in Settings in the Amazon Echo App. Your interactions are grouped by question or request. You can tap an entry to see more detail, provide feedback, or listen to audio sent to the Cloud for that entry by tapping the play icon.

Taken together, these paragraphs from Amazon describe a reasonable privacy model for the voice recognition feature in Echo - this being 1) explicit user initiation, 2) visual and/or auditory notification, and 3) subsequent review.

Samsung appears to follow the same model. But a good privacy model must be clearly explained to users. Samsung is paying the price of not doing so.

Privacy risks in the Internet of Things will be real. But yesterday's rush to cry wolf and, ahem, lampoon, ignored the facts.
---