As more and more security breaches make headlines across the world, it is impossible for organizations to ignore the looming threat. The shear numbers dictate that organizations must take action to mitigate the risk.
$3.5 million - As revealed in the 2014 Cost of Data Breach Study: Global Analysis, sponsored by IBM, the average cost to a company was $3.5 million in US dollars and 15 percent more than what it cost last year. (Read the full IBM study.)
$148 million - The estimated cost to Target for their infamous credit card data breach. (Read the full New York Times article.)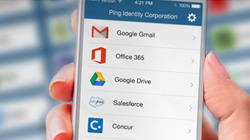 The best place to start, but most often overlooked, is right within your organization's workforce with a single sign-on (SSO) solution. SSO solutions can improve corporate security, increase workforce productivity and reduce IT costs, so choosing the right solution for your organization is an important decision.
Unfortunately, finding the solution that is the best fit for your enterprise is not as simple as it could be...until now. We just released an Enterprise Workforce SSO Solution Buyers Guide to give you a head start selecting the right solution. Here is a little overview of what is contained in the guide.
The Buying Process
Set your objectives. Setting objectives is important to the success of any project and purchasing enterprise software is no different. For workforce SSO, there are three primary areas of value:
Increase employee productivity. Productivity increases with quick access to all corporate applications with a single password.*
Decrease IT costs. SSO dramatically decreases the number of password resets, the leading reason for help desk calls.*
Increase application adoption rates. The value of enterprise applications, especially new ones, is tied to usage rates. SSO can dramatically improve adoption rates.*
Define your requirements. The list of capabilities and features needed for your SSO solution will drive the evaluation process. The Buyers Guide contains a detailed list of requirements organized by:
User needs. This section revolves around user experience.
IT needs. This section focuses on the needs of the administrator for implementing and maintaining the solution to meet the company needs.
Enterprise needs. Ensuring the solution meets today's and tomorrow's needs.
Select the right vendor and solution. To make a final selection, it is recommended that you use several sources, such as analyst reports, to select a short list of vendors and then use the detailed requirements to make the final selection. The Buyers Guide provides a list of analyst reports that rates and ranks IAM solutions.
The Buyers Guide is a great resource if you are considering SSO, educating yourself on SSO capabilities, or actively evaluating SSO solutions. Download it for free now!
* Practical metrics can be found in the Buyers Guide.
---