Ping Identity exists because we believe in the power of secure identity and we believe when it comes to Identity and Access Management, there's a better way. We've spent more than a decade developing standards and solutions to make IAM easier for the user and more secure for the corporate administrator. That work, along with customer and peer relationships we've built along the way, has been rewarding. And now three of the most influential industry analyst firms have recognized our efforts in three separate identity categories.
Forrester, IDC, and now Gartner have all awarded Ping Identity leadership positions in rapidly evolving disciplines that are redefining IAM. For us, this is the triple crown. And it validates the progress we've made from our early days to our current vision for Next Gen Identity.
Here's why I believe this recognition is significant, and what it means for you to place a bet on an identity partner capable of enabling the future.
For the next generation of identity and access management to succeed, we have to re-engineer and re-tool its foundation. This requires a model free of proprietary and monolithic software stacks, identity silos, and closed architectures that speak to the past but have no answers for the future. Next Gen Identity will require a collaborative approach across the industry. It's simply not enough to work independently; we have to work with our customers and push our competitors to build interoperable identity frameworks that meet today's and tomorrow's needs.
In an era of cloud and mobile, next generation identity systems must be federated by default, support mobile and API's, and provide us with a unified view of identity and access across a highly distributed set of systems which span legacy, cloud, mobile, private and public infrastructures and everything in between.
Forrester Wave on IAM
Why it's significant
Only a few years ago, Ping Identity would not have participated in, nor received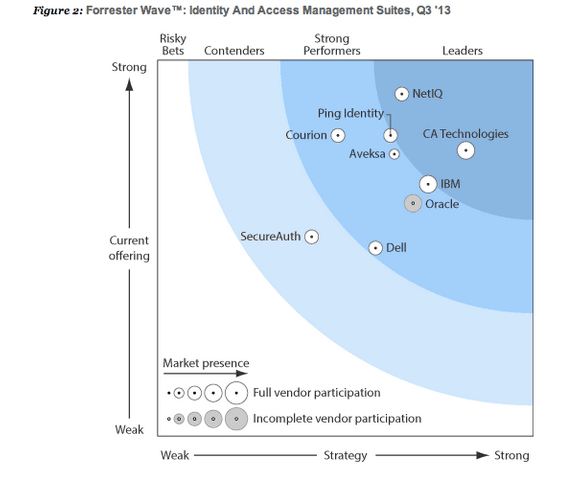 recognition as a player in the broader IAM market -- a market dominated by the legacy stack vendors such as CA, Oracle and IBM. At the time, this was befitting the situation as our identity federation and single sign-on products were indeed too narrow for us to qualify.
But we have expanded our portfolio of products and greatly increased our network of partners. At the same time, the identity market evolved with federation becoming a defining characteristic as a result of the vastly more challenging world we live in. It's a world with shifting perimeters, proliferating cloud and mobile applications, and an ever-increasing number of user identities that all require security and management across customer, partner and consumer use-cases. Simply put, this next generation beyond IAM is now the best answer.
Why Ping Identity
The Forrester report is significant because it recognizes Ping Identity's greatly expanded set of offerings, which today include not just federation and single sign-on, but also next gen access control, mobile strong authentication as part of our accells acquisition and cloud identity management.
IDC's MarketScape on Federation & Single Sign-On
Equally interesting is a recent report by IDC covering federation and single sign-on as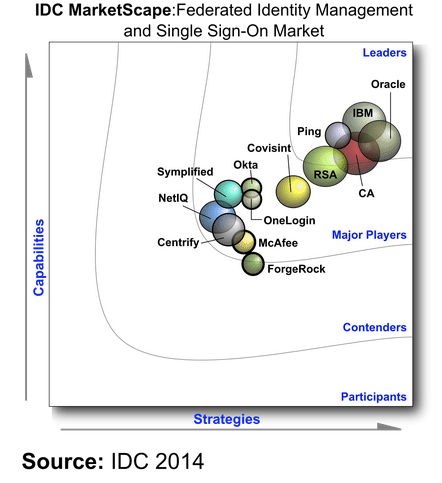 a stand-alone marketplace in which Ping Identity was named a leader.
Why it's significant
A few short years ago, federation and single sign-on would not have qualified as an independent market. Today, the momentum in federation and the role of single sign-on in combatting password proliferation is undeniable. Driven by cloud and mobile adoption, federation is now viewed as key to securing the enterprise in a world where boundaries are blurred or obliterated.
Why Ping Identity
Having spent a decade helping to build the open identity standards which today comprise the federation market, and with the world's most trusted and deployed federation server PingFederate, it comes as no surprise that Ping Identity was named a leader in the IDC Marketscape.
As we look to the future, expect Ping Identity to build upon our leadership position by continuing to define innovation and standardization for identity use-cases, by giving customers faster and lighter-weight solutions for single sign-on and federation across supply chains, customer portals or even internal systems in any combination of private, public or hybrid cloud.
Gartner Magic Quadrant for Identity and Access Management as a Service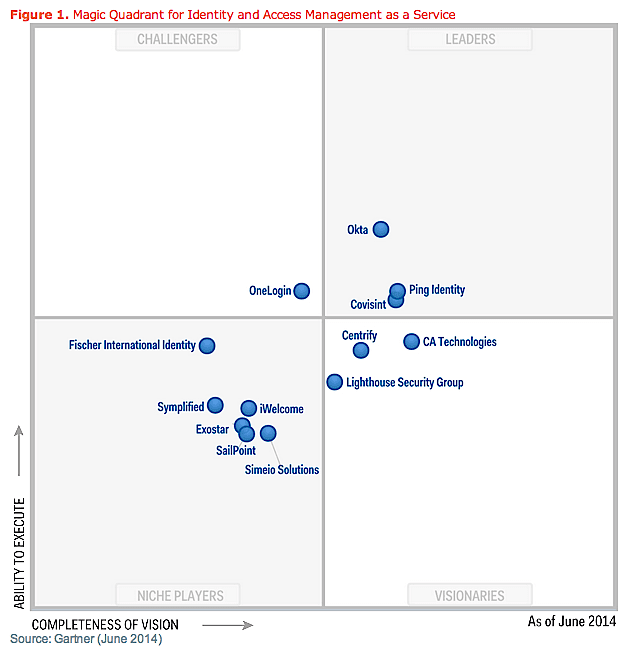 Just this week, Gartner released a new magic quadrant focusing on vendors in the nascent but quickly emerging market of Identity and Access Management as a Service (IDaaS). Ping Identity was positioned in the leader's quadrant and showed a strong completeness of vision.
Why it's significant
Infrastructure and applications are moving to the cloud at an accelerated rate and identity is no exception. Modern cloud architectures are not iterations of time-honored infrastructure software approaches, a fact we embraced when we built our PingOne service. Gartner recognized the same fact when it established a Magic Quadrant dedicated to Identity and Access Management as a Service (IDaaS).
The MQ reflects a holistic view of how IDaaS hides the essential tasks of integrating disparate directories (customers to employees), endpoints, devices, and technology platforms. Reducing costs through time-to-value and self-service workflows and authorizations is achieved with agile platforms that work without months of implementation time and busloads of integrators. Like the many services that made their way to the cloud, we believe there is a bright future in offering on-demand identity management.
While perhaps not a fit for all enterprises or all use-cases, on-demand identity management does have a place in the SMB market and for use-cases where simplified cloud-access is the goal.
Why Ping Identity
PingOne, our on-demand offering, has a growing list of recognizable and innovative customers that rely on it for SSO and cloud identity management deployed in minutes (really). The PingOne service is rich in features with support for PingFederate that leverages our hundreds of legacy integrations, a small footprint Active Directory integration option, and support for thousands of cloud applications. And it's all backed by a long list of partners betting their own prosperity on IAM's future. Companies can now offer employees single-click access to the cloud with centralized IT administration and identity management.
The same PingOne service that provides SSO for hundreds of thousands of employees is also used to provide secure and convenient SSO for SaaS app vendors, as well as, corporate applications developed to deliver better user experiences.
For those enterprises with advanced internal and external needs, complex environments or high security and performance requirements, Ping Identity can solve problems across a hybrid infrastructure while providing a solid roadmap to identity management in the cloud.
Beyond the Triple Crown
While such significant recognition of our vision is exciting, the most exciting part of our future is working with all of you - our customers and partners - to make Next Gen Identity a reality!
Together, we are building the future of Internet security. A world where identity takes center stage and our systems become federated by default, and truly scalable through open standards, self-service, and cloud-enablement.
The future is bright, and we thank you all for being a part of it!

---