In less than a month, we'll be at Gartner's Identity & Access Management Summit in London. We'll be coming together with the industry's top analysts, our IAM colleagues and hundreds of forward-thinking security leaders to share best practices and tackle the top identity and security challenges and opportunities facing today's enterprises.

Happening March 12-13 at the Intercontinental London-The O2 located in the popular Greenwich Peninsula, Gartner's IAM Summit is the perfect opportunity to set aside focused time to prioritize your IAM strategy and identify the next best steps to strengthen security, increase agility, improve customer experience and create competitive advantage. You'll experience two days of research-backed sessions and have the opportunity to get expert advice on your specific challenges. But if that isn't enough to whet your appetite, here are five reasons why you don't want to miss this year's summit.
1. Be the First to Know about Identity and Access Management Technologies and Trends
The IAM landscape is continuously changing, giving rise to new problems and threats that require new approaches. This year's Gartner Identity & Access Management Summit will give you invaluable insights into what's working now and what's on the horizon. Gartner analysts will be sharing just-released research into evolving technologies and industry trends, including passwordless authentication, intelligent adaptive authentication and access, decentralized identity, CARTA, data privacy, FIDO, identity scalability and automation, and more.
Industry experts, like our own Chief Customer Information Officer Richard Bird, will be sharing what's working right now to ensure the right people have access to the right things. He'll be joining the stage with Capita, a consulting, digital services and software business, to share how they're using CIAM to deliver secure and frictionless customer experiences. Don't miss this insightful session happening on Thursday 12 March from 15:30-16:00 in the Arcadia room.
2. Evaluate the Latest IAM Technologies and Solutions
When you attend the Gartner Identity & Access Management Summit, you'll gain access to more than 25 solution providers, encompassing a range of technologies. You'll get hands-on training and face-to-face connection with security thought leaders and innovators while evaluating solutions to address your own workforce and customer use cases.
We'll have Ping experts on hand to demonstrate the full capabilities of the Ping Intelligent Identity platform, including our comprehensive single sign-on (SSO) and adaptive multi-factor authentication (MFA) solutions for on-premises, hybrid and multi-cloud environments, as well as PingOne for Customers, our cloud-hosted identity-as-a-service (IDaaS) solution for developers who need to embed customer identity and access management (CIAM) services—like registration, authentication and multi-factor authentication (MFA)—into their applications. We invite you to stop by Booth P9 to say "hello" and experience for yourself why Gartner recognizes Ping as a leader in their 2019 Magic Quadrant for Access Management.
3. Make Invaluable Connections with Industry Experts and Security Professionals
It can be tough to justify time away from the office, but there's just no substitute for face-to-face connection with others who understand the challenges you face. Over two days, you'll learn alongside industry experts and more than 750 security professionals. You'll hear about others' successes and lessons learned, and gain new perspectives and insights. You'll come away with renewed energy and fresh ideas to tackle your IAM initiatives through the remainder of the year.
But wait, there's more. As a premier sponsor of this year's summit, the Ping team will be on hand to provide some additional opportunities to get expert advice and have a bit of fun, too.
4. Get Answers to Your Questions about CARTA, Cloud First, Multi-cloud, Hybrid IT and More
While you're at Gartner's IAM Summit, you can schedule a personal one-on-one consultation with one of our identity security experts. Ping leaders Richard Bird, Chief Product Architect Patrick Harding, EMEA Vice President Phil Allen and I (Loren Russon, VP of Products & Technology Alliances) will be on hand to answer questions and demonstrate what easy, frictionless and secure identity looks like. You're invited to bring us your toughest challenges and ask us anything. From evaluating your readiness for a continuous adaptive risk and trust assessment (CARTA) architecture to navigating the complexities of multi-cloud and hybrid IT environments, there are no stupid questions and no problem we won't help you tackle.
These complimentary consultations fill up fast. To secure your spot, schedule your personal one-on-one meeting here.
5. Network with Your Peers—Cocktails are on Us
After a long day of sessions, what better way to relax and unwind than at our networking reception? You're invited to join us at 18:00 on Thursday 12 March in Booth P9. You can catch up with old friends and make some new ones at the Ping Bar. We'll be serving hand-crafted gin cocktails, beer and snacks, as well as raffling off a coveted prize for one lucky winner.
---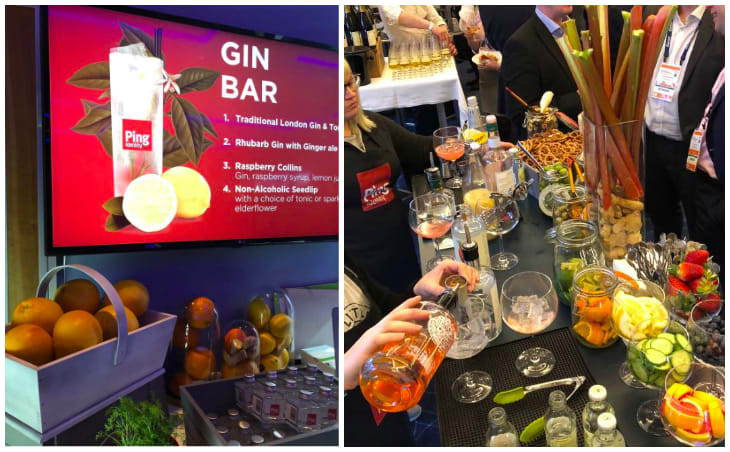 ---
Join Us in London!
With so many reasons to attend, you really won't want to miss this year's summit. We'll have our best team on hand to answer your questions and demonstrate how the Ping Intelligent Identity Platform can help you engage your customers and secure your workforce. To see everything we have in store for this year's summit, visit our event page.

---